Thursday: Pokémon Omega Ruby & Alpha Sapphire Demo Mission + Episode Pictures
30-10-2014 10:53 GMT / 06:53 EDT by Serebii
This update may be amended throughout the day so be sure to check back. If you have any ideas for the site, be sure to send them in
X & Y have been out for months now, and the Chatroom has been rife with discussion while the WiFi Chatroom has been a place for battles, trades and Friend Safari hunting, so be sure to visit them. Our Forums have also had these discussion and are a bustling trade and competitive section for the games. Be sure to like our FaceBook Page.
Last Update: 12:26 GMT
Edit @ 12:15: Episode Pictures | Edit @ 12:26: Korean Pachirisu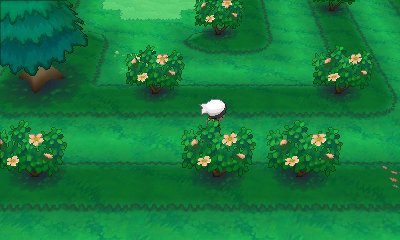 In The Games Department
Pokémon Omega Ruby & Alpha Sapphire - Hidden Demo Missions
Following on from the reveal of the new special mission in the demo yesterday, it has been confirmed by game director Shigeru Ohmori that there are various things that will activate after playing for a while. The Nugget mission, and various changes in Mossdeep City such as access to Steven Stone's house, started appearing for players around 2 weeks from the initial playthrough. We're still working on confirmations of specifics for the times so keep checking back.

In The Games Department
Pokémon X & Y - Sejun Park Pachirisu Distribution
It has been announced that South Korea will receive a world first distribution of a Pokémon to X & Y games. This distribution is of the Pachirisu that 2014 World Champion Sejun Park used to get to victory. This distribution is via InfaRed at the Champions Day celebrationDongdaemun Design Plaza in Seoul on November 15th & November 16th. This event comes at Level 50 with the moves Nuzzle, Super Fang, Follow Me & Protect, ability of Volt Absorb and holding a Sitrus Berry. Full details of this distribution are not yet known, nor is it known if the event will go global. We'll bring more as it comes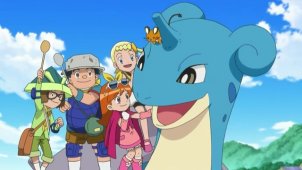 In The Anime Department
Pokémon XY - Episode Pictures
As usual, I have done pictures from the episode that aired in Japan today. This episode features Bonnie meeting up with a couple of kids who call themselves the Lapras Defence Corps after befriending a wild injured Lapras. The AniméDex has been updated with the contents of this episode. Click the picture to go to the gallery but be warned however as they contain spoilers.