Click Here For The Episode Guide:

The Johto Saga. Set in the world of Gold, Silver and Crystal. This Series Involves the 100 new Pokémon of GS and all the New attacks. This is How the Series goes:
Brock re-joins the group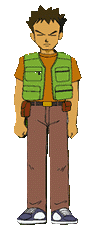 The events are as follows:


Ash, Misty and Brock see a shiny Suicune on their way to New Bark Town

Ash helps to retrieve Professor Elm's Totodile from Team Rocket

Ash beats a New trainer which has a Chikorita. She thinks he cheated and nearly beats Ash the second time round. Awww

Ash catches a Heracross

Gary catches a Hoothoot

Snubbull starts to follow Team Rocket

Brock befriends an injured Stantler

Ash catches a Chikorita

Quagsire steals the GS Ball, Ash gets it back again

Ash enters Violet City. Someone tries to catch Pikachu but instead catches a Bellsprout

Ash beats Falkner of the Violet Gym and recieves the Zephyr Badge

Misty tries to catch a Marill but doesnt

Ash releases Charizard

Chikorita and Pikachu argue over who is Ash's favorite

Ash catches a Cyndaquil

Ash makes the people of the Slowpoke loving town angry

Brock catches a Pineco

Ash gives the GS Ball to Kurt

Ash beats Bugsy in a Gym battle and gets the Hive Badge

Jesse accidently trades Lickitung for Wobbuffet

Ash sends Heracross to Prof. Oak

Ash releases Squirtle

Jigglypuff and Snubbull face up in a Pokémon Battle

Ash catches Totodile

Misty's Poliwag evolves into Poliwhirl

Ash catches a Shiny Noctowl

Ash battles Entei

Ash beats Whitney on the second attempt in the Goldenrod gym. He gets the Plain badge

Ash re-meets Casey and they Take Part in the Bug Catching Contest

Casey's Chikorita Evolves Into A Bayleef

Ash catches a Beedrill

Ash gives Beedrill to Casey. Casey Leaves

Brock's Zubat evolves Into Golbat

Brock releases Vulpix

Gary's Eevee evolves into Umbreon

Duplica catches another Ditto

Snubbull evolves into Granbull and goes home

Ash meets up with Aya from the Fuschia Gym in Kanto

Ash meets up and has to battle Mewtwo again

Ash meets up and rescues Mewtwo from Team Rocket

Ash battles Morty of the Ecruteak City gym and gets the Fog Badge

Snap Re-joins the Gang

The Gang See's Articuno

Jigglypuff Battles Articuno

Brock's Golbat Evolves into Crobat

Ash's Chikorita Evolves into Bayleef

Ash and Co. See a spectacular Surfing Rhydon

Kakureon Appears in First Eppy for a Future Pokémon

Ash Goes To Oilvine and finds that the gym leader isnt accepting challenges

Ash Battles Chuck In The Cianwood City Gym and earns the Storm Badge

The Gang Begins The Whirlpool Cup

Misty Catches a Corsola

Misty and Ash Pass the Whirlpool Cup Qualifying Rounds

Misty and Ash Are Forced To Battle 2 On 2 For the Whirlpool Cup

Misty beats Ash but loses the final battle

Ash and co Protect a Diglett Village from Bronze Age Invaders that ride Dodrios

Ash, Misty And Brock Follow the Mystery of the Silver Feather

Ash, Misty And Brock Meet Up With Richie Again

Ash, Misty, Brock and Richie see a parent and child Lugia

Butch and Cassidy return and find Dr. Nanda with The Baby Lugia and its parents get angry and start a huge catostrophic storm

Ash gets Back to Olivine and has a battle with Jasmine! He beats her Steelix and Magnemite and earns the Mineral Badge

There is a territorial dispute at Prof. Oak's Lab. Ash sends Bulbasaur to assist Heracross, Oak and Tracey to sort it out

The Gang meet Eusine and see Suicune!

Ash beats Gary in a race to Mahogany Town and wins the Blue Egg

The Egg hatches and Ash gets a Phanpy

Meanwhile in New Bark Town. A few Team Rocket Members try and capture Raikou. Eusine jumps in and helps Kenta and Marina to stop Team Rocket - Raikou Special

Delibird starts following Team Rocket

Ash meets Lance and sees/protects the Red Gyarados from Team Rocket

Ash meets Pryce and earns himself a Glacier Badge

Ash gets inadvertantly transformed into a Pikachu

Ash sees Zapdos again

Misty's Poliwhirl Evolves into Politoed