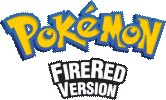 Pokémon Fire Red & Leaf Green. These recently released games are upgrades of Pokémon Red & Green(Blue). The games that started this all.
These games have many new additions and upgrades so here is a list. Also use the toolbar to look at sections:
Updated (inc. stuff from Ruby/Sapphire)

Improved Graphics

Enhanced Pokedex

Pokémon Moves etc.

Abilities from RS

Genders

Breeding

Special Defense

More Attacks

Different TMs/HMs

Tradability with Ruby/Sapphire/Colosseum

NEW

GSC Pokémon

Battle Searcher

Storyline Continuation

Wireless Features

And Much More...