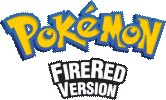 Mystery Gift works in the same effect as Mystery Event did in Ruby & Sapphire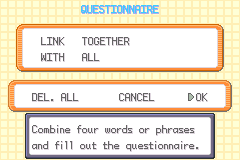 To get it, go into any Pokémon Mart and go to the Clipboard by the Shop Owner. Go to it and you can put in 4 words, similar to in R/S, which is basically a Questionaire. To access Mystery Gift you need to enter the following words: "Link Together With All". Once you have done that the Shopkeeper will say that you know the words and gives you access to the Mystery Gift system. You need to save and restart to use it as it is on the Front Menu.
Now The Mystery Gift function has many applications:
| | |
| --- | --- |
| With It you can download the MysticTicket at Nintendo Events to get to Navel Rock: | |
| With It you can download the AuroraTicket at Nintendo Events to get to Birth Island: | |
| It'll allow you to change the Wild Pokémon in Altering Cave | |
| With it you can put in further passwords to make new trainers appear in this house on Seven Island. These will count in a Battle Record | |
And Many Many More Uses which will be found out in due time.