OK. To Avoid the current hassles there is this disclaimer for those Who want to use it without permission:
You shall not post this on anywhere for public use
You shall not sell this for public use
Do not replicate and forward without permission
Do not claim this as yours
Do Not Translate it into your language and claim ownership

The time has come. Ash, Serena, Clemont and Bonnie are going their separate ways after their journey through the Kalos region. Promising to meet again one day, as they go to board their flights, Dedenne runs away. As it is young, it doesn't want to say goodbye. Can Bonnie find Dedenne in time? In the interim, Clemont challenges Ash to one final battle to bring their journey full circle. Who will win?

Full Guide coming Soon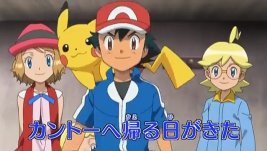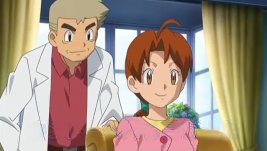 943:

943: A Zero With No End! Till the Day We Meet Again!!



Yes


Ash
Clemont
Serena
Bonnie
Alain
Mairin
Jessie
James
Professor Oak
Delia Ketchum
Giovanni
Steven Stone
Grace
Professor Sycamore
Meyer
Shauna
Trevor
Tierno
Sawyer
Alexa
Diantha
Viola
Grant
Korrina
Ramos
Valerie
Olympia
Wulfric
Malva
White
Hina
Ken
Joe
Alba


Ash:
Clemont:
Serena:
Alain:
Mairin:
Jessie:
James:
Rocket:
Professor Sycamore:
Alexa:
Meyer:
Trevor:
Sawyer:
White:
Steven Stone:
Diantha:
Viola:
Grant:
Korrina:
Ramos:
Valerie:
Olympia:
Wulfric:
Malva:
Special/Other Trainers:
Wild:


Ash, Clemont, Bonnie & Serena go their separate ways