Monday: Pokémon Omega Ruby & Alpha Sapphire - US Demo Details + Virtual Console News
20-10-2014 17:13 BST / 12:13 EDT by Serebii
This update may be amended throughout the day so be sure to check back. If you have any ideas for the site, be sure to send them in
X & Y have been out for months now, and the Chatroom has been rife with discussion while the WiFi Chatroom has been a place for battles, trades and Friend Safari hunting, so be sure to visit them. Our Forums have also had these discussion and are a bustling trade and competitive section for the games. Be sure to like our FaceBook Page.
Last Update: 18:51 BST
Edit @ 18:51: Virtual Console News
In The Games Department
Pokémon Omega Ruby & Alpha Sapphire - US Demo Distribution
Today, The Pokémon Company International officially revealed Mega Steelix and Mega Glalie and, in doing so, confirmed that for US trainers, Mega Glalie will be the Pokémon obtainable by players and able to send to the main games making it available to North America, Europe and Korea while Japan gets Mega Steelix. The US Demo will be distributed from tomorrow through the Pokémon Trainer Club Newsletter, which can be signed up for on the official site, but you need to sign up today so be sure to make sure you have signed up for it.
Edit @ 18:49: More demo distributions are known for the US:

Codes will be distributed at select cinema locations nationwide from Nov. 7–Nov. 13 (while supplies last).
Check with your local retailer during the holidays to find out about special demo code giveaways (while supplies last).
Get a code with your purchase of the new Pokémon Art Academy game (out Oct. 24) when you buy from Nintendo eShop on your Nintendo 3DS or 2DS system.
You'll also get a code with your purchase of one of two classic Pokémon games coming to the Virtual Console service on Nintendo eShop: the Pokémon Puzzle Challenge game (out Nov. 6) or the Pokémon Trading Card Game (out Nov. 13). You'll find your free demo code on your eShop receipt (download codes available while supplies last).
Codes will be emailed the week of Oct. 31 to select Nintendo customers with Nintendo Network IDs who have signed up to receive promotional emails from Nintendo.
Codes will also be distributed during the holiday mall tour from Nov. 24-Dec. 21 at 16 different locations throughout the nation. Talk to a staff member to try out Pokémon Omega Ruby, Pokémon Alpha Sapphire or any of the featured Nintendo 3DS games to receive two codes—one for you, and one for a friend (while supplies last). Check back soon for a list of tour locations.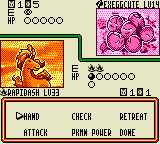 In The Games Department
Pokémon - Virtual Console Releases
During the release about North American Demo codes, it was revealed that GBC title, Pokémon Puzzle Challenge, and GBC title Pokémon Trading Card Game GB will be released on the North American 3DS Virtual Console next month. Pokémon Puzzle Challenge will be released on November 6th, costing $4.99, while Pokémon Trading Card Game will be released on November 13th and cost $5.99. We'll bring more as they come