Tuesday: Pokémon Omega Ruby & Alpha Sapphire 2DS Hardware & UK Demo news
23-09-2014 09:07 BST / 04:07 EDT by Serebii
This update may be amended throughout the day so be sure to check back. If you have any ideas for the site, be sure to send them in
X & Y have been out for months now, and the Chatroom has been rife with discussion while the WiFi Chatroom has been a place for battles, trades and Friend Safari hunting, so be sure to visit them. Our Forums have also had these discussion and are a bustling trade and competitive section for the games. Be sure to like our FaceBook Page.
Last Update: 09:25 BST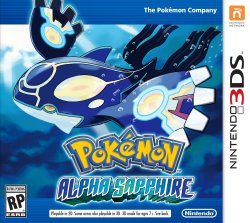 In The TCG Department
Pokémon Omega Ruby & Alpha Sapphire
For those of you in Europe, some new hardware bundles have been announced. This bundle is for a special Primal Groudon or Primal Kyogre themed Nintendo 2DSs. These consoles are transparent red and blue, to match the Ruby & Sapphire theme of the games.. The consoles will be available on their own in Europe on November 7th without the Pokémon name, or bundled with the games on November 28th.
Edit @ 09:10: They have also revealed details on the demo in Europe, coming in various areas on October 15th. The Pokémon Omega Ruby and Pokémon Alpha Sapphire Special Demo Version will be available in the UK from GAME, Amazon, Smyth Toys Superstores, ShopTo and the Nintendo UK Official Store from the 15th October until launch. The codes will then also be made available through a number of other partners including Wikia, Bin Weevils and Nintendo Life until mid-November. Amazon, Smyths Toys, ShopTo and Nintendo UK Official Store will be sending these codes out to fans via their internal databases. GAME Stores will distribute their codes Nationwide via Nintendo Zone.
Edit @ 09:25: The Netherlands has announced that you can get the demo at their firstlook event on October 11th/12th, or at their autumn tour
Edit @ 11:20: Italian details have been revealed. You can get the demo in Topolino and Il Giornalino magazine, end of October, and in Focus Junior magazine, in early November., during the Nintendolandia Tour (October 18th / December 14th in the main Italian malls), during Milan Games Week, from October 24th to October 26th at Fieramilanocity & at Nintendo stand in G come Giocare, from November 21st to November 23rd at Fieramilanocity.
Bundles