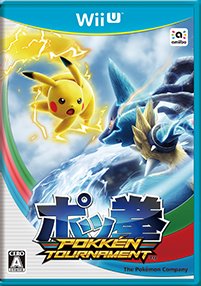 Pokkén Tournament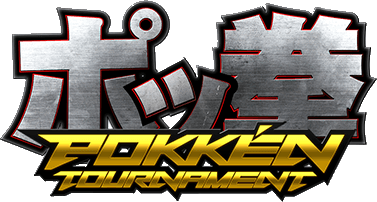 Pokkén Tournament is a fighting game developed by Bandai Namco that is due for release in 2015. This game is coming to arcades first, with Wii U Release in 2016. It was first teased at the Pokémon Game Show in August 2013 before an official unveiling in August 2014 by Tsunekazu Ishihara and the game's producers Masaaki Hoshino & Katsuhiro Harada.
This game is a hybrid of Pokémon and Tekken, and features various Pokémon fighting eachother in various surroundings. The battles take place in a large round arena and allow for players to fully move around it. As the battles get closer, movement is more closely locked. The controls are as follows: L activates Support, R Guards, A uses Pokémon attacks, B jumps, X is a weak attack and Y is a strong attack. Using the D-Pad and the buttons gives you various different moves. Fill a gauge to unleash Resonance Gauge for extra damage and Burst Attacks (and Mega Evolution)
There are various Pokémon available in this game, including ones that are not Fighting-type and that are not bipeds. In addition to the standard characters you can play as, you can select Support Pokémon to aid you in the battle.
This game uses a special controller in the arcade machine, as opposed to a fight stick, and is running location tests in January 2015.
It was announced at the 2015 World Championships that the game would get a Spring 2016 release on the Wiiu