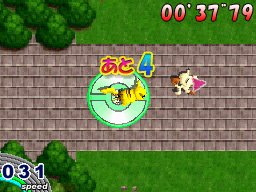 Pokémon Dash is a Pokémon Racing Game for the Nintendo DS as a launch title. In it you control a Pokémon, for example Pikachu and you have to race to the end of the course.
You make Pikachu Dash by sliding the stylus along the touch screen. The quicker you do it the quicker Pikachu moves. However running is not the only option...you have Balloon Races, Falling and much more. But you cannot just go taking shortcuts, you have to pass through Checkpoints that are shaped like Pokéballs and other items, some even give you boosts when you go over.
However, it is capable of linking with Pokémon Emerald...if you put an Emerald Cartridge into the Nintendo DS and play this game, it will unlock some more tracks for you
It's even Multiplayer allowing up to 6 People to play at once!
Expect More information When it is released and up until then, until then enjoy these Pictures. Click for more: