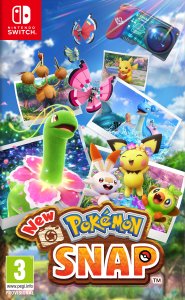 New Pokémon Snap
New Pokémon Snap is a sequel to the Nintendo 64 Pokémon Snap game and is coming to the Nintendo Switch in 2021.
This completely new game will take Trainers on an adventure to unknown islands overflowing with natural sights such as jungles and beaches, where they can research various Pokémon in their natural habitats. They will take photos to make their very own in-game Pokémon Photodex, all while discovering new, never-before-seen Pokémon expressions and behaviours.
In this game, you go to the Lental Region to help Professor Mirror and his assistant Rita to investigate the mysterious Illumina phenomenon that's affecting Pokémon in this untouched paradise.
This game features an improvement over the previous game in that you have a Survey Level for each area. As your Survey Level goes up, the Pokémon you encounter change in how they interact with you, allowing for you to get better photos.
You also have the ability to edit the photographs, changing focus, zoom, some lighting and even customise with stamps and borders. They can then be shared online.
There are over 200 Pokémon available to take photos of in the Lental Region, each with gender variants and even different forms included.