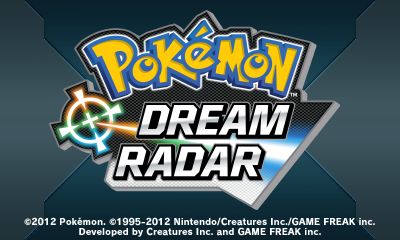 Pokémon Dream Radar / AR Searcher
Pokémon Dream Radar is a new game for the 3DS eShop. This game is an Augmented Reality game to tie in with the main games: PokémonBlack 2 & White 2 and features you obtaining various Pokémon within an Augmented Reality environment.
You get guided through the game by Professor Burnet, a female professor who specialises in this capture system and is investigating the Interdream Zone.
These captures are done through various levels where you need to shoot clouds. Shoot a grey cloud and an energy orb will appear. Capture this orb and it may hold a Pokémon. Pink orbs offer Dream Orbs, a form of currency. After completion of the levels and collecting enough Dream Orbs, you gain access to the new Therian Formes of Tornadus, Thundurus & Landorus. All Pokémon and items can be sent to Pokémon Black 2 & White 2
This game also features compatibility with the Generation IV games: Diamond, Pearl, Platinum, HeartGold & SoulSilver where it brings special Legendary Pokémon into the game if you have the Generation IV game in your 3DS.