What many believe to be a sequel to Hey You, Pikachu!, this game has you controlling Pikachu in order to create a successful Pokémon TV Station. With help from multiple other Pokémon of course like Torchic, Mudkip, Treecko, Wobbuffet, Bellossom, Togepi and many more.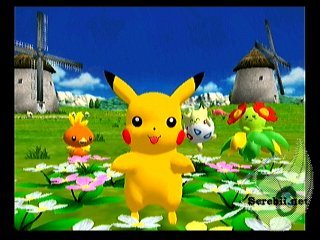 | | |
| --- | --- |
| Aswell as watching the TV, you can have free roaming through the land meeting Many Pokémon like Kecleon, Swinub, Gloom and even Jirachi! | |
To do this, you have to look through Artworks, clips from the Animé and many more things aswell as playing some cool games with the Pokémon all to help make a successful TV Show, and watch as Pikachu to improve it's mood.
| | |
| --- | --- |
| You can get multiple TVs in which to do this, many of which have special features like the one to the right which allows you to distort the Picture | |
You can earn the games from the Pokémon Mini System, including some which have never been seen before too!
Click here for a List of the Programs you can have: Programs