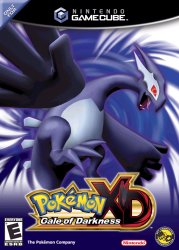 Pokémon XD: Gales of Darkness
Pokémon XD is an RPG game for the Gamecube that is a follow-up to the previous Gamecube Game, Pokémon Colosseum
In this game you play as a trainer who has to protect the lab from Cipher. Once this is done he is drawn into a huge conflict involving Cipher & Shadow Pokémon across the world
It has a long RPG mode that has almost 100 lines of Pokémon obtainable in aswell as many new features and allowing for old Pokémon to learn new attacks.
Graphics on the game have improved quite a bit from Colosseum, being sharper and the attacks have been totally redone.
Unlike Colosseum you are able to capture some Wild Pokémon in it. You're also capable of seeing 2 of the new 4th Generation Pokémon!
Like all Pokémon games it has a multiplayer mode allowing for you to battle with your R/S/E/FR/LG/XD teams and even have your Deoxys show up as it's correct form in it.
And in the RPG mode you'll find a couple of new Battle Games, Battle Disk & Battle Bingo to take your time with Overall a game worth your attention, while it's not a true Pokémon RPG with badges, gyms and hoards of Wild Pokémon, it is the next best thing. For all the details about this game including all the new stuff, click the links in the right hand toolbar.