Great Bay
From Game: TLoZ: Majora's Mask (N64)
Obtainable: From Start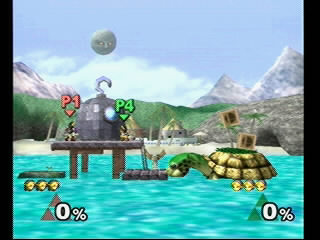 Identical to the Place it's based on in the Zelda game. There are multiple platforms and KO Zones in all directions. You can walk through the Lab, and go over it. You will get killed if you cant get out of the water in time too. There are two "obstacles":
Turtle: The turtle acts as this stage's main interactive element. You can fight on its moving head and neck or on its shell. However, from time to time the turtle will submerge sending any combatants battling on its back scrambling for safety.
Tingle: Tingle, the 'Kokiri' who sold you maps in Majora's Mask, will appear floating above the level with his red balloon. Tingle's balloon acts as an additional small platform you can stand on, but it pops after a few seconds. Like the clouds in Yoshi's Stage
---
Hyrule Temple
From Game: Zelda 2: Link's Adventure (N64)
Obtainable: From Start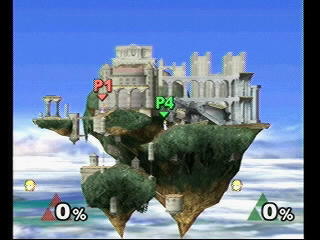 This is the largest level in SSB:M. There are no obstacles but there are holes everywhere. If you fall from the top though it is possible to land on a platform below. Thats about it.