OK. To Avoid the current hassles there is this disclaimer for those Who want to use it without permission:
You shall not post this on anywhere for public use
You shall not sell this for public use
Do not replicate and forward without permission
Do not claim this as yours
Do Not Translate it into your language and claim ownership

Team Plasma are continuing their plot to control various Pokémon and are transporting Pokémon to use in their experiment. N is on their tail and attempts to protect and rescue the Braviary they are transporting. However, in doing so he alerts Team Plasma to his presence who attack him. Taking it to the Pokémon Centre, N meets up with Ash & co. but soon after the reunion, the power in the Pokémon Centre cuts out...

Full Guide coming Soon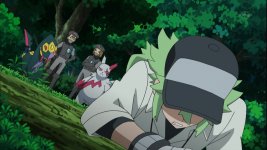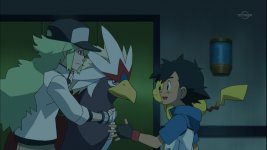 775: Saving Braviary!

775: N Returns! Operation: Rescue Braviary!!



Yes


Ash
Iris
Cilan
N
Nurse Joy
Weiss
Schwarz


Ash:
Iris:
Nurse Joy:
Weiss:
Schwarz:
Wild:


Ash & Co. meet up with N