OK. To Avoid the current hassles there is this disclaimer for those Who want to use it without permission:
You shall not post this on anywhere for public use
You shall not sell this for public use
Do not replicate and forward without permission
Do not claim this as yours
Do Not Translate it into your language and claim ownership

After the Team Plasma escapades, Ash decides to return to Kanto with Iris and Cilan wanting to go there to continue their quests to be Dragon Master and Pokémon Connoisseur respectively. Following Juniper's suggestion, Ash & Co. decide to take a ferry which goes through the Decolora Islands. However, when they get on the ferry, they soon learn that everything is not as it seems when simple doors refuse to open. It turns out Team Rocket are in command of the ship...

Full Guide coming Soon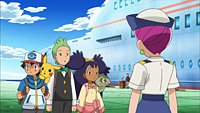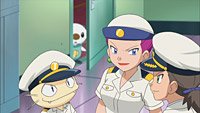 784: Farewell, Unova!

784: Farewell Unova! Setting Sail Once Again!!



Yes


Ash
Iris
Cilan
Jessie
James
Professor Oak
Giovanni
Professor Juniper
Parker


Ash:
Iris:
Jessie:
James:
Rocket:
Giovanni:
Wild:


Team Plasma's plot to reawaken Reshiram concludes