OK. To Avoid the current hassles there is this disclaimer for those Who want to use it without permission:
You shall not post this on anywhere for public use
You shall not sell this for public use
Do not replicate and forward without permission
Do not claim this as yours
Do Not Translate it into your language and claim ownership

After a long voyage, Eevee has made it to Alola and befriended Pikachu and the various Pokémon. In an unusual area, it is full of energy exploring. However, when it is spotted by the local Alolan Persian, it starts getting chased and to make it worse, Team Skull spotted it and decided they want it to join them, causing Ash & co. to come to its rescue. Will they be able to save Eevee?

Full Guide coming Soon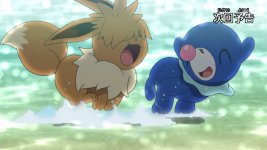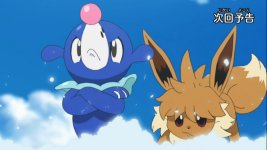 1042: We Know Where You're Going, Eevee!

1042: Where is Eevee Going? To the End of the World for the Sake of a Meeting!



Yes


Ash
Lillie
Mallow
Lana
Sophocles
Kiawe
Tupp
Zip
Rapp
Harper
Sarah
Lana's Mother
Anela
Hobbs


Ash:
Lillie:
Mallow:
Lana:
Sophocles:
Kiawe:
PokeRide:
Tupp:
Zip:
Rapp:
Special/Other Trainers:
Wild:
Special/Other Trainers:
Wild:


Popplio learns Surf
Lana catches Eevee