OK. To Avoid the current hassles there is this disclaimer for those Who want to use it without permission:
You shall not post this on anywhere for public use
You shall not sell this for public use
Do not replicate and forward without permission
Do not claim this as yours
Do Not Translate it into your language and claim ownership

It's time for Ash's battle in the Anistar City Gym, and this time it's different in that the Gym Leader, Olympia, is challenging him with a Double Battle. Using his Frogadier and Talonflame against the Psychic-type strengths of Olympia's two Meowstic, Ash quickly learns that Meowstic's Future Sight attack is far more powerful than he anticipated. Ash then has to rethink and come up with an even better strategy in order to win. Will he be able to?

Full Guide coming Soon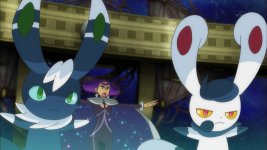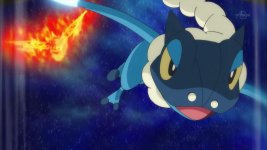 896: All Eyes on the Future!

896: Double Battle at the Anistar Gym! Olympia's Future Sight!!



Yes


Ash
Clemont
Serena
Bonnie
Jessie
James
Professor Sycamore
Sophie
Cosette
Sheryl
Carrie
Olympia


Ash:
Clemont:
Jessie:
Rocket:
Olympia:
Wild:


Ash defeats Olympia and earns his Psychic Badge