OK. To Avoid the current hassles there is this disclaimer for those Who want to use it without permission:
You shall not post this on anywhere for public use
You shall not sell this for public use
Do not replicate and forward without permission
Do not claim this as yours
Do Not Translate it into your language and claim ownership

The Ninja Village is under attack from a mysterious force and Ash, Sanpei and the others from the village chase after them when the leader of the village is abducted. With the leader of the army wanting to face off against Sanpei's brother, the rest of the army follows Ash, but as the battle rages on, Ash's Frogadier evolves, and then something strange happens with Ash and his new Greninja. Will they be able to protect the village?

Full Guide coming Soon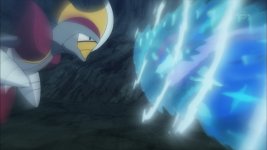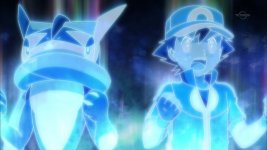 903: A Festival of Decisions!

903: Decisive Battle in the Ninja Village! Frogadier VS Bisharp!!



Yes


Ash
Clemont
Serena
Bonnie
Jessie
James
Sanpei
Saizo
Ippei
Nihei
Hanzo
Shinobu
Kagetomu
Heidayu


Ash:
Clemont:
Serena:
Jessie:
Rocket:
Sanpei:
Saizo:
Nihei:
Ippei:
Hanzo:
Kagetomu:
Heidayu:
Special/Other Trainers:
Wild:


Ash's Frogadier evolves into Greninja
Ash's Greninja transforms into Ash-Greninja for the first time