OK. To Avoid the current hassles there is this disclaimer for those Who want to use it without permission:
You shall not post this on anywhere for public use
You shall not sell this for public use
Do not replicate and forward without permission
Do not claim this as yours
Do Not Translate it into your language and claim ownership

On the way to Snowbelle City, Ash & co. decide to take a break in order to further investigate the weird phenomenon that happens between Ash & Greninja during battle. While looking into it, they bump into Alain at the Pokémon Center again. Ash, eager for a rematch, challenges Alain once again. With Greninja going against Alain's Mega Charizard X again, the battle is fierce and the bond between Ash & Greninja reaches high levels. Will they find out what is behind it? Will Ash win the battle?

Full Guide coming Soon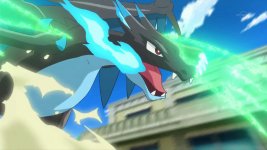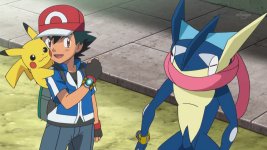 919: The Synchronicity Test!

919: Ash and Alain! Greninja VS Mega Charizard Once Again!!



Yes


Ash
Clemont
Serena
Bonnie
Alain
Mairin
Nurse Joy
Professor Sycamore
Sophie
Cosette
Sawyer
Olympia
Team Flare Grunts


Ash:
Clemont:
Alain:
Mairin:
Nurse Joy:
Sawyer:
Olympia:
Heidayu:
Wild:


Ash learns more of his bond wih Greninja