OK. To Avoid the current hassles there is this disclaimer for those Who want to use it without permission:
You shall not post this on anywhere for public use
You shall not sell this for public use
Do not replicate and forward without permission
Do not claim this as yours
Do Not Translate it into your language and claim ownership

The Semi-Finals have passed and it's almost time for the finals of the Kalos League, and Lumiose City is filled with excitement. As it's the day before, everyone is out celebrating and relaxing before the finals, however during the celebrations, Chespin gets lost only to be found by Alain's old friend, Mairin. To top it off, Lysandre appears and wants to talk to Ash. What does Lysandre want with Ash?

Full Guide coming Soon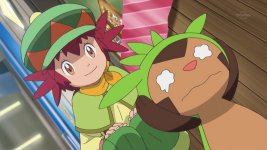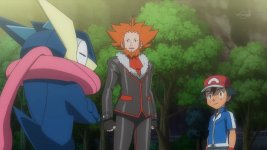 932: Kalos League Passion With a Certain Flare!

932: Fierce Fighting at the Kalos League! Gather, All of My Passion!!



Yes


Ash
Clemont
Serena
Bonnie
Alain
Mairin
Jessie
James
Nurse Joy
Professor Sycamore
Meyer
Lysandre
Diantha
Shauna
Trevor
Tierno
Sawyer
Malva
Xerosic
Team Flare Grunts
Team Flare Admins


Ash:
Clemont:
Serena:
Alain:
Rocket:
Nurse Joy:
Mairin:
Sawyer:
Astrid:
Remo:
Special/Other Trainers:
Wild:


Ash prepares for the Kalos League Final