Friday: Band of Thieves & 1000 Pokémon
30-05-2014 06:10 BST / 01:10 EDT by Serebii
This update may be amended throughout the day so be sure to check back. If you have any ideas for the site, be sure to send them in
X & Y have been out for months now, and the Chatroom has been rife with discussion while the WiFi Chatroom has been a place for battles, trades and Friend Safari hunting, so be sure to visit them. Our Forums have also had these discussion and are a bustling trade and competitive section for the games. Be sure to like our FaceBook Page.
Last Update: 12:20 GMT
Edit @ 07:30: Episode Title | Edit @ 12:20: More Screenshots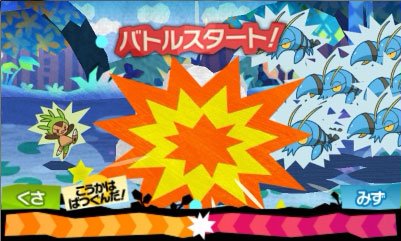 In The Games Department
The Band of Thieves & 1,000 Pokémon
The official site has updated with some further details of the upcoming release, The Band of Thieves & 1,000 Pokémon. First thing is that you select the lead Pokémon to attack when you begin. From there, you can change the Pokémon you use in the manner explained on Tuesday. Pokémon will disappear after you use them, so you will have to keep StreetPassing. The lead Pokémon of the person you pass determines what Pokémon you get. If they lead with Froakie, you'll get Froakie. As expected, you can also buy Pokémon using Game Coins, but like with StreetPassing, you'll only get the Pokémon that matches your lead.
The purpose of the game is to bring back treasure that has been stolen by the thieves Marilyn and Riot. Marilyn appears in Stage 4 with her Delphox. You need to beat both Greninja and Delphox to clear the game. You have to decide how many pokemon to use in each battle, based on your opponents strength. Using too many up in a single battlle, may mean you will lose the next one because you have too few Pokmon left. You do have the ability to attempt to sneak past opponents to skip the stage, but if they spot you, the battle will commence. Finally, several new screenshots have been added to our section. Click the image to go to the page.
Edit @ 12:20: More screenshots have been added as well as some details. Within the game, you can receive movie news. This news is obtained and unlocked as you are playing the game. If you StreetPass someone who has a bit of information that you do not have, you will receive the information. It also has been reconfirmed that you will receive a special item or Pokémon in X & Y through Mystery Gift through this game.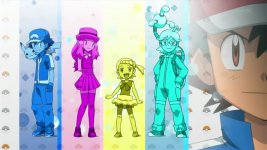 In The Anime Department
Pokémon XY - Episode Titles
The Pokémon Fan magazine has revealed another new Episode title for an upcoming episode. This episode is due to air on July 10th 2014 and features the first appearance of Hawlucha, who appeared for the first time in the anime in the new opening that aired yesterday. July 17th 2014 has another break for the airing of last year's move, Genesect and the Legend Awakened
Episode 838: The Forest Champion! Enter Hawlucha!!