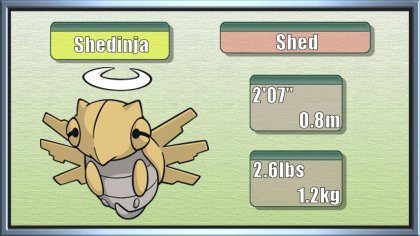 Shedinja, The Shed Pokémon. A discarded bug shell that came to life. Peering into the crack on its back is said to steal one's spirit.A strange Pokémon--it flies without moving its wings, has a hollow shell for a body, and does not breathe.
Overview
1 HP. Add 252 EVs, go for it. You'll still have 1 HP. Welcome to a unique specimen known as Shedinja, in a good and bad way… Mostly bad… horrifically AWFULLY bad. 1 HP makes it die to everything. Stealth Rock, Spikes, burn, poison, hail, sandstorm, Iron Barbs, Rocky Helmet, Rough Skin, Leech Seed, anything like that… you die. You have an amazing ability in Wonder Guard which only allows super effective attacks to deal direct damage, but it doesn't really fix the problem of 1 HP. However, Shedinja does do surprisingly well in the uber tier. Dragons, Waters, Psychics, there's a load of Pokémon that flat out can't touch Shedinja most of the time. Its Bug/Ghost typing is pretty good in ubers too in terms of offensive coverage. You can use it in other tiers but ubers is probably its most successful area.Okay, Shedinja really is an interesting Pokémon. It has 1 HP, awful stats, its most successful tier is ubers despite being such a weak Pokémon, and has a unique ability. I personally really like it, but I can understand why it is branded a gimmick almost instantly. Great counter for stuff like Kyogre and most Dragons in the game… yeah, he really is cool. Give it a try before you knock it as a pure gimmick.
Abilities
Wonder Guard: any directly damaging attacks don't do anything unless they are super effective. It's amazing.
Movesets
Swords Dance
- Swords Dance
- Protect / Shadow Claw / Will-O-Wisp / Toxic
- X-Scissor
- Shadow Sneak / Sucker Punch
Item Attached: Focus Sash / Lum Berry
Ability: Wonder Guard
EVs and Nature:
EVs: 252 Atk / 252 Spd
Adamant Nature (+Atk, -SAtk)
+2 Attack makes Shedinja a pretty threatening Pokémon, especially considering how it can switch into a lot of types. Swords Dance gives you the extra attack you need. Protect can scout for status or a damaging move. Shadow Claw is a powerful move… pretty much your second strongest move possible. Will-O-Wisp can shut stuff like Groudon and Dragons down, whereas Toxic murders walls and Pokémon that don't really care about burn too much. X-Scissor is the strongest move you have, and deals hench damage to a lot of Pokémon in the uber tier. Shadow Sneak bypasses Shedinja's unappealing Speed due to its priority, but Sucker Punch is a stronger option (despite not getting STAB), although it will fail to hit sometimes if they aren't directly attacking you. Considering you're Shedinja, you should expect to have status aimed at you often.
Choice
- X-Scissor
- Shadow Sneak / Sucker Punch
- Shadow Claw
- Trick / Baton Pass / Will-O-Wisp
Item Attached: Choice Band
Ability: Wonder Guard
EVs and Nature:
EVs: 252 Atk / 252 Spd
Adamant Nature (+Atk, -SAtk)
Too simple. X-Scissor hits lovely and hard. Shadow Sneak gets priority and STAB, Sucker Punch is a tad stronger but a tad unreliable. Shadow Claw hits hard on the Ghost side of things. Trick can cripple something by giving it your Choice Band, Baton Pass can scout, Will-O-Wisp can cripple stuff wanting to take a Trick or a strong hit.
Support
- Will-O-Wisp / Toxic / Protect / Baton Pass
- Will-O-Wisp / Toxic / Protect / Baton Pass
- X-Scissor
- Shadow Sneak / Shadow Claw / Sucker Punch
Item Attached: Focus Sash / Lum Berry
Ability: Wonder Guard
EVs and Nature:
EVs: 252 Atk / 252 Spd
Adamant Nature (+Atk, -SAtk)
Will-O-Wisp deals some damage and halves the opponent's attack stat. Toxic ruins stuff such as walls and special attackers that won't care about the halved attack, just a great status. Protect can scout for status or attack, or even just stall for residual damage. Baton Pass scouts and avoids Pursuit. X-Scissor hits hard, stops you being Taunt bait. Shadow Sneak is priority, it's awesome. Shadow Claw hits harder than Shadow Sneak but doesn't get priority of any kind. Sucker Punch has 80 base power, but only hits and gets priority if the opponent used a direct attacking move. It's a risk, but possibly worth it.
EVs & Natures
Shedinja
252 Speed and 252 Attack. I guess if you're using it on a Trick Room team… just use 252 Attack. Anything… literally ANYTHING else is pointless.
Other Options
Confuse Ray, Grudge, Heal Block, Spite, Sunny Day
Confuse Ray can force switches and deal some free damage.
Grudge can completely mess up one attack Pokémon like ResTalk Giratina or Kyogre. Also helps with Choice Pokémon.
Heal Block is there to mess with stuff like Blissey, ResTalkers, that sort of thing.
Spite is in the same boat as Grudge.
Sunny Day is there basically to stop sandstorm and hail.
Double & Triple Battle Options
You're immune to Surf, Earthquake, Explosion, but then again you're weak to Lava Plume, Rock Slide, Heat Wave, so you have to take a risk if you want the payoff. Single attacks will obviously ruin you, as will hail and sandstorm. Mold Breaker beats you down as you lose Wonder Guard. At least entry hazards aren't common in doubles and triples, which saves Shedinja a tad.
Partners
USE RAPID SPIN. OH MY GOSH USE RAPID SPIN. If there's an entry hazard on the field, Shedinja is done. Forretress, Donphan, Starmie, whatever, use Rapid Spin. Taunt is also important. Espeon is a good idea as Magic Mirror bounces entry hazards and status attacks aimed at Shedinja. You'll be wanting a way of removing Pursuiters so… Tyranitar. Run a Fighting type like Conkeldurr or Machamp. Find a Pokémon who can take out as many of the types that deal damage to Shedinja. Fire, Flying, Rock, Ghost, Dark… find a couple of Pokémon who can reliably remove these types and Shedinja will have a MUCH easier time.
Countering Shedinja
Not even going to beat around the bush. STEALTH ROCK, SPIKES, STATUS, WEATHER, ANY RESIDUAL DAMAGE AND SHEDINJA EATS DIRT. I'm not trying to be funny, I'm trying to make it clear. If you use Shedinja, be warned that a lot of the time you will be down to 5 Pokémon in an instant. An unlucky Whirlwind or Roar can bring Shedinja into the fray before you're ready to use it, most of the time meaning it dies in a flash. Like… I don't know how to make it any clearer. Use Shedinja at your own risk. Anyway, more specific counters. Steels resist all of your moves, although you can cripple them with Will-O-Wisp. Ferrothorn is a very notable Steel due to Iron Barbs, entry hazards and Leech Seed. Other Steels worth mentioning include Ferrothorn, Heatran, Dialga, Registeel, that sort of thing. Fire Pokémon are immune to Will-O-Wisp (watch out for Toxic), they resist your Bug moves, and can hit through Wonder Guard. Ho-Oh, Heatran, Darmanitan, Torkoal, Infernape, Ninetales, the list is practically endless. Speaking of ubers, let's get to Zekrom and Reshiram, which completely RUIN Shedinja due to its ability basically being the entire point of its existence. Chandelure gets hurt by Shadow Sneak and Sucker Punch, but it can come in on anything else, trapping Shedinja in the process. An interesting kill is with Darkrai and using Dark Void to activate Bad Dreams. I've only just realised how pointless this section is for Shedinja. I could have done this in a few words. Residual damage, Fire, Flying, Rock, Ghost, Dark, status, Mold Breaker. Done. There's your counters!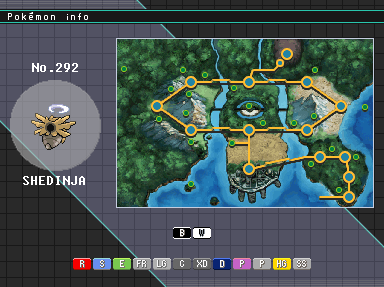 Locations in Games
Ruby/Sapphire/Emerald:
Evolve from Nincada
FireRed/LeafGreen:
Trade from Ruby/Sapphire/Emerald .
Colosseum/XD:

Trade from Ruby/Sapphire/Emerald
Diamond/Pearl/Platinum:
Evolve Nincada .
HeartGold/SoulSilver:
Evolve Nincada .
Black/White:
Transfer from Diamond/Pearl/Platinum/HeartGold/SoulSilver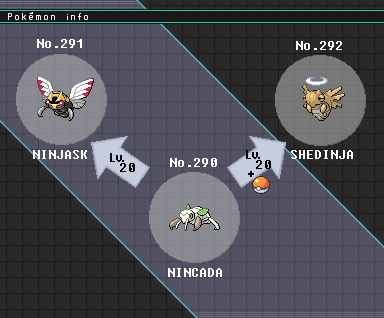 Animé Appearences
| | |
| --- | --- |
| Shedinja has made a few appearances in the anime. In the main appearances. In the main one, it was under the control of Hansen as he tried to take over the Mirage Kingdom | |