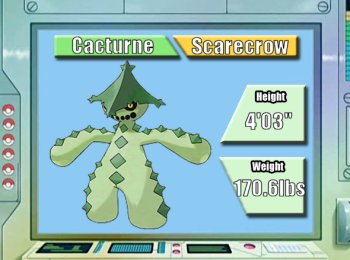 Cacturne, The Scarecrow Pokémon. During the daytime, Cacturne remains unmoving so that it does not lose any moisture to the harsh desert sun. This Pokémon becomes active at night when the temperature drops. If a traveler is going through a desert in the thick of night, Cacturne will follow in a ragtag group. The Pokémon are biding their time, waiting for the traveler to tire and become incapable of moving. After spending thousands of years in harsh deserts, its blood transformed into the same substances as sand.
Overview
Cacturne is an eccentric Pokémon, favouring moves that disobey the mechanics of Speed and relying on prediction to compensate for its death-wish defences. In stat terms, it's easily summed up as a glass-cannon with poor Speed. Base 115 Attacking stats let it hit hard, but an awful base 55 Speed stat hurts any hopes it had of being a straightforward sweeper.
One of the best changes to happen to Cacturne in the generation shift was the addition of Sucker Punch. Cacturne's poor defensive stats invite its opposition to attack, but STAB Sucker Punch can really punish them if they choose to. Cacturne can also add Swords Dance to its repertoire to increase the Sucker Punch threat, and also has Focus Punch at its disposal to punish an opponent who chooses not to attack. Those two moves dominate Cacturne's move-sets, and the amount of reliance Cacturne places on perfect prediction borders on gimmick levels. Nevertheless, it's no less a threat for it, and in the right hands it has the tools to wreak havoc on its opposition.
For all its eccentricities, it has little hope of scraping into the Standard environment. Instead, it comfortably fits into the Underused environment. In the right hands it can be devastating, but in the wrong hands, those paper-thin defensive stats will ruin it.
Ability
Sand Veil: increases Cacturne's evasion by 20% if a Sandstorm is active. For an idea of this evasion boost's impact, the normally 100% accurate Flamethrower would be 80% accurate, whilst the somewhat accurate Fire Blast would be down to a pitiful 68% accuracy. Reliable moves become unreliable, and unreliable moves struggle even more. It's fortunate for Cacturne's opponents that the best source of Sandstorm comes from Sand Stream, a trait locked to two OU Pokémon (Tyranitar and Hippowdon). With that in mind, Cacturne's UU opposition will at least have some comfort knowing that Cacturne will struggle to get suitable Sandstorm support.
Also, in case you didn't know, it also makes Cacturne immune to Sandstorm (despite not being a Ground, Rock and Steel type).
Move Sets
Dance-Punch-Punch
- Sucker Punch
- Focus Punch
- Swords Dance
- Substitute / Seed Bomb
Item Attached: Leftovers
Ability: Sand Veil
EVs and Nature:
EVs: 4 HP / 252 Atk / 252 Spd
Adamant Nature (+Atk, -SAtk)
The prediction reliant option for Cacturne comes from its double-punch combination. Sucker Punch punishes those that attack whilst Focus Punch punishes those that don't. Everything hangs on accurate prediction, making this a difficult set to utilise against ambiguous Pokémon (Pokémon who carry both a direct and indirect threat). If the opportunity allows for it, Cacturne can also throw up a Swords Dance at some point, making its punches all the more threatening and opening up the possibility of an unconventional sweep.
The final move-slot is negotiable. Seed Bomb adds reliable STAB to the mix, the word reliable being key here, since both Sucker Punch and Focus Punch are unreliable moves. On the other hand, Substitute gives it a much needed buffer against status moves (its biggest indirect threat), a defensive buffer should it get its prediction wrong, and has great synergy with both of the punches: a Substitute encourages (and almost forces) the opponent to attack, working nicely with Sucker Punch; whilst the classic Sub-Punch combination continues to exist, with Substitute absorbing a hit allowing for an un-flinched Focus Punch.
Cacturne's typing does it no favours on the weaknesses end of things, but it does give it six resistances to take advantage of, as well as a Psychic immunity. With the resistances drawing a lot of attention, Leftovers can be helpful just to work off little nibbles of damage you take switching into light hits (as well as any entry hazard damage). It's particularly important if you're using Substitute, just to recoup some of the HP lost throwing up the Sub in the first place.
You can run some more offensively minded items if you're hopeful on succeeding to sweep (Life Orb being the main one). You can also run a Focus Sash, enduring a potentially 1KOing hit. However, it's always worth noting that Focus Sash only works when you are at 100% HP. The slightest touch of damage, ranging from entry hazards to one turn of Hail, and the item is useless.
Sub-Seed-Punch-Punch
- Substitute
- Leech Seed
- Sucker Punch
- Focus Punch
Item Attached: Leftovers
Ability: Sand Veil
EVs and Nature:
EVs: 4 HP / 252 Atk / 252 Spd
Adamant Nature (+Atk, -SAtk)
Sub-Seed is a classic strategy for most Grass types. Leech Seed saps away at the opponent and provides ample HP for an infinite string of dispensable Substitutes. Cacturne adds a new twist to this strategy with its two punches, which as noted before, have a great deal of synergy with Substitute. Substitute continues to provides the same benefits as before: status immunity, an absorber for flinch-free Focus Punches and a defensive buffer for when your prediction goes askew.
Sub-Seed is well known for forcing switches (since it's the easiest way to get rid of Leech Seed), so some entry hazard support is useful to discourage and punish opponents who try to stall you out of PP with constant switching. Cacturne actually has its own form of entry hazard support through Spikes, but move-pool constraints already see Cacturne sacrificing Swords Dance, and it most certainly doesn't want to drop one of its punches.
Once again, you have Leftovers here, just to supply some fresh HP for those Substitutes. If you use this move-set in the Standard environment with Sand Stream support (or have good Sandstorm support from a team-mate in the Underused environment), you can throw some consideration to Bright Powder, which'll be covered in detail in the other options section.
Counter-Sash
- Counter
- Sucker Punch
- Swords Dance
- Seed Bomb
Item Attached: Focus Sash
Ability: Sand Veil
EVs and Nature:
EVs: 4 HP / 252 Atk / 252 Spd
Adamant Nature (+Atk, -SAtk)
All fragile Pokémon welcome Focus Sash and the quick KO it can bring when combined with Counter. Cacturne is another one that welcomes it, since it adds yet another layer to its prediction toy-set. Even at 1 HP, once its Sash is gone and Counter is useless, it can continue to be a threat with Sucker Punch, striking any opponent who tries to chip off the last of its HP through direct methods. Swords Dance is also welcome here, since a Dance-boosted Sucker Punch can sweep through teams. You can back-up Sucker Punch with Seed Bomb, once again for a reliable attacking option.
Dance-Sash
- Swords Dance
- Sucker Punch
- Seed Bomb
- Brick Break
Item Attached: Focus Sash
Ability: Sand Veil
EVs and Nature:
EVs: 4 HP / 252 Atk / 252 Spd
Adamant Nature (+Atk, -SAtk)
You're playing the same game as above, only instead of getting a quick Counter KO, you'll be using that Sash to get off a Swords Dance (or two if you're lucky). You're placing complete reliance on Sucker Punch to get the job done on anything faster, so obviously, anything faster who can survive a Dance-boosted Sucker Punch needs to be taken out of the equation. Seed Bomb plays the reliable back-up role again, but the final move-slot is really debatable. Brick Break is there mostly for its super-effective hit on Steel types, but it isn't your only option (and if you fancy being a bit cheeky, you can even put Focus Punch in its place and run a similar game to the first move-set).
Choice Specs
- Dark Pulse
- Energy Ball / Grass Knot
- Focus Blast
- Hidden Power [Psychic]
Item Attached: Choice Specs
Ability: Sand Veil
EVs and Nature:
EVs: 4 HP / 252 Spd / 252 SAtk
Modest Nature (+SAtk, -Atk)
It seems almost blasphemous to run such a conventional move-set on such an unconventional Pokémon, but Choice Specs is a viable route to go down. After all, if your opponent expects you to be unconventional, being conventional will catch them by surprise.
With all its "fun" toys being physical, its special move-pool and very good Special Attack stat has gone almost unmentioned. Its special options are pretty solid. Dark Pulse packs reliable STAB and power. Energy Ball also packs reliable STAB and power, but you can go for the more variable Grass Knot, which will hit harder on heavy opponents and softer on light opponents (for the most part, it'll match Energy Ball's 80 base power). Tagged on is the unreliable but powerful Focus Blast, mostly because it's its only special Fighting move (and you need that Fighting coverage to dispose of Steel types).
You've not got much for the final move-slot. Hidden Power [Psychic] is the main option, for a super-effective hit on Poison and Fighting types, particularly a 4x hit on Toxicroak.
EVs and Nature:
In most cases these speak for themselves. All of the physically-based move-sets want max Attack (accompanied by Adamant) and the specially-inclined one wants max Special Attack (accompanied by Modest).
Now, even if you're running Focus Punch and Sucker Punch, and have no Seed Bomb, if you carry a move like Substitute, you want max Speed. Why? Simply to outrun opponents before they can throw a status at you. The most obvious example is Weezing, who outruns you at your base Speed but is easily outran at max Speed. If you do have conventional attacks (like Seed Bomb), that added Speed is obviously there so you can hit them before they hit you. Cacturne may be slow, but it's better to outrun other slow Pokémon than to be outran by them.
In general, this means pretty much every Cacturne move-set is running the sweeper 252/252 EV spread with an Adamant or Modest nature. The only exceptions would be any self-created mixed sweepers, which may want EV investment in both offensive stats. Also, if you give consideration to Choice Scarf, a +Speed nature also starts to become viable. Aside from that, you keep things pretty simple with Cacturne's EVs, just about the only area of simplicity with this Pokémon.
Other Options
Destiny Bond, Payback, Dark Pulse, Superpower, Return, Thunderpunch, Bright Powder, Choice Band, Choice Scarf, Sandstorm, Spikes.
The fun of forcing your opponent to question whether they should or shouldn't attack doesn't end with what's already been mentioned. Use Destiny Bond just before the opponent lands a KO hit and they'll faint with you. If an opponent switches to something faster on the turn you've used Destiny Bond, the effect will carry over until Cacturne makes its next move. Basically, if you're unsuccessful at bringing your foe down with you, you'll still leave them with a headache (and of course, in the future they'll have to account for the Destiny Bond threat). It's worth noting that Destiny Bond doesn't work when Cacturne is KOed by end-of-turn damage, such as: Hail, Burn, Poison, Doom Desire or Future Sight.
Payback is another prediction reliant move to join the already plentiful list. It initially begins as a base power 50 move, but doubles to 100 if the opponent attacks or switches (that is effectively base power 150 with STAB). Obviously, if the opponent attacks you're probably happier to use Sucker Punch (or Counter), but if they switch, Payback gives Focus Punch some competition as the 'move to use' when the opponent switches. Since both will strike at 150 base power, the main difference comes in type coverage. The fact that Payback can't be flinched like Focus Punch is a bonus, but of course, Focus Punch usually gets the nod due to its type coverage.
Despite Sucker Punch filling in as Dark STAB, what it doesn't do is fill in as 'reliable' Dark STAB. Substitute-equipped Psychics and Ghosts like to abuse this, so packing a Dark move that will always land a hit can be useful. With that in mind, Payback, as well as Dark Pulse (yes, its Special Attack is usable without EV investment) can claw their way onto the double-punch sets occasionally.
Outside of those already mentioned, there are hardly any more physical moves worthy of note:
Superpower (Platinum tutor) offers some mild competition to Focus Punch as the fighting move of choice. It hits at a 120 base power and can't be flinched like Focus Punch, but it has unfavourable side-effects. It lowers Cacturne's Defence stat (not much of a big deal) as well as its Attack stat (a big deal). If you plan to switch about a lot, the stat-drop might not be too significant, but you probably won't want to be mixing Superpower with Swords Dance.
Return is the strongest physical move it has available when faced with Toxicroak or Heracross (who resist Dark and Fighting moves), so it merits a mention (technically Double-Edge is the strongest choice, but recoil and the time-travelling-to-Emerald factor make it unfavourable).
It also has Thunderpunch, which can pull a nasty surprise on Gyarados in the Standard environment, but provides little else (since Seed Bomb covers most Water types).
I promised I'd say a word on Bright Powder earlier, so here it is. As noted in the Sand Veil overview, an active Sand Veil will bring reliable moves down to unreliable levels. In the aforementioned examples, Flamethrower would be down to 80% accuracy and Fire Blast would be down to 68% accuracy. Bright Powder adds an extra 10% evasion, which is pretty useless on its own, but when added to Sand Veil's evasion boost, you'll now have Flamethrower down to 72% accuracy and Fire Blast down to 62% accuracy.
On weight of numbers, your opponent is bound to miss at some point, but you don't want to be hit...at all. The way around this is to throw up Substitutes constantly. The Sub will break when they hit, but when they miss, you have a safety buffer in place. Once a Sub is up, you're free to launch a Leech Seed to bring some HP back and continue with your evasive ways; and of course, if your Sub ever gets broken, throw up a fresh one. It's worth noting, most people absolutely despise this tactic, ranging from a general distaste to seeing it as cheating. It's a legal strategy, just looked down upon, so be prepared for some occasional abuse from a frustrated opponent.
Choice Band boosts Cacturne's unconventional moves, but the fact that it 'locks' you into one move at a time also hinders you. After all, if your opponent knows you're stuck using Focus Punch, they're not going to hesitate to attack. If you switch about a lot and want to free up the Swords Dance and Substitute move-slots, then it's an option, but otherwise, it's more trouble than its worth.
Choice Scarf can be used in the same way as Choice Specs. People will expect the unconventional, so surprise them with something conventional. Additionally, you're also surprising them by having a fast Cacturne (reaching well over the 300 Speed marker with the Scarf boost), opening up plenty of chances for a surprise 'revenge-kill'. The move-set that joins this can be varied greatly, and with both of its attacking stats being great, it can freely run a mixed set of Special and Physical moves.
I absolute advise against spending a turn setting up Sandstorm with Cacturne, but I do have to mention it. Quite simply, if you want to abuse Sand Veil, team it with a Sand Streamer or have a team-mate set it up (preferably with a Smooth Rock). Evasion is nice to have, but Cacturne is starved for move-slots as it is, and also doesn't have the defensive stats to waste its turns doing anything that won't increase its chances of destroying its opposition.
The same move-slot starvation relegates Spikes to the sidelines too. Spikers are few and far between, with good Spikers being fewer. Sadly, Cacturne is not good at laying out Spikes. It has poor defensive stats, and whilst it can force a free turn or two to throw up some, it just isn't suited for it (and generally has better things to do).
Countering Cacturne
Cacturne is one of the most unconventional Pokémon you could be matched with, making countering a bit more complicated. If you go too direct, you could end up being slayed by a Sucker Punch, but if you sit back, you could be brought down by a Focus Punch. The most important thing to keep in mind is that Cacturne is a slow glass-cannon. Six weaknesses (including a chunky 4x one to Bug moves) and light base 60 defences makes it rather easy to KO, so if it missteps, it's usually a goner. It also hasn't got the Speed to go sweeping and puts great reliance on Sucker Punch to make up for that downfall.
There are direct ways and indirect ways to handle Cacturne. The best Pokémon suited for the direct methods are ones with Dark resistances, who can face a Sucker Punch fairly fearlessly. Fighting types do well here, especially Toxicroak (who carries additional resistances to Focus Punch and Seed Bomb) and Hitmontop (who benefits from Intimidate). Dark Types with a useful secondary typing can also work out nicely. Honchkrow gets an OHKO with STAB Drill Peck and Drapion gets an OHKO with Cross Poison. In both cases their secondary types neutralise their Fighting weakness (although Focus Punch still really hurts) and gives them a resistance to Grass moves. There are many others who can face Sucker Punch fearlessly, but keep in mind you need to get them into play without letting Cacturne fire off a Focus Punch (that means be careful with an Aggron or Steelix) and also need to be aware of a potential Seed Bomb threat.
The indirect methods usually lie in status attacks and an indifference to Focus Punch. These will fail if Cacturne can throw up a Substitute, so be very careful with your timing. Will-o-Wisp is the main status to rely on, killing off Cacturne's raw power and slowly bringing it to an end. Weezing is one of the better users with its Fighting and Grass resistances, but even Dark-weak Pokémon like Banette can try their luck if they're confident that Sucker Punch is its only Dark move. The possibility of it carrying Seed Bomb can complicate things a bit, and the aforementioned Substitute problems also makes it undesirable.
Another indirect method is to throw up Substitutes of your own against it, especially effective if you are indifferent to Focus Punch. If you can get a Substitute active, you'll have a defensive buffer available to block off its Sucker Punch attempts. Once again, the possibility of Seed Bomb does complicate things a little, so a Grass resistance to match with Focus Punch indifference does help. It's the same story as before for Dark-weak Pokémon, they can be used if you're positive that Sucker Punch is its only Dark move. There aren't huge numbers of Pokémon who can play both the direct and indirect methods safely. The aforementioned Weezing does nicely with Sludge Bomb and Will-o-Wisp whilst Torkoal can also work with Flamethrower or Will-o-Wisp (relying on its raw bulk to keep it safe from STAB Sucker Punch or Focus Punch). Of course, Cacturne can complicate things further and hit those two with Specs-boosted Dark Pulses and rip at their weaker defensive stats, but then a conventional Specs-set is probably the easiest Cacturne variant to deal with (once you realise it's using Choice Specs).
Locations in Games
Ruby/Sapphire/Emerald

Evolve Cacnea

Colosseum/XD

Trade from RSE

Fire Red/Leaf Green

Trade from RSE

Diamond/Pearl/Platinum

Route 228
Animé Appearences