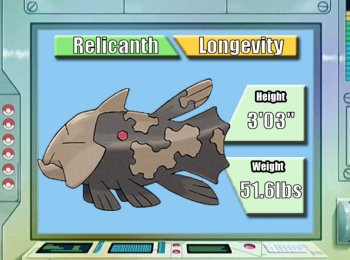 Relicanth, The Longevity Pokémon. It is a species that existed for a hundred million years without ever changing its form. This ancient Pokémon feeds on microscopic organisms with its toothless mouth. Its body withstands the enormous water pressure of the ocean depths. Its body is covered in tough scales that are like craggy rocks. It was discovered during a deep-sea exploration.
Overview
Relicanth didn't get an easy start in life. Water is a good type, Rock is a good type, but they don't go particularly well together. Compounding this further, the Water type family tree is overcrowded, presenting a lot of competition that makes it harder for Relicanth to carve a spot for itself in a team.
The generation switch gave Relicanth a bit of a helping hand. The physical-special split gave it a STAB Water move to abuse, which can be quite synergetic with Rain Dance and its Swift Swim ability. The other option it was afforded was the very powerful Head Smash, which pairs nicely with Rock Head. A final little bonus comes from Rock Polish, giving it another option (alongside Swift Swim) to boost its rather inadequate Speed.
It's still stuck in the Underused tier, bordering on Never-used, but it is much improved and a quite viable option.
Ability
Swift Swim: doubles Relicanth's Speed in rain. This gives it great synergy with Rain Dance, which can double its Speed and gives a 1.5x boost to its Water moves.
Rock Head: prevents recoil from affecting Relicanth. Importantly, this makes Head Smash a very viable move, with Double-Edge also becoming a usable option.
Move Sets
Choice
- Head Smash
- Waterfall
- Earthquake
- Double-Edge
Item Attached: Choice Band / Scarf
Ability: Rock Head
EVs and Nature:
EVs: 4 HP / 252 Atk / 252 Spd
Adamant Nature (+Atk, -SAtk)
Stacking the huge power of Head Smash with STAB and a Choice Band boost is quite an appealing option. It'll put a great sting in most opponents, and of course, with Rock Head, the recoil won't come back to bite you. Waterfall and Earthquake afford it pretty decent type coverage to go alongside it, and Double-Edge, despite lacking any super-effective hits, provides a very respectable Base 120 Power move to use when all else is resisted.
Choice Scarf is the other route to take this same move-set. Speed is one of Relicanth's major letdowns, and whilst it won't have the wall-tearing power of Choice Band, it can edge its way passed the 330 mark and outrun much of the UU and NU tier.
Swift Swimmer
- Rain Dance
- Waterfall
- Double-Edge
- Earthquake / Head Smash
Item Attached: Life Orb / Mystic Water / Wet Rock
Ability: Swift Swim
EVs and Nature:
EVs: 92 HP / 252 Atk / 164 Spd
Adamant Nature (+Atk, -SAtk)
As noted earlier, Relicanth has a lot of synergy with Rain Dance. It doubles its Speed thanks to Swift Swim and gives a 1.5x boost to Waterfall.
Double-Edge and Waterfall makes for quite an effective partnership, since the Normal-Water combination is only resisted by Empoleon and Shedinja (and Dialga but that's a situation that should never arise).
In the final move-slot Relicanth has room for another attacking option. Earthquake affords it a lot of added type coverage whilst Head Smash provides a very powerful STAB, however that 50% recoil can really bite when Relicanth doesn't have Rock Head.
Life Orb is a nice option for a power boost, however it'll eat at Relicanth's HP, and Relicanth does favour its HP for abusing some of its useful resistances. Mystic Water is a recoil-free power boost to Waterfall, and with STAB and Rain Dance factored in, the extra 20% can make a rather sizable difference. Wet Rock extends the duration of Rain Dance by three turns, which is useful for extending Relicanth's window of sweeping opportunity and possibly for supporting the rest of Relicanth's team.
Rock Polish
- Rock Polish
- Head Smash
- Waterfall / Earthquake / Double-Edge
- Waterfall / Earthquake / Double-Edge
Item Attached: Life Orb / Leftovers
Ability: Rock Head
EVs and Nature:
EVs: 92 HP / 252 Atk / 164 Spd
Adamant Nature (+Atk, -SAtk)
Rock Polish is an alternative way for Relicanth to boost its Speed. The main advantage here is you can keep the Rock Head ability, making the most out of the very powerful Head Smash. Supporting this powerful move are three viable options, STAB Waterfall, Earthquake and Double-Edge.
Life Orb adds a big chunk of power, which helps, since without any boosts, Relicanth's Attack stat is rather average. Leftovers just adds some recovery, which is nice to pair up with Relicanth's resistances.
Rest-Talk
- Rest
- Sleep Talk
- Head Smash
- Waterfall / Earthquake / Double-Edge
Item Attached: Leftovers
Ability: Rock Head
EVs and Nature:
EVs: 252 HP / 252 Atk / 4 Def
Adamant Nature (+Atk, -SAtk)
Relicanth's resistances have been alluded to in previous move-sets, but Rest-Talk is Relicanth's best means to abuse them. It has a very high Defence stat and high HP so physical walling is a viable route for it. Once again, you have room for Rock Head and that makes room for Head Smash. You have only one move to pair up with Head Smash, and unfortunately you won't be able to obtain perfect type coverage with the two moves, but any of the three makes for a viable partner.
EVs and Nature:
Choice
Max Attack is an obvious starting point. Max Speed may be less obvious, but it inches Relicanth over the 200 mark, which gets it ahead of a lot of sturdy Pokémon. With Choice Scarf, that Speed stat goes over the 300 mark which gets ahead of a lot of fragile Pokémon, so in most situations, it's a useful EV spread (although with the Choice Scarf, you might want to consider Jolly, which can get you passed the 340 Speed mark).
Swift Swimmer
Again, Max Attack with Adamant is a good starting point. There are a couple of worthwhile Speed markers to aim for: 187 Speed (164 Speed EVs) will outrun Alakazam, Dugtrio and Sceptile under Swift Swim; 181 Speed will outrun Raikou, Ambipom and Persian with Swift Swim; and 176 Speed will outrun Espeon, Tauros and Froslass after Swift Swim. Max Speed will get you passed Electrode after Swift Swim, who is the fastest Pokémon you are liable to see in the Underused environment, so Max Speed is also worth considering. The excess EVs can be dumped into Relicanth's HP.
Rock Polish
Rock Polish doubles Speed just like Swift Swim, so all of the above Speed markers are relevant here.
Rest-Talk
Thanks to its strong innate Defence stat, a Relicanth with Max HP and Max Attack can make for a pretty useful wall as well as a useful offensive threat. The EVs can be tilted to favour Defence a little bit more (at the cost of Attack), but there's no demanding need to go overboard with Defence.
Other Options
Stealth Rock, Aqua Tail, Yawn.
Not too many Pokémon in the Never-Used tier can use Stealth Rock, so the fact that Relicanth can throw up a layer makes it quite a useful option for team support.
Aqua Tail is an alternative option to Waterfall. You get a little more power for a little lese accuracy, but Waterfall tends to be more favoured for its consistency.
Yawn can force some switches, which is relatively useful but somewhat superfluous, especially when vying for a move-slot ahead of some of its other options.
Countering Relicanth
Relicanth has three major problems: weaknesses, Special Defence and Speed. Rock and Water mix together for a few useful resistances, but it also picks up a lot of weaknesses along the way; without Swift Swim or Rock Polish, Relicanth is almost always going to strike second; and its Special Defence is very easy to expose.
STAB Head Smash can really hurt, so it's a matter of finding Pokémon who can endure that and then hit back. Poliwrath and Quagsire resist Head Smash and can absorb Waterfalls, and both can hit back with STAB moves (albeit against Relicanth's stronger Defence stat). Torterra doesn't manage a Waterfall resistance, but a STAB Grass move, great Defence and a Rock resistance is enough to throw it into the reckoning. Hitmontop (especially thanks to Intimidate) and Hariyama also make decent counters, being able to take Head Smash and most of the rest of what Relicanth can throw at them.
Locations in Games
Ruby/Sapphire/Emerald

Routes 124 & 126 (Underwater)

Colosseum/XD

Trade from RSE

Fire Red/Leaf Green

Trade from RSE

Diamond/Pearl/Platinum

Route 226

HeartGold/SoulSilver

Route 12 (Swarm)
Animé Appearences