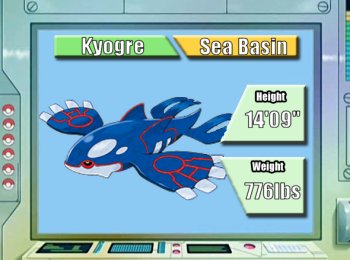 Kyogre, The Sea Basin Pokémon. It is said to have widened the seas by causing downpours. It had been asleep in a marine trench. A mythical Pokémon said to have swelled the seas with rain and tidal waves. It battled with GROUDON.
Overview
Kyogre is the most threatening Pokémon in the game. Not only does it set up permanent rain, which in itself is dangerous, it can 2HKO the most bulky Blissey, which is nothing short of amazing. With one of the largest Special Attack stats in the game, great bulk, and an ability which sends its own damage through the roof as well as making plenty of other Pokémon deadly, Kyogre is considered by more or less... every single person in the world as the most dangerous and powerful Pokémon in the entire game.
Ability
Drizzle: sets up permanent whenever you switch Kyogre in, so even if it is stopped somehow, you can just start it up again. Amazing ability.
Move Sets
This is what Noah was up against...
- Water Spout
- Surf
- Ice Beam
- Thunder
Item Attached: Choice Specs / Choice Scarf
Ability: Drizzle
EVs and Nature:
EVs: 4 HP / 252 SAtk / 252 Spd
Modest Nature (+SAtk, -Atk) / Timid Nature (+Spd, -Atk)
Needless to say, if Noah didn't have God on his side, he'd have lost miserably. Water Spout is scary. It's downright terrifying. At a sickening 337 base power, it's already amazing, and that's without factoring in Choice Specs or Kyogre's Special Attack. This is the move that makes Kyogre so scary. Anything switching in except for Pokémon that absorb it or are 4x resistant will be taking damage comparable to a Water type Explosion. Oh yeah, it's that good. Obviously, the downside is as your HP goes down, so does Water Spout's power, so make sure you don't get poisoned and you have entry hazards out of the way. If you do get damaged enough, Surf is your... much... much... much weaker alternative. However, as soon as Kyogre gets below around 70% HP, Surf becomes more powerful than Water Spout. Ice Beam is a great coverage move and is great in general. Thunder decimates opposing Kyogre and has perfect accuracy in rain, which really makes it worth using.
I'm sleeping in the rain, just sleeping in the rain
- Surf
- Calm Mind
- Rest
- Sleep Talk
Item Attached: Leftovers
Ability: Drizzle
EVs and Nature:
EVs: 240 HP / 228 Def / 16 SAtk / 24 Spd
Modest Nature (+SAtk, -Atk)
Uses Kyogre's amazing bulk perfectly. Surf is the best move here, as you will likely be getting below optimal HP constantly as you won't be switching out often. Calm Mind boosts its incredible Special Attack and its awesome Special Defence, which is why its Defence is heavily invested in. Rest and Sleep Talk work really well together, as you get healed with Rest, and Sleep Talk boosts and attacks in your slumber.
And now for something completely different
- Aqua Tail
- Earthquake
- Avalanche
- Return / Double-Edge / Body Slam
Item Attached: Choice Band / Life Orb
Ability: Drizzle
EVs and Nature:
EVs: 240 HP / 244 Atk / 24 Spd
Adamant Nature (+Atk, -SAtk)
Very, very different. Aqua Tail hits really quite hard, especially since most switch ins to Kyogre will be expecting a special set. Earthquake wrecks Steels and is one of the best physical moves in the game. Avalanche will often get double power thanks to Kyogre's less than admirable Speed. The Normal move is there for general... reliability. Return is the most reliable move here, but Double-Edge is much stronger. Body Slam can paralyze though, which is always nice.
Paralyzing rain
- Surf - Thunder
- Ice Beam
- Thunder Wave
Item Attached: Lum Berry / Leftovers
Ability: Drizzle
EVs and Nature:
EVs: 252 HP / 4 Def / 252 SAtk
Modest Nature (+SAtk, -Atk)
Works best as a lead, but can still be effective as a general bulky Water. Surf, Thunder and Ice Beam are all standard, and what they do is obvious. Thunder Wave cripples many Pokémon in the uber enviroment, as many rely on great Speed. Even if the Pokémon isn't fast, the chance of being fully paralyzed is always a threat.
Submarine
- Surf
- Thunder / Ice Beam
- Calm Mind
- Substitute
Item Attached: Leftovers
Ability: Drizzle
EVs and Nature:
EVs: 252 HP / 252 SAtk / 4 Spd
Modest Nature (+SAtk, -Atk
Surf is... your reliable... zzz... Thunder handles Kyogre and flyers. Ice Beam beats Dragons, flyers and Grass Pokémon. Calm Mind brings your Special Attack up to awesome levels. Substitute allows you to always beat Blissey thanks to 101 subs, which means it can't be broken by a single Seismic Toss.
EVs and Nature:
This is what Noah was up against...
You want to hit hard and as often as possible. Run max Speed and max Special Attack. Timid if you feel like being a bit faster, and definitely Timid if you are running Scarf.
I'm sleeping in the rain, just sleeping in the rain
240 HP gives you 401, which survives five Seismic Tosses. The Special Attack gets to a jump point, and a little extra is always nice. 24 Speed beats Adamant Tyranitar, with the rest in Defence so you can take hits from both sides of the spectrum.
And now for something completely different
240 HP so you can take more Seismic Tosses. The Speed puts you ahead of Adamant Tyranitar, and the Attack is there so you hit a lot harder.
Paralyzing rain
Max HP so you can take more hits. Max Special Attack so you hit as hard as possible. Because you're a lead you want to be a little slower than Groudon, so if you don't have a perfect Speed IV, don't worry about it.
Submarine
252 HP is needed to use Substitute well. 252 Special Attack is needed so you hit as hard as... specially possible. The 4 leftover can go anywhere, but I like it in Speed.

Other Options
Block, Brick Break, Brine, Hydro Pump, Rock Slide, Signal Beam, Toxic, Waterfall Block is sort of cool, but a waste on Kyogre.
Brick Break is an option on the physical set, but Earthquake has pretty much everything covered.
Brine is an option on any special set. It gets double power when the opponent has less than 50% health. I'd rather just use Water Spout or Surf.
Hydro Pump is a stronger alternative to Surf, but not as reliable.
Rock Slide flinches... and is another physical move.
Signal Beam is a cool bug move, which wrecks the massive amount of Psychics in ubers.
Toxic is always a cool move on bulky Waters, and Kyogre is definitely that.
Waterfall can be used over Aqua Tail, but the extra power is more useful than the flinch.
Countering Kyogre
Wow... countering something that 2HKOs the best special wall in the game. Well, Blissey beats ScarfOgre and the lead set but loses to every other Kyogre variant. Latias takes anything well except for Ice Beam and hits from the physical set. Palkia and Kingdra are great for their 4x resistance to Water. Dialga takes nothing from most of Kyogre's attacks, except for a little damage from Ice Beam and a lot of damage from Earthquake. Giratina is always a good choice for a wall, especially as it resists Water. Rayquaza cancels out rain and makes Thunder inaccurate, as well as resisting Water. However, it dies to Ice Beam and does still get very much hurt by Thunder.
Now for some more... less conventional methods of countering Kyogre. Shedinja resists everything Kyogre has except for Rock Slide, Toxic, and a random Hidden Power. Quagsire absorbs Water and is immune to Thunder, making it a great choice. It also has Encore, Toxic and Earthquake to beat Kyogre down. Ludicolo is a good choice thanks to its 4x resistance to Water and generally good special bulk. It can drain Kyogre with Leech Seed and Substitute, whilst hurting it with Grass Knot.
Countering a Pokémon as powerful as Kyogre is like... jumping out infront of a car. Yeah, you can switch into it, but regardless of what it does, you will get hurt. Probably really hurt. I wouldn't suggest doing either unless you are made of metal or you are completely positive you can take Water Spout, in the case of Kyogre.
Locations in Games
Ruby/Sapphire/Emerald

Cave of Origin (Sapphire) Marine Cave (Emerald) Trade from SE (Ruby)

Colosseum/XD

Trade from SE

Fire Red/Leaf Green

Trade from SE

Diamond/Pearl/Platinum

Trade from SEHG

HeartGold/SoulSilver

Embedded Tower (HeartGold) Trade from SEHG(SoulSilver)
Animé Appearences