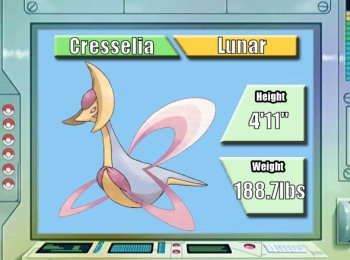 Cresselia, The Lunar Pokémon. Shiny particles are released from its wings like a veil. It is said to represent the crescent moon. When the night of the new moon approaches, the aurora that extends from its tail elongates. It was placed on Full Moon Island to counter the nightmare affects of Darkrai across the ocean at New Moon Island
Overview
In a generation packed with offensive changes and offensive Pokémon, Cresselia stands out as a major defensive Pokémon to emerge from the crowd. It was also one of many legends to be added in D/P, and as such, has stats becoming of a legend.
From the get-go it establishes itself as defensive-minded. All of its best base stats lie in its defences, and it comfortably walls offence from both the special and physical end of the attacking spectrum. Its ability is also defensively-minded, granting it a very useful immunity to Ground moves. As a defensive Pokémon, Cresselia's biggest weakness is a lack of a reliable recovery move. Moonlight is low on PP and struggles during Sandstorms, whilst Rest comes with its well-documented negatives.
As an offensive Pokémon, Cresselia is fairly lacking. With so many of its base stats focused on defending, there's very little in the way of offence. Like Blissey, it'll usually have to turn to Thunder Wave for a sure-fire way of crippling opposing sweepers, or turn to Calm Mind to give it adequate offensive stats.
Whilst its popularity has been on the slide since the early days of the 4th gen battling scene, it still remains a firm OU and comfortably slots into the standard environment.
Ability
Levitate: gives Cresselia a very useful Ground immunity. Along with possessing Ice Beam, as well as a general indifference to most moves that are used in tandem with Earthquake (like Stone Edge), Cresselia usually makes for an effective Ground-type counter.
Move Sets
Calm Mind
- Calm Mind
- Ice Beam
- Psychic
- Moonlight
Item Attached: Leftovers
Ability: Levitate
EVs and Nature:
EVs: 60 HP / 196 Spd / 252 SAtk
Timid Nature (+Spd, -Atk)
Calm Mind Cresselia is an offensive defensive Pokémon, becoming more offensive or defensive depending on how you approach its EVs. Regardless, its innate bulkiness will be ever-present, and even without significant EV investment, it'll continue to be an efficient wall. Calm Mind gives it an offensive and defensive boost to its special stats. After a single Calm Mind it should be soaking up most special attacks with ease, whilst the offensive boost will give it respectable attacking options.
Psychic is its reliable STAB move. You'll want to exercise some caution in regards to throwing it about aimlessly, since Pursuit-equipped Dark types (and Metagross) see it as a free switch-in. Ice Beam provides plentiful type coverage, including a useful 4x hit on Salamence and coverage on the majority of Ground types.
Moonlight is your only real option for recovery. In normal weather it matches Recover and under Sun it's a 66% heal. Under Rain, Hail or Sandstorm (with the latter being fairly common due to Sandstream), it heals for a rather meagre 25%. You could try Rest as an alternative, but that means you'll either have to switch out (losing your boosts) and rely on a Heal Beller/Aromatherapist to cure it or sit exposed for two turns, something Cresselia can ill-afford. If the threat of Sandstorm is too great and Rest doesn't appeal, then the next best option is to turn to another attacking move or a support/defensive move (such as Thunder Wave or Reflect).
Support/Wall
- Ice Beam
- Psychic / Charge Beam / Thunder Wave / Reflect
- Psychic / Charge Beam / Thunder Wave / Reflect
- Moonlight / Rest
Item Attached: Leftovers
Ability: Levitate
EVs and Nature:
EVs: 252 HP / 138 Def / 120 SAtk
Calm Nature (+SDef, -Atk)
Cresselia's innate defensive abilities make it an obvious candidate for the supporter/wall role on a team.
Ice Beam remains essential, gaining a 4x hit on Salamence and a super-effective hit on most Ground types. You can back it up with STAB Psychic (which'll get a strong hit on Infernape and Gengar) or Charge Beam for a make-shift "Bolt-Beam" (Charge Beam won't guarantee a 2KO on Gyarados unfortunately, but it does respectable damage and comes with a possible stat-boost) . Alternatively, you can risk leaving Ice Beam as your sole-attacking move and rely on Thunder Wave to threaten opposing sweepers. Although it poses an indirect threat, the majority of sweepers (including the aforementioned Infernape and Gengar) are absolutely crippled by paralysis, which is more than enough to send them running (or better yet, cripple them). You can also put in some consideration for Reflect. It provides a defensive boost for Cresselia's team but it has additional attraction of softening up any opposing Pursuits Cresselia may have to endure.
Once again, you're stuck with Moonlight as your only real recovery option. Rest is a bit more viable here, since switching to a Heal Beller/Aromatherapist won't cost you any stat-boosts (unless you run Charge Beam), but either way, neither healing option is overwhelmingly attractive. Still, some recovery is usually better than no recovery.
Rest-Talk
- Rest
- Sleep Talk
- Ice Beam
- Psychic / Charge Beam
Item Attached: Leftovers
Ability: Levitate
EVs and Nature:
EVs: 252 HP / 138 Def / 120 SAtk
Calm Nature (+SDef, -Atk)
As noted, Moonlight's unreliability can be a bit of a problem, and the Sleep Talk-Rest combination comes close as a reliable replacement. It's costly on move-slots however, and how you use the remaining two can be varied greatly. Two offensive moves is an option, with Ice Beam and Psychic or Ice Beam and Charge Beam being the most favoured combinations. The other main option is to go with an attacking move (Ice Beam or Psychic) and a supporting move (Thunder Wave or Reflect). You could go extra-defensive with Calm Mind and an attacking move (again, Ice Beam or Psychic), but then you leave yourself heavily exposed to opposing walls through a lack of type coverage.
EVs and Nature:
Offensive-Calm Mind
Cresselia doesn't have an awesome Speed stat, but a mix of Timid and 160 Speed EVs gets it up to 270, enough to jump ahead of the standard Adamant Heracross. With a little extra investment, you can get up to 280 (196 EVs) and outrun Adamant/Modest Lucario and Porygon-Z variants. Since you are going with the offensive route, by all means go the full 252 EVs into its Special Attack and let the base stats handle the defensive end of things. Any spare EVs can be dumped into its HP stat.
EVs: 96 HP / 160 Spd / 252 SAtk
Timid Nature (+Spd, -Atk)
EVs: 60 HP / 196 Spd / 252 SAtk
Timid Nature (+Spd, -Atk)
Defensive-Calm Mind
On the defensive side of things, you're giving a big assist to your Defence and HP stats and letting Calm Mind deal with your special stats. Short of a little investment into your Speed stat to nip ahead of other base 85 Pokémon (Suicune mainly), you're going with max Defence and HP. You can consider a little bit of Special Attack investment so that you can average an OHKO on Salamence without Calm Mind (around 120 Special Attack EVs).
EVs: 138 HP / 252 Def / 120 SAtk
Bold Nature (+Def, -Atk)
EVs: 252 HP / 252 Def / 4 SAtk
Bold Nature (+Def, -Atk)
Other Move-sets
Other move-sets revolve around defensive EV investment and getting your Special Attack up high enough to average an OHKO on Salamence (120 Special Attack EVs). The given EV spread gives you fairly balanced defences and enough Special Attack to average an OHKO on Salamence. You can also go with max Defence (or max Special Defence) quite easily, sipping away some EVs from HP or Special Attack.
EVs: 252 HP / 138 Def / 120 SAtk
Calm Nature (+SDef, -Atk)
Classically, Modest with 236 Special Attack EVs was also desirable for an OHKO on Garchomp, but with Garchomp being sent to the Uber environment, this number is no longer needed (but still merits a mention).
Other Options
Grass Knot, Hidden Power [Fighting], Shadow Ball, Sunny Day, Lunar Dance, Toxic, Light Screen. Aside from Psychic, Ice Beam and Charge Beam, Cresselia has a few more attacking options. Grass Knot gets a threatening hit on Tyranitar and most Ground types, Hidden Power [Fighting] gets a very threatening hit on Tyranitar and Weavile and Shadow Ball gets some unremarkable coverage on other Psychic types. Sunny Day can make Moonlight more effective and also clears other weather statuses off the field. It's costly on move-slots, but it's quite comparable to the Rest and Sleep Talk combination (two move-slots used up to provide reliable recovery). If you have team-mates who can benefit from the Sun, such as Chlorophyll-users or Fire types, it's well worth consideration. Lunar Dance is Cresselia's signature move. Cresselia sacrifices itself and completely heals (PP, HP and status) the team-mate that switches in. Obviously, carrying a move with the intention of letting Cresselia faint is usually seen as a negative, but you can make use of an injured Cresselia or you can use it to give a second chance to an unsuccessful sweeper, such as Bellyzard (Belly Drum Charizard). Toxic can pose a problem for an opposing Cresselia, as well as some other Pokémon (like Swampert). Like Psychic, some restraint needs to be exercised, since it can be seen as a free switch-in for Steel types. Light Screen is an option for giving a special screen to Cresselia's team. It fails to hold the same kind of popularity as Reflect since it won't soften Pursuits and also faces competition from Calm Mind for increasing Cresselia's special walling capabilities.
Countering Cresselia
Pursuit puts a real sting in Cresselia's walling abilities, especially since it has so little at its disposal to threaten common Pursuit-users with. Dark types are immune to its STAB Psychic and most possess some form of indifference to Ice Beam. Weavile resists Ice Beam, Tyranitar benefits from its Sandstorm boost and Spiritomb has pretty respectable defences. Metagross's 4x Psychic resistance is essentially an immunity, and added with that is an Ice Beam resistance and like the aforementioned Dark types, a very capable Pursuit. All of these counters do face a risk from Thunder Wave however, and their Pursuits can be softened by Reflect as well.
Scizor resists Psychic and Ice Beam and packs STAB Bug moves to attack with as well as Pursuit. Like the aforementioned counters, it too faces a risk from Thunder Wave.
Heracross is weak to Psychic STAB, but in the absence of Psychic, it can benefit from Thunder Wave (with Guts) and poses a very significant threat with either Megahorn or Pursuit.
Blissey sponges all of Cresselia's attacks, but it'll need Calm Mind to get passed it (and if Cresselia is equipped with a Calm Mind of its own, it could descend into a stall-war). Blissey also has the option of throwing status moves Cresselia's way, and unlike Cresselia, Blissey will happily take any status Cresselia has and shrug it off with Natural Cure. Snorlax doesn't sponge Cresselia's attacks as easily as Blissey but it can boost up with Curse and bring it down with STAB Returns.
Sandstorm (or Rain or Hail) puts a real damper on Cresselia's main recovery move, Moonlight. It goes from 50% healing to a much less attractive 25%, so keeping weather active can really hinder Cresselia. Sand Stream (from Tyranitar or Hippowdon) or Snow Warning (from Abomasnow) are obviously the best sources of a hindering weather condition. In addition, Cresselia puts a lot of reliance on Thunder Wave to pose a threat to sweepers. Taunt or Substitute can get in the way of Cresselia's statusing attempts and really exposes its lack of offensive threat. Gyarados and Tyranitar are the best examples with their Dragon Dance and Taunt move-sets, but Gyarados does need to pay close attention to the possibility of Charge Beam.
Locations in Games
Ruby/Sapphire/Emerald

Not in Game

Colosseum/XD

Not in Game

Fire Red/Leaf Green

Not in Game

Diamond/Pearl/Platinum

Roaming Sinnoh after meeting in FullMoon Island
Animé Appearences
| | |
| --- | --- |
| Cresselia has yet to make any appearances within the animé. | |