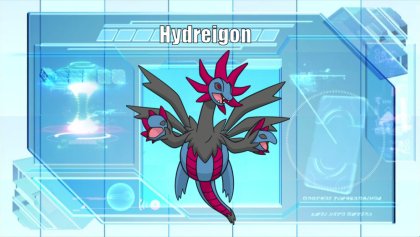 Hydreigon, The Brutal Pokémon. The heads on their arms do not have brains. They use all three heads to consume and destroy everything. It responds to movement by attacking. This scary, three-headed Pokémon devours everything in its path! This brutal Pokémon travels the skies on its six wings. Anything that moves seems like a foe to it, triggering its attack.
Overview
Hydreigon was one of the most powerful Pokémon in tier when it was released in BW, boosting impressive stats outside of its subpar speed. Hydreigon's power was further lifted with the release of move tutors in BW2 giving it a way around special walls such as Tyranitar and Chansey. However with the release of Fairies in XY Hydreigon was the primary Dragon to suffer boosting 4x weakness and resistance on both stab moves. While Hydreigon is still a powerhouse and should be respected for its raw power, it's a shadow of its past self similar to Flygon.
Positives
+High offensive stats, 105 Attack and 125 Special Attack is nothing to laugh at
+Surprisingly bulky with 92/90/90 and being Dragon typing
+Massive coverage, like its literally able to hit basically every Pokémon for super effective damage and most of the options are viable

Negatives
-It's speed is subpar, 98 is not terrible but isn't great making Hydreigon easily outpaced by most relevant offensive threats
-Being Dark/Dragon Hydreigon is crippled by Fairies who hit for 4x and resist both stab moves
-While its Dark typing cool, it makes Hydreigon weak to Mach Punch as well as Ice Shard making it easier to revenge kill >
Abilities
Levitate - Pokémon is immune to ground moves - Hydreigon's only ability and never a bad one, unless you're Rotom Fan. Gaining another immunity on top of its one to Psychic gives Hydreigon more free switch in options and it comes without the weakness to rock moves other pseudo legends have.
Movesets
Eins, Zweis, Hydreigon
-Draco Meteor
-Dark Pulse
-U-turn/Flash Cannon/Earth Power/Earthquake/Superpower
-U-turn/Flash Cannon/Earth Power/Earthquake/Superpower
Item Attached: Life Orb/Expert Belt
Ability: Levitate
EVs and Nature:
4 Atk/252 SpAtk/252 Spd
Naive Nature
Very standard but for a reason. Life Orb or Expert Belt are great here as Life Orb is a spike to raw power, bar in mind Hydreigon is 5 base Special Attack off Latios, while the Expert Belt allows you to bluff a choices set, namely Scarf. Draco Meteor is your primary stab move, hitting so hard. Most soft threats are easily 2hkoed, some even with the stat drop while chunking non special walls. Dark Pulse is your other stab and a bit more spammable due to it not dropping Special Attack and being resisted by Fairy and Fighting-types. Here it gets a bit hectic as Hydreigon has one of the best viable movesets in the game. Superpower is a top slot move as it really hurts special walls, mostly the pink blobs Chansey and Blissey though and argument for Focus Blast can be made as well if you want more power for other threats like Mamoswine and Heatran. This argument reappears again with Earthquake or Earth Power, helping Hydreigon deal with the Nidoking/Nidoqueen and Tentacruel easier though the choice is personal. U-turn is an amazing move and always worth considering especially with the amount of pressure Hydreigon applies. Lastly Flash Cannon is an option to hit Fairies as they switch in but is probably the weaker of the choices. Other options include Dragon Pulse, Surf, Fire Blast, Roost, and Tailwind.
Ghidorah
-Draco Meteor
-Dark Pulse
-Superpower
-U-turn/Dragon Pulse
Item Attached: Choice Scarf
Ability: Levitate
EVs and Nature:
4 Atk/252 SpAtk/252 Spd
Naive Nature
This set is really nice as it remedies Hydreigon's biggest problem, its subpar speed. 98 makes it fall behind the average speed tier by 2 points which cripples it almost as much as Fairies really. However the Choice Scarf allows Hydreigon to revenge kill threats easier and potential sweep with its base numbers. Draco Meteor and Dark Pulse are staple stab moves, Draco Meteor to just KO one threat before recalling or losing something while Dark Pulse is more spammable. Superpower is really nice but again, you have so many options here. Overall though Superpower is probably best in slot due to it being a strong reliable Fighting move. Lastly U-turn is an option to scout out threats and gain momentum while Dragon Pulse gives a spammable Dragon stab which is really nice to have.
Monster Zero
-Draco Meteor
-Dark Pulse
-Focus Blast/Earth Power/Flash Cannon/Dragon Pulse/U-turn
-Focus Blast/Earth Power/Flash Cannon/Dragon Pulse/U-turn
Item Attached: Choice Specs
Ability: Levitate
EVs and Nature:
4 Atk/252 SpAtk/252 Spd
Timid/Modest Nature
Similar to how the Choice Scarf set fixes Hydreigon's low speed, the Choice Specs set forgoes that and focuses on one hitting threats or crippling things with its massive power. Draco Meteor is the more spammed move here as outside of Fairies and Steels most things will be 2HKOed. Dark Pulse is still great as it now hits Steels for neutral damage and doesn't come with the status drop. This is the only set that doesn't use Superpower favoring Focus Blast due to the plus 1 Special Attack. Dragon Pulse earns a mention as another coverage move in the 4th slot due to it being a non stat dropping Dragon stab. Other noteworthy moves include Fire Blast to decimate Steels and Grass threats, Flash Cannon to chunk Fairies, Earth Power for Fires and Rock threats, and lastly U-turn to scout and maintain momentum.
Other Options & Partners
-Assault Vest - A niche option but it gives you nice bulk making getting in easier, but you give up a lot of power doing it.
-Surf - A niche move, it's great to bait some threats but most grounds are easily felt with between Focus Blast, Draco Meteor, and Superpower but run if you really struggle with Grounds.
-Fire Blast- Incredible splashable but not as needed with the steel nerf. Use if you have trouble with bulky grass types like Amoonguss
-Roost - Again a great move. If you can spare the coverage run this on the non-choice sets for longevity
-Tailwind - A bit gimmicky but I personally have used and seen what this can due. This is a must use if you want to use Hydreigon as a sweeper but overall giving up coverage makes it hard and then it competes with Roost. Run Modest/Rash nature with this.
-Z-Crystals - Hydreigon is an excellent user of Z-Crystals with its massive coverage as well as its a hidden item so you can use it like an Expert Belt but allows the ability to OHKO threats or severely cripple would be walls
Hydreigon plays as a wallbreaker, so Pokémon that like special walls chunked or removed love having it. In particular Fighting Pokémon such as Keldeo really like Hydreigon as it can U-turn out of threats it has a harder time with such as Blissey that Keldeo destroys while most of Keldeo's checks can't handle Hydreigon. Gengar and Chandelure also like Hydreigon as each give the other free switch ins in theory and pressure the others checks, bar Blissey. Ferrothorn and Rotom Wash are nice defensively as both can use Thunder Wave, allowing Hydreigon to get over is bad speed tier. Outside that Ferrothorn can set hazards, a major boon for any wallbreaker as well as tag things with Leech Seed while Rotom Wash can Volt Switch into Hydreigon giving it a free switch in, which Hydreigon destroys all grass in tier bar Breloom because of Mach Punch.
Teambuilding & Matchup
Building around Hydreigon you need to think and use a way to manage speed on the enemy team either through Tailwind, Sticky Web, or Paralyses. Most teams will flow better in a more offensive/bulky offensive style by Hydreigon can work on balanced, though more the Scarfed variant. Hydreigon also shines on Volt Turn team cores as it can just keep getting in for free and nuking threats or maintaining momentum itself with U-turn. Lastly you can use it in the type core Dark/Ghost/Fighting as it's fairly splashable for a Dark type due to its coverage options. In match ups Hydreigon struggles against other offensive teams due to its lower speed making it hard to find a way in to do its job. Ironically if Hydreigon can get in it will almost always removes something against offensive teams due to their relative frailness. Stall is a similar story but more that stuff is a bit too tanky and can wear down Hydreigon fast, especially with a Life Orb, but not as offensive.
VGC, Double, & Triple Battle Options
Hydreigon was a staple of VGC back in generation 5, but, like in singles, it has dropped off significantly with the introduction of Fairy-type Pokemon. Although it is not found in the Alolan Pokedex for VGC 2017, Hydreigon does still have some success in Battle Spot Doubles thanks to its power, good all-around stats, and strong coverage attacks.
Return to Darkness!
-Dark Pulse
-Draco Meteor
-Earth Power / Flamethrower
-Earth Power / Protect
Item Attached: Choice Specs / Life Orb
Ability: Levitate
EVs and Nature:
252 SpA / 4 SpD / 252 Spe
Timid / Modest Nature
Max special attack and speed let Hydreigon utilize its high special attack and outspeed as much as possible. The final four EVs are put into Special Defense to give opposing Download Porygon2 an attack boost, but really they can go into any defensive stat. A Timid nature maximizes Hydreigon's speed, making it able to outspeed any (non-Choice Scarf) Tapu Lele. A Modest nature can be used for a bit more power, especially if you have reliable speed control on the team. Levitate is the only available ability, but a good one that makes Hydreigon immune to ground-type attacks from both your opponent and its teammate. The decision between Life Orb and Choice Specs of course comes down to whether you want to run Protect and be able to switch moves, or if you value extra damage with no recoil.
Dark Pulse is Hydreigon's strongest Dark-type attack, and can do massive damage to Pokemon like Cresselia and Aegislash. Draco Meteor is the strongest Dragon-type move, and although it has the nasty side effect of lowering special attack, it can be great to get off one huge attack (especially with your boosting item). Earth Power and Flamethrower round out Hydreigon's potential attacks, and both give great coverage. Earth Power has seen a higher usage on Battle Spot over Flamethrower due to its ability to hit Tapu Koko and Heatran hard, but Flamethrower is very strong against steel-types like Celesteela or Ferrothorn. Protect can still be very important for Hydreigon, allowing its teammate to take out a fairy-type threat or set up Tailwind.
Other Options & Team Ideas
-Darkinium Z is a popular choice currently on Battle Spot Doubles, turning Dark Pulse into a huge attack in Dark Hole Eclipse. The Dragon Z move may deserve some consideration, but it is much rarer, possibly due to the presence of Tapu Fini and its Misty Terrain.
-Choice Scarf can surprise your opponent and pick up an easy KO early in a battle, or easily clean up later on.
-Tailwind, available through an ORAS move tutor, may surprise the opponent since it comes from an offensive Pokemon, but it does limit what coverage moves Hydreigon can carry.
-Dragon Pulse is weaker than Draco Meteor, but will not lower special attack.
-Hidden Power Ice is particularly strong on a Choice Scarf set, as Hydreigon can outspeed Choice Scarf Landorus-T.
-Flash Cannon does super-effective damage to most fairies, but make sure you pick up the KO as you cannot afford to take a fairy move in return.
-Heat Wave, another ORAS move tutor move, and Surf are coverage moves that also do spread damage, but are rarely seen on a set.
-Signal Beam and Focus Blast are additional coverage moves, but neither is particularly good. Signal Beam does not really add any important coverage, while Focus Blast's accuracy makes it less than ideal.
-Roar and Taunt can be used on a pseudo-support set to help prevent Trick Room or other setup moves.

-Steel type teammates are great for Hydreigon as they can switch in on most of each other's weaknesses, especially Fairy-type moves aimed at Hydreigon. Metagross has been a common partner for Hydreigon for this reason, although Aegislash may be even better due to its immunity to Fighting-type moves.
-Hydreigon has good, but not great, speed, just missing out on crossing the base 100 mark. Speed control can be important to help Hydreigon attack first, especially when a fairy sits on the opposing team.
-Most fairies cause problems for Hydreigon, but Tapu Fini especially is an issue. With its fantastic bulk, it can shrug off even neutral-attacks from Hydreigon, and its terrain halves the damage from Dragon-type attacks. Pokemon like Kartana, Ferrothorn, Tapu Koko, and Zapdos can all handle Tapu Fini for Hydreigon.
Countering Hydreigon
Sylveon is a major one with its special bulk and fairy typing, allowing it to laugh at Hydreigon all day. Blissey isn't a lot better but Choice Specs does a number to the pink medic. Fighting types are a pain for Hydreigon as well lacking a Flying or Psychic move, and with most of the Musketeer trio in UU, most outpace it and can KO or almost before Hydreigon can retaliate. Conkeldurr deserves a note as well with its Assault Vest living Draco Meteor with ease and healing with Drain Punch, though Specs really is nasty to deal with again. Bulky waters can work as a more general answer but can be worn down fast, especially Rotom Wash and Tentacruel, though Vaporeon does a nice job. Lastly hazards can do a number as Hydreigon tends to play hit and run, though this is more for the Life Orb set as it stacks on recoil damage.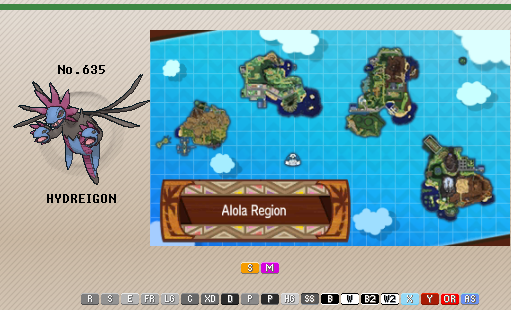 Locations in Games
Red/Blue/Yellow:
Not in game
Ruby/Sapphire/Emerald:
Not in game
FireRed/LeafGreen:
Not in game
Colosseum/XD:
Not in game
Diamond/Pearl/Platinum:
Not in game
HeartGold/SoulSilver:
Not in game
Black/White:
Evolve Zweilous
Black 2/White 2:
Evolve Zweilous
X/Y:
Victory Road
Omega Ruby/Alpha Sapphire:
Evolve Zweilous
Sun/Moon:
Evolve Zweilous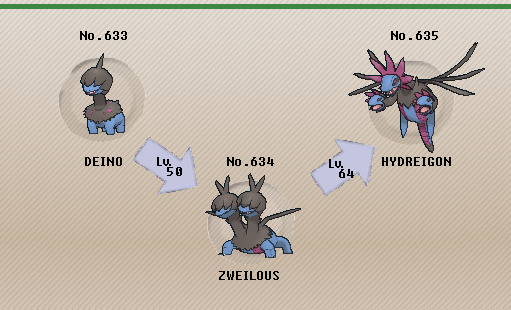 Animé Appearences
| | |
| --- | --- |
| Hydreigon has made many appearances in the anime. Most notably one terrorised the Village of Dragons and Cameron used one in his Unova League match against Ash. | |