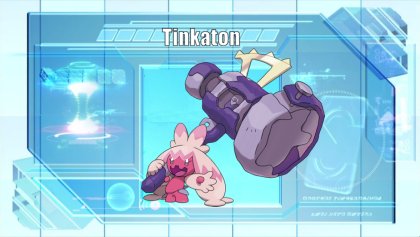 Tinkaton, the Hammer Pokémon. This intelligent Pokémon has a very daring disposition. It knocks rocks into the sky with its hammer, aiming for flying Corviknight. The hammer tops 220 pounds, yet it gets swung around easily by Tinkaton as it steals whatever it pleases and carries its plunder back home.
Overview
The Pokémon communities newest darling, Tinkaton has a lot going for it. Steel Fairy is a strong contender for the best type combination in the game and is a boon on any Pokémon that has it. Tinkaton's signature attack, Gigaton Hammer is stupefyingly powerful, with a near non-negligible drawback. Add into this a rather diverse support movepool, the fantastic Mold Breaker ability and decent Special Defense and Tinkaton seems poised as a Pokémon that can handle most roles well.
However, Tinkaton's overall stats are unfocused. What was expected to be a massive Attack is only an unimpressive base 75, meaning any attack that is not named Gigaton Hammer lacks direct KOing power and its Drawback invalidates Choice Items as an option for Tinkaton. Base 77 Defense is a noticeable weakpoint, especially considering that Tinkaton lacks the reliable recovery to make the most of its decent bulk which prevents it from being a dedicated wall. Additionally, with the popularity of Tera Steel and other staple Steel types such as Gholdengo, Kingambit and Corviknight, most teams will have a direct answer to Tinkaton. Tinkaton's strengths do outweigh its flaws, and those that can make the most of it, will find Tinkaton to be excellent addition.
Positives
Steel Fairy is an amazing typing giving a plethora of resistances and few weaknesses that pairs nicely with Tinkaton's Base 105 Special Defense.
Gigaton Hammer is absurd. Even with Tinkaton's poor attack, this will do serious damage to anything that isn't overly bulky or resistant.
Excellent support movepool with the likes of Stealth Rock, Thunder Wave, Knock Off and more.

Negatives
Poor Attack means that most attacks struggle to do appreciable damage.
Base 77 Defense and no reliable recovery prevents Tinkaton from being a consistent wall.
Stiff competition with other Steel types and the popularity of Tera Steel means that most teams will have an answer to Tinkaton.
Can't actually beat Corviknight in most situations
Movesets
Hammer Time
-Swords Dance
-Gigaton Hammer
-Play Rough
-Knock Off
Ability: Own Tempo
Item: Life Orb
EVs and Nature:
4 HP / 252 Atk / 252 Spe
Jolly Nature
Setup sweeper Tinkaton aims to utilize its own fantastic typing and bulk to get on the field, setup Swords Dance to bring its attack to viable levels and start smashing with Gigaton Hammer. Swords Dance Boosted Gigaton Hammer is terrifying, maiming even targets as defensive as fully invested Great Tusk, let alone many of the softer targets running around. Play Rough is excellent secondary STAB, having excellent coverage against the many Dark and Fighting types running around. Knock Off rounds out the set, giving Tinkaton some utility by providing valuable item disruption. Own Tempo is preferred here for giving immunity to Intimidate.
Tera Types:
Tinkaton greatly prefers its base typing, but there are a few good Terastilization options. Tera Steel is excellent offensively, pushing Gigaton Hammer's power to even more ridiculous heights, while Tera Fire can provide coverage against the Steel types that resist Tinkaton's STABs. Tera Flying is worth consideration defensively as the immunity to Ground attacks can be invaluable.
EVs and Items:
Standard Sweeper array of Max Attack and Speed for the most offensive pressure. Speed can be reduced to get more out of Tinkaton's bulk. 228 Speed with Jolly guarantees Tinkaton will outrun Annihilape and Lucario, while 200 with Jolly Guarantees outrunning Great Tusk. Life Orb is preferred for power, though Leftovers is worth consideration -Tinkaton's typing and bulk can get a bit of mileage out of Leftovers, especially if using Encore to force weak hits.
Partners:
Hydreigon and Dragapult make great partners for Tinkaton, taking down walls like Dondozo and Skeledirge with coverage and STABs, pivoting into Tinkaton's Fire Weakness, ignoring Burns if Special while enjoying Tinkaton's ability to pivot into and dispatch Fairy types with ease. Great Tusk is similarly appreciative of Tinkaton's Anti-Fairy prowess and provides a reliable answer to most Steel types in turn while providing Entry Hazard setup and control to facilitate Tinkaton's own attacks.
Other Options:
Encore -great for locking your opponent into a disadvantageous move, especially if they are trying to abuse Gigaton Hammer for setup of their own.
Ice Hammer -Ice is fantastic coverage, but hits many of the same targets that STAB Play Rough does. Covers Clodsire and the four times weak Dragonite and Garchomp well though.
Stone Edge -hits Rotom-Heat and other Fire types who otherwise wall Tinkaton
Evil Gremlin
-Stealth Rock
-Thunder Wave
-Gigaton Hammer
-Knock Off
Ability: Mold Breaker
Item: Life Orb
EVs and Nature:
252 HP / 252 Def / 4 SDef
Impish Nature
Tinkaton embraces the Gremlin inside with this disruptive set. Mold Breaker is quite the boon on status spreading Pokémon this generation thanks to the prevalence of Gholdengo, Garganacl and to a lesser extent, Hatterene. Their defensive abilities normally stuff disruptive attempts like Thunder Wave, but Mold Breaker ignores this, making Thunder Wave and Stealth Rock far easier to spam without risk. Stealth Rock is one of the best moves in the game, and Tinkaton's bulk makes setting up multiple times easy. Thunder Wave provides immense pressure, Paralyzing any non Electric or Ground switch in, crippling many pivots that otherwise don't mind Tinkaton's offense and leaving them easy pickings for Tinkaton's teammates. Gigaton Hammer is still a house of a move, even without investment doing catastrophic damage to Steel weak targets like Glimmora, Grimmsnarl and Hatterene. Knock Off rounds out the set, providing valuable item disruption, like removing Heavy Duty Boots from otherwise safe pivots Corviknight and Scizor.
Tera Types:
This Tinkaton set really does not like Terastalizing. It is making the most of its excellent typing to repeatedly come in and changing it to a mono type more often hurts than helps. Tera Flying as a defensive option is good in a pinch -this set often draws Ground types, and becoming Immune to Earthquake can be valuable in buying a turn to put the screws on them.
EVs and Items:
Max HP and Defense is recommended to give Tinkaton the most bulk possible, so as to take coverage Earthquakes from non Ground types. A little Attack investment can be good -32 Attack guarantees Gigaton Hammer is a One Hit KO on non-Sash Glimmora. Leftovers is the got to Item for Longevity. Air Balloon is another option, preventing Ground types from being an immediate answer to Tinkaton.
Partners:
Rotom-Wash is a fantastic partner to Tinkaton, able to easily pivot into the Ground and Fire moves it draws and KO the STAB users with its Hydro Pump, as well as dispatch Corviknight. It in turn enjoys Tinkaton spreading Paralysis to compensate for its own speed. Gyarados and Pelipper fill a similar niche thanks to their typings and both two enjoy Thunder Wave and Stealth Rock setup. Setup sweepers like Dragonite, Chien Pao and others love Tinkaton for facilitating their setting up with Paralysis and their sweeps with Stealth Rock. Dragonite in particular has a very synergistic typing with Tinkaton.
Other Options:
Encore -An amazing disruptive move that punishes trying to use Tinkaton as setup fodder.
VGC & Doubles Options
An unconventional pick, Tinkaton is quite the threat in Doubles. A moveset containing gems like Feint, Encore, Helping Hand and Fake Out are incredibly valuable in Doubles. Its excellent defensive typing gives Tinkaton an incredible degree of staying power while not having to waste your Terastilization on it and above average speed is invaluable in getting the jump on slower opponents. However, Tinkaton has stiff competition for a team's Steel slot, especially with the many other excellent Fire weak Pokémon running around which can strain team building.
Imp-Air-Ment Forces
-Fake Out
-Gigaton Hammer
-Feint
-Encore
Ability: Mold Breaker
Item: Air Balloon
EVs and Nature:
252 HP / 252 Atk / 4 Spe
Adamant Nature
Tinkaton has a niche as the best Anti-Trick Room Pokémon. Mold Breaker is insane when it comes to denying Trick Room, bypassing Farigarif's Armor Tail and Oranguru's Inner Focus which would normally block Fake Out and having Gigaton Hammer ignore Mimikyu's Disguise for an easy OHKO. Feint is incredible in Doubles. Protect and Detect are consistently rated as the best moves in Doubles for good reason, and being able to deny your opponent their safety and stalling is invaluable. Encore is an incredibly brutal move in Doubles. Many popular attacks like Protect and Fake Out are horrible if forced to repeat them which guarantees one less attack you are taking that turn.
Partners & Options:
Helping Hand -Tinkaton's attack isn't impressive aside from Gigaton Hammer, so bolstering an ally is a great use for Tinkaton
Protect -Best move in doubles
Own Tempo -Intimidate is far more prevalent in VGC, so if not concerned about Trick Room, this is a viable option to not get your attack neutered.
Assault Vest -Tinkaton's Special Defense is already fantastic, and this just takes it to another level, though losing out on several of Tinkaton's more powerful disruptive moves does hurt, though Play Rough and Knock Off are fine moves on their own merits.
Garganacl -loves the disruption that Tinkaton can throw up, facilitating stalling for its Salt Cure and its Wide Guard is great in blocking Earthquake, Eruption and Lava Plume that Tinkaton detests.
Countering Tinkaton
Tinkaton's middling attack ensures that any decent wall that isn't weak to Gigaton Hammer readily walls it. Dondozo is by far and away the best counter to Tinkaton, not caring for any of its attacks, and is only mildly inconvenienced by Thunder Wave thanks to its poor Speed. Skeledirge similarly doesn't mind any attack, even taking Knock Off well, and can easily cripple Tinkaton with Will-o-Wisp. Corviknight and Scizor also have the bulk to reliable tank Tinkaton's attacks, but neither likes their item being removed or Paralyzed by Thunder Wave.
Ground types also fare rather well against Tinkaton, their high natural defense, immunity to Thunder Wave and super effective STAB making them ideal picks, though many dislike Play Rough and the rare Ice Hammer. Iron Treads is another reliable counter to Tinkaton, while Great Tusk can check it and neither enjoy losing their Heavy Duty Boots.
Fire types also deserve mention, resisting both STABs and having their own Super Effective STAB to strike back with. In addition to the aforementioned Skeledirge, Rotom-Heat excels thanks to its own Immunity to Thunder Wave, high Defense and ability to burn with Will-o-Wisp. Torkoal is another excellent pick, its incredible defense easily tanking any attack. 
Locations in Games
Red/Blue/Yellow:
Not in game
Gold/Silver/Crystal:
Not in game
Ruby/Sapphire/Emerald:
Not in game
FireRed/LeafGreen:
Not in game
Colosseum/XD:
Not in game
Diamond/Pearl/Platinum:
Not in game
HeartGold/SoulSilver:
Not in game
Black/White:
Not in game
Black 2/White 2:
Not in game
X/Y:
Not in game
Omega Ruby/Alpha Sapphire:
Not in game
Sun/Moon:
Not in game
Ultra Sun/Ultra Moon:
Not in game
Let's Go, Pikachu!/Let's Go, Eevee!:
Not in game
Sword/Shield:
Not in game
Brilliant Diamond/Shining Pearl:
Not in game
Legends: Arceus:
Not in game
Scarlet/Violet:
Evolve Tinkatuff
Tera Raid Battles: 5 Star Raid Battles, 6 Star Raid Battles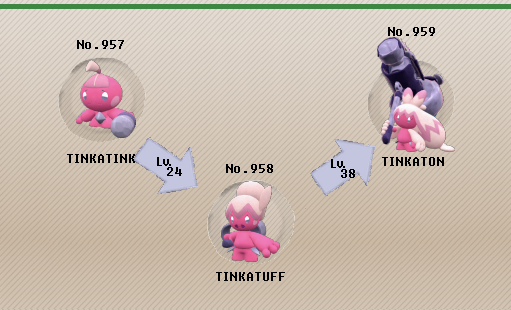 Anime Appearences
Tinkaton has not yet been showcased in the anime

| | | | |
| --- | --- | --- | --- |
| # | -English Episode Name- | -Jp. Episode Name- | Pics |