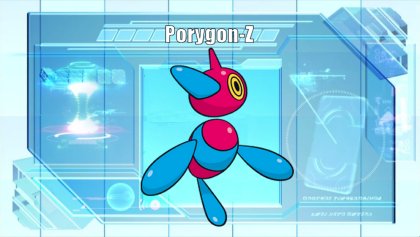 Porygon-Z, The Virtual Pokémon. Porygon-Z had a program installed to allow it to move between dimensions, but the program also caused instability in Porygon-Z's behavior. Some say an additional program made this Pokémon evolve, but even academics can't agree on whether Porygon-Z is really an evolution.
Overview
Porygon-Z's return in the Isle of Armor was one of disappointment. Losing Z-Conversion had really hurt as a 1 stage omni boost helped patch up most of Porygon-Z's issues, from its lackluster defenses to its just short of the mark speed while giving it the needed Special Attack boost to ensure Porygon-Z would clean up everything. New and returning threats like Dragapult, Cinderace, Nihilego, and Zeraora all easily outspeed and OHKO Porygon-Z making sweeping difficult. And if running Choice Scarf, Porygon-Z often misses out on the OHKO needed to keep it safe. Lacking Fire and Fighting coverage moves hurts even more, leaving Porygon without dedicated coverage against the extremely popular Steel type.
Porygon-Z's power remains a tantalizing prospect, however. A blistering Base 135 Special Attack that can be further boosted with Adaptability, Download, Choice Specs and/or Nasty Plot can devastate most teams. Between its Normal STAB, and Dark, Ice and Electric attacks, Porygon-Z has extremely wide neutral coverage that leaves few openings, making it all that much more difficult to wall. Porygon-Z requires support to make it for its shortcomings but pays back in spades with power matched by few Pokémon.
Positives
Base 135 Special attack that can be further boosted by Adaptability or Download and Nasty Plot ranks Porygon-Z as one of the most powerful special attackers in the game.
Wide Neutral coverage makes Porygon-Z near impossible to switch into safely
Negatives
Porygon-Z offers almost no defensive utility, making it difficult to switch in safely and putting it at risk if its target survives an attack.
Base 90 Speed falls short of many faster threats, leaving Porygon-Z prone to be revenge killed.
Popularity of Steel types makes Porygon-Z's Adaptability STAB less valuable and Download can be inconsistent
Movesets
Trojan Patch
-Agility
-Nasty Plot
-Tri Attack
-Dark Pulse
Item Attached: Adaptability
Ability: Focus Sash
EVs and Nature:
4 HP / 252 SpA / 252 Spe
Timid Nature
Double Dance Porygon-Z can prove to be a flexible threat, boosting to match the occasion. Against faster, frailer teams, Agility makes Porygon-Z near impossible to outspeed. Against slower, defensive teams, Nasty Plot enables Porygon-Z to break down even the sturdiest of walls, ripping open defensive backbones for its teammates to exploit. Adaptability boosted Tri Attack and Dark Pulse are great, having near perfect neutral coverage and synergizing well with Porygon-Z while Dynamaxed. Tri Attack is the preferred STAB for reliability.
DYNAMAX:
This set only wants to Dynamax after nabbing the appropriate boost, but Porygon-Z can pseudo-escalate with this set, as Max Strike and Max Darkness drop the target's Speed and Special Defense, artificially boosting Porygon-Z's own stats unless they switch out. The increased bulk also makes Porygon-Z much harder to revenge knock out, provided it did not take too big a hit while setting up.
EVs and Items:
Max Special Attack and Speed to maximize Porygon-Z's damage. Timid is recommended for as much speed as possible. Focus Sash is heavily recommended to ensure Porygon-Z gets its boost off, but other items such as a Chople Berry can be considered to increase Porygon-Z's survivability..
Other Options:
Ice Beam+Thunderbolt -the BoltBeam combo has similarly wide Neutral coverage to Tri-Attack+Dark Pulse and superior super effective coverage given how fantastic the two types are offensively, but neither get STAB, have no synergy when Dynamaxing and forces Porygon-Z to run Download for its ability.
Partners:
Slow Pivots and Entry hazard setters make for excellent partners, getting Porygon-Z in safely while their entry hazards push foes into knock out range of Porygon-Z. Swampert is an excellent example, setting up Stealth Rock, slowly pivoting with Flip-Turn and answering Steel and Rock types that resist Porygon-Z's STAB. Golisopod, Cobalion, and Landorus Therian are other examples that fill this role. Screen setters like Grimmsnarl increase Porygon-Z's durability, enabling one, if not both boosts.
Protoman Upgrade
-Tri Attack
-Dark Pulse
-Thunderbolt
-Trick
Item Attached: Adaptability
Ability: Choice Scarf
EVs and Nature:
4 HP / 252 SpA / 252 Spe
Timid Nature
With a Choice Scarf, Porygon-Z becomes an effective revenge killer, outspeeding every unboosted Pokémon except Regieleki. Tri-Attack synergizes with Adaptability for an incredibly strong STAB. Dark Pulse provides excellent complimentary coverage including hitting Normal Immune ghosts, while Thunderbolt rounds out the attacks, hitting Flying Steel types that would otherwise resist Tri Attack. Trick rounds out the set, giving Porygon-Z utility against defensive teams by being able to shutdown a wall.
DYNAMAX:
This Porygon is meant to function as a revenge killer and thus should not be your first choice for Dynamaxing as it does lose out on the speed buff from Choice Scarf after Dynamaxing. Dynamaxing in a pinch is feasible. Breaking the Choice lock is always nice, Porygon-Z can artificially ramp up with Max Strike and Max Darkness and the bulk boost is always appreciated.
EVs and Items:
Maximized speed and Special Attack are recommended to hit as hard and fast as possible. Timid nature is recommended as without it, Scarf Porygon-Z can be outsped by Timid Dragapult and Jolly Zeraora.
Other Options:
Hyper Beam – Adaptability Hyper Beam is absurdly powerful, doing serious damage to anything that doesn't resist or is immune to it and maintains its power while Dynamaxing. However, the Recharge turn will leave Porygon-Z defenseless, and the free turn of setup for your opponent may be more damaging than the Hyper Beam.
Psyshock -Hits Nihilego harder than anything else Porygon-Z has.
Partners:
Scarf Porygon-Z is expected to switch out consistently so good Entry Hazard management is heavily recommended. Skarmory stands out for its Hazard stacking, Mandibuzz answers opposing Ghost types very well. Defensive pivots who can stay Healthy over a game are helpful for ensuring that Scarf Porygon-Z has an option to switch out to, given its own lack of a defensive profile. Slowbro, Slowking, Reuniclus and Toxapex all fill this niche nicely thanks to Regenerator while punishing fighting attacks aimed Porygon-Z's way.
Countering Porygon-Z
Nihilego and Tyranitar make the most reliable answers to Porygon-Z. Nihilego only fears the rare Psyshock and both can take even Nasty Plot boosted moves, resist Normal and easily KO Porygon-Z back.
Speed boosting nature Scarf Dragapult is the most reliable revenge killer for Porygon-Z, even outspeeding an Agility Boosted Porygon-Z, and able to pick off a chipped Porygon-Z. Priority also works well, as Porygon-Z's bulk is poor and can't take repeated hits. Azumarill and Rillaboom stand out for their ability to tank an Adaptability Hyper Beam before comfortably 2HKOing Porygon-Z.
If not running Nasty Plot, Porygon-Z can be stalled out by sponges like Blissey, while sets lacking Agility and or Scarf are easily outsped and KOd.
Locations in Games
Red/Blue/Yellow:
Not in game
Gold/Silver/Crystal:
Not in game
Ruby/Sapphire/Emerald:
Not in game
FireRed/LeafGreen:
Not in game
Colosseum/XD:
Not in game
Diamond/Pearl/Platinum:
Evolve Porygon2
HeartGold/SoulSilver:
Evolve Porygon2
Black/White:
Evolve Porygon2 (White)
Trade from White (Black)
Black 2/White 2:
Trade from White
X/Y:
Omega Ruby/Alpha Sapphire
Omega Ruby/Alpha Sapphire:
Evolve Porygon2
Sun/Moon:
Evolve Porygon2
Ultra Sun/Ultra Moon:
Evolve Porygon2
Let's Go, Pikachu!/Let's Go, Eevee!:
Not in game
Sword/Shield:
Evolve Porygon2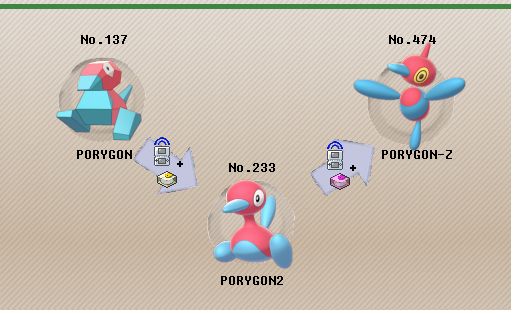 Anime Appearences
Porygon-Z has yet to make an appearance in the Pokémon anime

| | | | |
| --- | --- | --- | --- |
| # | -English Episode Name- | -Jap. Episode Name- | Pics |