OK. To Avoid the current hassles there is this disclaimer for those Who want to use it without permission:
You shall not post this on anywhere for public use
You shall not sell this for public use
Do not replicate and forward without permission
Do not claim this as yours
Do Not Translate it into your language and claim ownership

Arriving in Floccesy Town, Ash & Co. are attacked by a group of Amoonguss, who appear to have strange looks in their eyes. They soon learn from the locals that the Pokémon have started to become more violent and that some suspicious people have been spotted around the area. Soon afterwards, Pikachu and Axew soon turn on Ash and Iris, teamed with some wild Pokémon. Out of nowhere, Looker appears to save them and tells them that Team Plasma are nearby, experimenting on the Pokémon...

Full Guide coming Soon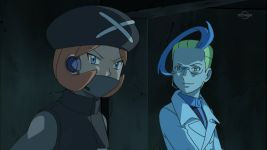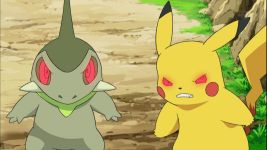 773: Team Plasma's Pokémon Power Plot!

773: Colress VS Looker! The Team Plasma Conspiracy!



Yes


Ash
Iris
Cilan
Jessie
James
Officer Jenny
Nurse Joy
Looker
Ghetsis
Colress
Aldith


Ash:
Iris:
Rocket:
Nurse Joy:
Plasma Grunt:
Special/Other Trainers:
Wild:


Team Rocket start their mission against Team Plasma