OK. To Avoid the current hassles there is this disclaimer for those Who want to use it without permission:
You shall not post this on anywhere for public use
You shall not sell this for public use
Do not replicate and forward without permission
Do not claim this as yours
Do Not Translate it into your language and claim ownership

As they reach the other end of Big Island, Ash & Co. rest at the Pokémon Center, however when Ash wakes up he finds that Cilan, Iris and Axew's face has been replaced with that of a Beheeyem. Rushing outside, he finds that everyone in town, both people and Pokémon, have had their face turned into a Beheeyem face. Ash worries with what to do until he bumps into two people who have yet to be converted, Jessie and James. It turns out they are looking for Meowth who has disappeared. Ash decides to enlist the help of his enemies in order to try and restore the town. Will they succeed?

Full Guide coming Soon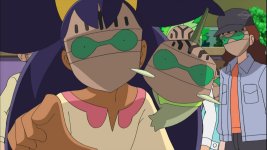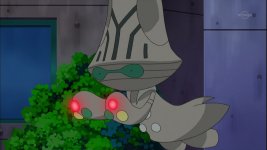 794: Capacia Island UFO!

794: Shining Flying Saucer! Beheeyem's Town!!



Yes


Ash
Iris
Cilan
Jessie
James
Officer Jenny
Nurse Joy


Ash:
Iris:
Rocket:
Nurse Joy:
Wild:


None of Consequence