OK. To Avoid the current hassles there is this disclaimer for those Who want to use it without permission:
You shall not post this on anywhere for public use
You shall not sell this for public use
Do not replicate and forward without permission
Do not claim this as yours
Do Not Translate it into your language and claim ownership

It's time for the Top 8 matches and for Ash, he comes against his friend Hau and his Decidueye. However, much to his friends concern, Ash decides he'll pick Rowlet for the match. However, when Rowlet's old friends Toucannon and Trumbeak arrive to cheer it on, they decide to help it learn the move Feather Dance. Will Ash be able to push through and help Rowlet learn the move ahead of the battle?

Full Guide coming Soon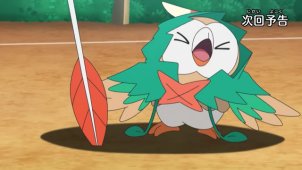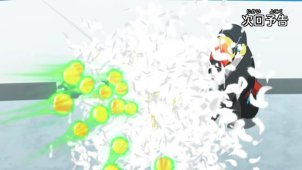 1075: Imitation Is the Sincerest Form of Strategy!

1075: Overcome Decidueye!!



Yes


Ash
Lillie
Mallow
Lana
Sophocles
Kiawe
Professor Kukui
Gladion
Jessie
James
Hau
Hala
Olivia
Nanu
Hapu
Lusamine
Faba
Wicke
Professor Burnet


Ash:
Lillie:
Lana:
Sophocles:
Kiawe:
Jessie:
James:
Rocket:
Gladion:
Mina:
Acerola:
Hau:
Special/Other Trainers:
Wild:


The second round of the first Knockout Stages begin
Gladion defeats James
Rowlet learns Feather Dance