OK. To Avoid the current hassles there is this disclaimer for those Who want to use it without permission:
You shall not post this on anywhere for public use
You shall not sell this for public use
Do not replicate and forward without permission
Do not claim this as yours
Do Not Translate it into your language and claim ownership

Bonnie and Clemont have managed to stop the Zygarde rampage, and the Lumiose City Gym is liberated, but as the gang regroups to think the incident is over, the Megalith that Lysandre, Alain and Steven recovered in Hoenn starts to transform, and it even absorbs Mairin's Chespin. The Megalith soon starts to head off somewhere. Will Ash & Co. be able to stop it?

Full Guide coming Soon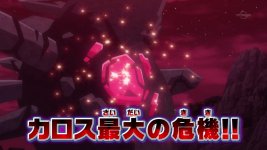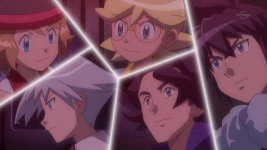 938: Rocking Kalos Defenses!

938: The Megalith Advances! A Fight to Protect Kalos!!



Yes


Ash
Clemont
Serena
Bonnie
Alain
Mairin
Jessie
James
Nurse Joy
Steven Stone
Professor Sycamore
Meyer
Lysandre
Diantha
Shauna
Trevor
Tierno
Sawyer
Viola
Grant
Korrina
Ramos
Valerie
Valerie
Olympia
Wulfric
Malva
Celosia
Mable
Team Flare Grunts
Team Flare Admins


Ash:
Clemont:
Serena:
Alain:
Mairin:
Jessie:
Rocket:
Nurse Joy:
Steven Stone:
Professor Sycamore:
Meyer:
Lysandre:
Shauna:
Tierno:
Trevor:
Sawyer:
Celosia:
Mable:
Team Flare Grunts:
Diantha:
Viola:
Grant:
Korrina:
Ramos:
Valerie:
Olympia:
Wulfric:
Malva:
Special/Other Trainers:
Wild:


The Megalith activates and starts attacking