OK. To Avoid the current hassles there is this disclaimer for those Who want to use it without permission:
You shall not post this on anywhere for public use
You shall not sell this for public use
Do not replicate and forward without permission
Do not claim this as yours
Do Not Translate it into your language and claim ownership

The Megalith is advancing and the entire world is at stake. With everyone helping open the way, it's up to Ash and Alain to get into the Megalith to rescue Mairin's Chespin. Stopping the Megalith isn't easy and all the gym leaders come to aid. However, soon after the fight begins, Squishy and Z2 work together and begin to transform into Complete Forme Zygarde. Will the combination of Zygarde, the Gym Leaders, Sycamore, Diantha, Malva and Ash & Co. be able to save the world?

Full Guide coming Soon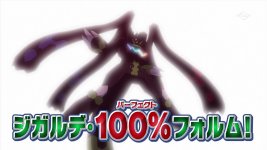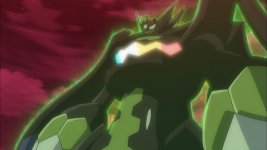 939: Forming a More Perfect Union!

939: Zygarde Fights Back! The Final Battle for Kalos!!



Yes


Ash
Clemont
Serena
Bonnie
Alain
Mairin
Jessie
James
Officer Jenny
Nurse Joy
Steven Stone
Professor Sycamore
Meyer
Lysandre
Diantha
Shauna
Trevor
Tierno
Sawyer
Viola
Grant
Korrina
Ramos
Valerie
Valerie
Olympia
Wulfric
Malva


Ash:
Clemont:
Serena:
Alain:
Mairin:
Jessie:
James:
Rocket:
Nurse Joy:
Steven Stone:
Professor Sycamore:
Meyer:
Shauna:
Tierno:
Trevor:
Sawyer:
Diantha:
Viola:
Grant:
Korrina:
Ramos:
Valerie:
Olympia:
Wulfric:
Malva:
Special/Other Trainers:
Wild:


The Megalith gets stopped and Team Flare's plan fails