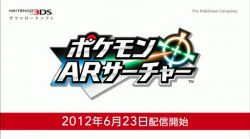 Pokémon Dream Radar / AR Searcher
Pokémon Dream Radar is a new game for the 3DS eShop. This game is an Augmented Reality game to tie in with the main games: PokémonBlack 2 & White 2 and features you obtaining various Pokémon within an Augmented Reality environment.
You get guided through the game by Professor Burnett, a female professor who specialises in this capture system.
The true extent of these captures is not yet known, but the Pokémon you do get, you can send to Pokémon Black 2 & White 2. These Pokémon include the Pokémon AR Searcher exclusive Sacred Beast forms of Tornadus, Thundurus and Landorus among many others.
We'll bring more information as it comes