03-03-2016 05:09 GMT / 00:09 EST by Serebii
This update may be amended throughout the day so be sure to check back. If you have any ideas for the site, be sure to send them in
With Pokémon Sun & Moon revealed, and the Chatroom has been rife with discussion while the WiFi Chatroom has been a place for battles, trades and Friend Safari hunting, so be sure to visit them. Our Forums have also had these discussion and are a bustling trade and competitive section for the games. Be sure to like our FaceBook Page.
Last Update: 22:19 GMT
Edit @ 10:25: Character Biography | Edit @ 11:01: Pokémon Bank Event | Edit @ 11:09: Pokémon GO GDC conference cancelled | Edit @ 11:20: Episode Pictures | Edit @ 19:04: Nintendo Badge Arcade | Edit @ 22:19: Shadow Mewtwo Pokkén amii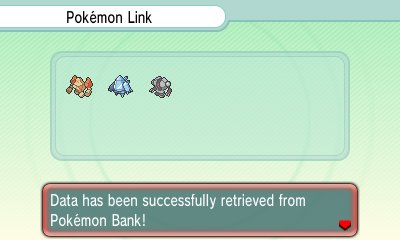 In The Games Department
Pokémon Bank - Hidden Ability Legendary Golems
Following its surprise reveal last night, the latest Pokémon Bank distribution gift has begun. This event offers a download of the Legendary Golems, Regirock, Regice and Registeel with their Hidden Abilities of Sturdy, Ice Body and Light Metal respectively. This distribution will run until October 31st for all players of Pokémon Bank and can be sent to Pokémon X, Y, Omega Ruby or Alpha Sapphire through their Pokémon Link feature. You get one of each per Pokémon Bank account and you need to make sure to have received all PokéMiles/BP sitting in the game's Pokémon Link before you can receive these Pokémon. You need to have paid the annual fee in order to receive these Pokémon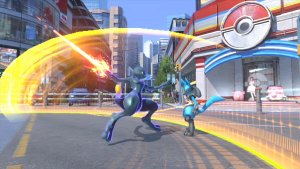 In The Games Department
Pokkén Tournament - Nintendo Direct
During today's Nintendo Direct, some specifics about how the Shadow Mewtwo amiibo card works were revealed. Specifically, it was confirmed that using the Shadow Mewtwo amiibo card only activates Shadow Mewtwo temporarily, until your next power off of the game. It cannot be set as a partner Pokémon until it has been unlocked in the standard game play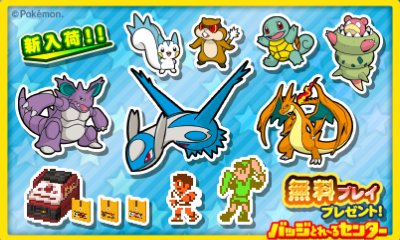 In The Games Department
Nintendo Badge Arcade
The free piece of Nintendo 3DS software, Nintendo Badge Arcade, had its weekly update in Japan. This week it has once again introduced introduced multiple panels of badges of Pokémon to earn. These panels include various more new Pokémon to the ones previously obtainable. We're currently cataloguing all of these badges and will update our Nintendo Badge Arcade section shortly.
Edit @ 19;39: All 25 badges from 5 panels have been added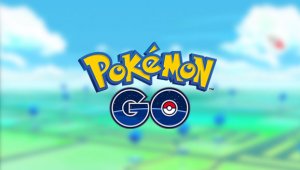 In The Games Department
Pokémon GO
Previously, it was announced that on March 14th, John Hanke from Niantic was to host a presentation on Pokémon GO at the Game Developers Conference in San Francisco. Unfortunately, it has just been announced that this conference has been cancelled. It is not known if it will be rescheduled or if there are any delays with the game itself. We'll bring all Pokémon GO news as it comes so keep checking back
Edit @ 16:34: Speaking to Game Informer, John Hanke explained that the cancellation is in order for Niantic to focus their efforts on preparing the game for beta test and launch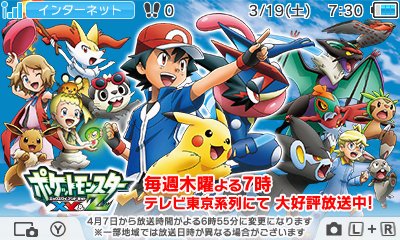 In The Games Department
Pokémon X, Y, Omega Ruby & Alpha Sapphire - 3DS Themes
Brand new 3DS themes have been revealed for Japan. These themes are based on the Pokémon Anime & upcoming movie. In Japan, at Pokémon Centers, Aeon Malls, Eidon, Ito-Yokado, Toys R Us, Bic Camera, Yodobashi Camera and Fuji stores, you can go to stores and request for a Serial Code for this special theme. One part of the theme is based on Pokémon the Series XYZ, while the other is based on the upcoming movie, Volcanion & The Ingenious Magearna. The free distribution runs from March 18th to April 8th while the codes can be redeemed from March 18th to August 31st.
| | |
| --- | --- |
| Pokemon: XYZ | Pokemon: Volcanion |
| | |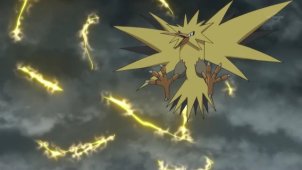 In The Anime Department
Pokémon XY & Z - Episode Pictures
As usual, we have done pictures from the episode that aired in Japan today. This episode features Ash & co. getting cornered in a cave by the Legendary Pokémon, Zapdos. The AniméDex has been updated with the contents of this episode. Click the picture to go to the gallery but be warned however as they contain spoilers.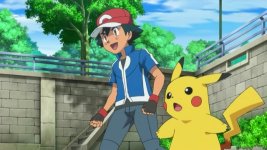 In The Games Department
Pokémon XY - Character Biography
With the episode that just aired in Japan, I have been able to update a biography. This biography is for Ash and contains the inclusion of a Pokémon we knew he was going to get due to promotional material. Click the image to go to the biography, but be warned as it contains spoilers