19-02-2016 02:01 GMT / 21:01 EST by Serebii
This update may be amended throughout the day so be sure to check back. If you have any ideas for the site, be sure to send them in
With the generation continuing and Nationals coming up globally, and the Chatroom has been rife with discussion while the WiFi Chatroom has been a place for battles, trades and Friend Safari hunting, so be sure to visit them. Our Forums have also had these discussion and are a bustling trade and competitive section for the games. Be sure to like our FaceBook Page.
Last Update: 21:00 GMT
Edit @ 07:02: Shiny Ho-Oh Event | Edit @ 08:52: Super Mystery Dungeon | Edit @ 10:42: Virtual Console Game Languages & Pricings | Edit @ 11:04: 3DS Theme | Edit @ 17:12: Japan LA Pop-Up Store | Edit @ 21:00: Splatfest Commencement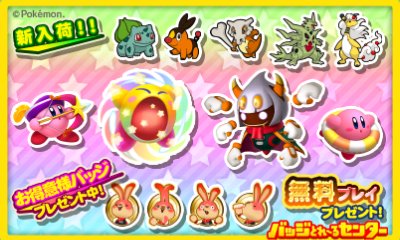 In The Games Department
Nintendo Badge Arcade
The free piece of Nintendo 3DS software, Nintendo Badge Arcade, had its weekly update in Japan. This week, continuing Pokémon Campaign Month to celebrate the 20th anniversary of Pokémon, it introduced multiple panels of badges of Pokémon to earn. These panels include various more new Pokémon to the ones previously obtainable. We're currently cataloguing all of these badges and will update our Nintendo Badge Arcade section shortly.
Edit @ 02:34: All six panels & 26 badges have been added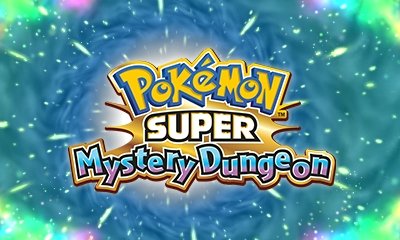 In The Games Department
Pokémon Super Mystery Dungeon
For those of you in Europe, Pokémon Super Mystery Dungeon is now available on the Nintendo 3DS eShop and is available at retail today. This game is the latest Pokémon Mystery Dungeon game and features over 120 dungeons and all 720 currently available Pokémon. We covered this game in full on its release in Japan this September so our section contains much of the information about the game including full Dungeon listings and locations for Pokémon
In addition to this, if you purchased the game off of the Nintendo 3DS eShop, you will get a code to get you the special Pokémon Super Mystery Dungeon theme if you purchase the game before March 17th 2016. The code has to be redeemed by April 14th 2016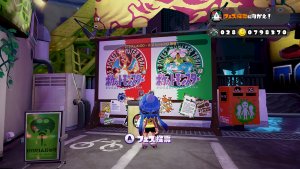 In The Games Department
Pokémon - Splatoon Splatfest
The first of the Pokémon related Splatfests is now live on the Wii U game, Splatfest. In Japan, the Splatfest for Pokémon Red VS Pokémon Green has begun. This SplatFest runs until 06:00 JST on Sunday and has players decide who to support, Pokémon Red or Pokémon Green, and get given special T-Shirts to show their team. This Splatfest is running on the Urchin Underpass, Camp Triggerfish and Museum d'Alfonsino stages. Results will be posted globally at 07:00 UTC on Sunday and the North American & European Splatfests will begin tonight/tomorrow morning.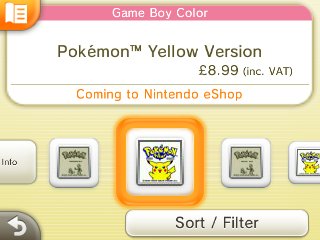 In The Games Department
Pokémon Red, Blue & Yellow - NA & European Language Versions & Price
Ahead of their release next week, pages for the Virtual Console releases have been added to the North American and European eShops. With this, pages for each language have been added. In North America, English, French & Spanish versions will show up while in Europe, English, French, Spanish, German & Italian versions are available so make sure you purchase the correct one. This also has confirmed the prices of the games for Europe, previously unknown, as Ł8.99/€9.99. The Australian price is $13.00. The games will be available from February 27th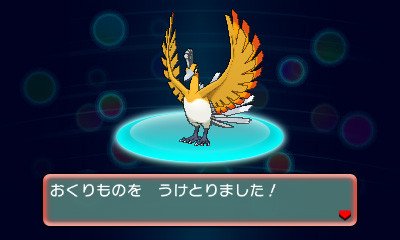 In The Games Department
Pokémon Center Distributions
A new event has been announced. To celebrate the opening of the new Pokémon Center in Kyoto, a special Shiny Ho-Oh is to be distributed at all Pokémon Centers. Not much is known about this Ho-Oh yet but it will be given from March 16th 2016 to April 24th 2016
In addition to this, series head Junichi Masuda will be at the Pokémon Center in Tokyo on March 5th, Hiroshima on March 9th and Fukuoka on March 20th for various signings to celebrate the 20th anniversary. Here, another Pokémon will be distributed to players, this time Masuda's Psyduck will be given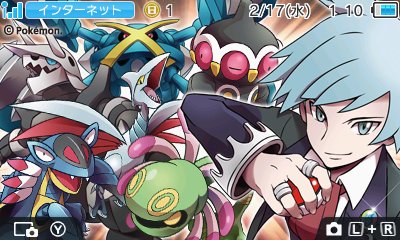 In The Games Department
Pokémon X, Y, Omega Ruby & Alpha Sapphire - 3DS Themes
Following the announcement of it for Europe on Monday, release in Japan Wednesday and the US yesterday, the Pokémon: Champion Steven 3DS theme is now available in Europe. This theme features a still of Steven and his team on top with images from the Pokémon Adventures manga on the bottom screen. It has the Battle! Steven music from Pokémon Omega Ruby & Alpha Sapphire as its background music. This theme costs Ł1.79/€1.99 to download.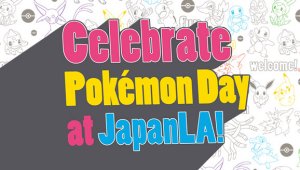 In The Pokémon Department
Pokémon Day - Japan LA Pop-up Store
Following the short pop-up boutique in Japan LA at 7320 1/2 Melrose Ave., Los Angeles, CA, 90046 last year, The Pokémon Company is re-opening the pop-up store in Japan LA with some exclusive clothing merchandise starting on Pokémon Day, February 27th 2016. There are opening night activities on February 27th starting at 6pm local time, including a Pokémon photo booth, trivia games, gifts with purchase, and more. This store is open for a month until March 27th.