10-08-2017 04:51 BST / 23:51 EDT by Serebii
Be sure to check Sunday's update for huge news. This update may be amended throughout the day so be sure to check back. If you have any ideas for the site, be sure to send them in
Since the reveal of Pokémon Ultra Sun & Ultra Moon, the Chatroom & Discord Chat has been rife with discussion while the WiFi Chatroom has been a place for battles & trades, so be sure to visit them. Our Forums have also had these discussion and are a bustling trade and competitive section for the games. Be sure to like our FaceBook Page.
Last Update: 16:52 BST
Edit @ 06:36: Manga | Edit @ 06:54: Pokémon Sun & Moon Mega Stone | Edit @ 11:22: Character Biography | Edit @ 12:03: Episode Pictures | Edit @ 16:52: Exeggutor Event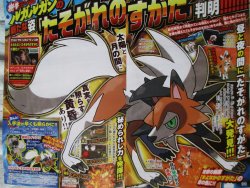 In The Games Department
Pokémon Ultra Sun & Ultra Moon - CoroCoro
Following Tuesday leak of CoroCoro, a clearer image has now come showcasing the full details of Lycanroc Dusk Form. It is confirmed to be a pure Rock-type and be 2'07/0.8m tall and weigh 55.1lbs/25kg. It also confirms once and for all that Dusk Form cannot be obtained during normal gameplay and only through the Special Rockruff distribution. Finally, it also states the confirmation that when it attacks, its eyes turn red akin to Lycanroc's Midnight Form as it unleashes its fighting spirit. That's all new information that the magazine states about the new form but we'll bring more as it comes
Pokémon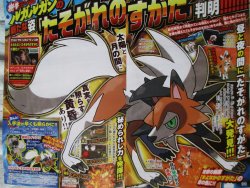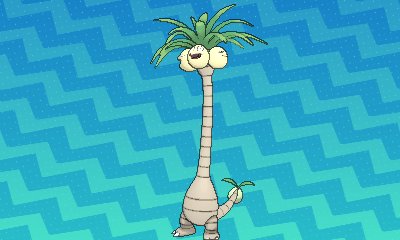 In The Games Department
Pokémon Sun & Moon
As with every year, the Pokémon World Championships is to distribute a special Pokémon to all players who attend the event. This year, the distribution is of a special Alolan Exeggutor. It is Level 50, with the Harvest ability and a Sitrus Berry. It knows the moves Power Swap, Celebrate, Leaf Storm & Draco Meteor. Our Event Database has been updated with the details of this event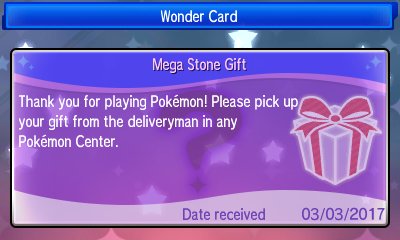 In The Games Department
Pokémon Sun & Moon
A new event has begun around the globe. This event gives the Mega Stones for Mega Gardevoir, Gallade and Lopunny, as well as the Mega Stone, Diancite. This means all Mega Stones are now available to players. This is given with the code: POYONG. Like before, there currently is no end date known for this distribution so be sure to get it while you still can. This follows on from the distribution to tie in with the tiny tourney for the first three Mega Stones. Our Event Database has been updated with the details of this event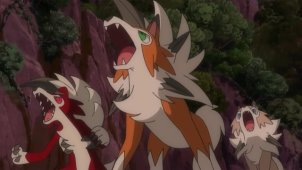 In The Anime Department
Pokémon Sun & Moon - Episode Pictures
As usual, we have done pictures from the episode that aired in Japan today. This episode features Rockruff disappear into Akala Island. The AniméDex has been updated with the contents of this episode. Click the picture to go to the gallery but be warned however as they contain spoilers.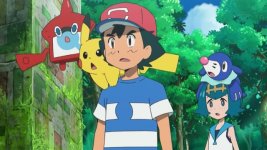 In The Anime Department
Pokémon Sun & Moon - Character Biography
With the episode that just aired in Japan, we have been able to update a biography. This biography is for Ash and features the Pokémon that he obtained within today's episode. Click the image to go to the biography, but be warned as it contains spoilers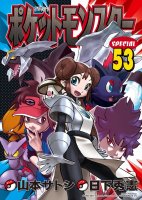 In The Manga Department
Pocket Monsters Special Volume 53
After almost three years with no releases, the new volume of the Pocket Monsters Special manga came out a few days ago in Japan and as usual, Coronis has kindly taken time to transcribe each chapter of the new volume. This volume features the continuation of the Black 2 & White 2 Saga and focus on Lack-two & Whi-two as they travel through the Unova region. Click the picture to go to the page.