13-09-2017 10:02 BST / 05:02 EDT by Serebii
This update may be amended throughout the day so be sure to check back. If you have any ideas for the site, be sure to send them in
Since the reveal of Pokémon Ultra Sun & Ultra Moon, the Chatroom & Discord Chat has been rife with discussion while the WiFi Chatroom has been a place for battles & trades, so be sure to visit them. Our Forums have also had these discussion and are a bustling trade and competitive section for the games. Be sure to like our FaceBook Page.
Last Update: 23:37 BST
Edit @ 11:28: Pokémon Duel Update | Edit @ 13:38: Japanese Mythical campaign | Edit @ 23:01: Nintendo Direct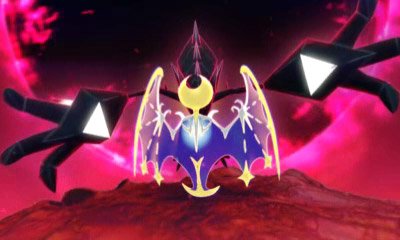 In The Games Department
Pokémon Ultra Sun & Ultra Moon - Nintendo Direct Direct
During today's Nintendo Direct, some new details were revealed for the Pokémon Ultra Sun & Ultra Moon games. This post will be updated with full details as they come so keep checking back
Edit: Necrozma's forms are known in English as Necrozma Dusk Mane & Necrozma Dawn Wings
Edit: Various new areas shown including a beach and showed early parts of the game and clothing. Encountering starters has you face off against Yungoos. Lycanroc's Z-Move is Splintered Stormshards. Downloaded copies of the game will receive 12 Quick Balls.
Edit: It has also revealed two brand new Pokémon. These Pokémon are Ultra Beasts known at the moment only by their codenames of UB - Burst and UB - Assembly. Burst is exclusive to Pokémon Ultra Sun while Assembly is exclusive to Pokémon Ultra Moon. At present we do not have type or further details for these new Pokémon.
Edit @ 23:17: I have updated our Pre-Release Screenshot Page
Edit @ 23:19: I have created a page on the New Pokémon
Edit @ 23:37: It is also confirmed that the Rockruff you get distributed to your game depends on your version. If you play Ultra Sun, it will know the move Tackle, Bite, Fire Fang, Happy Hour. If you play Ultra Moon, it will know the moves Tackle, Bite, Thunder Fang, Happy Hour. Both are Level 10 and come with a Focus Band attached
Edit @ 00:45: Pre-orders of Ultra Sun & Ultra Moon in 7-11 in Japan to give Code for Big Malasada & Fresh Water
| | |
| --- | --- |
| Ultra Beast - Burst | Ultra Beast - Assembly |
| | |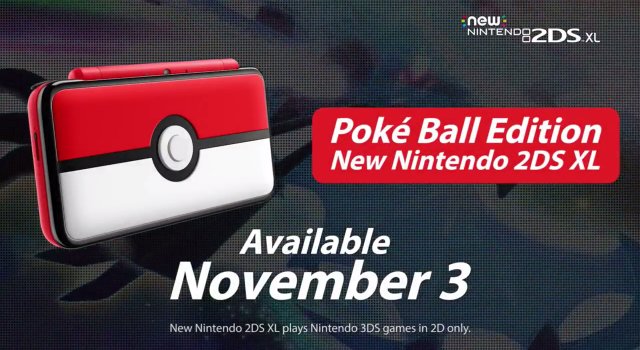 In The Games Department
Pokémon Ultra Sun & Ultra Moon - New Nintendo 2DS XL reveal
During today's Nintendo Direct, a special New Nintendo 2DS XL was revealed for release. This new 2DS XL comes with a Poké Ball aesthetic. It will be released in North America on November 3rd 2017 ahead of Ultra Sun & Ultra Moon's launch and November 17th in Europe. Japan will get this 2DS XL as well as a special Pikachu themed one
| | |
| --- | --- |
| New Nintendo 2DS XL | New Nintendo 2DS XL |
| | |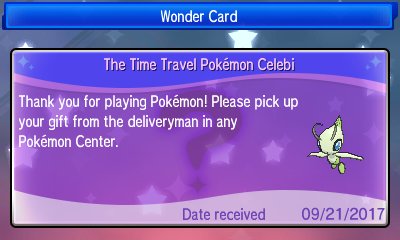 In The Games Department
Pokémon Sun & Moon - Celebi Distribution
During today's Nintendo Direct, it was confirmed that if you purchase Pokémon Gold or Pokémon Silver on the Virtual Console from today (pre-purchase) or from September 22nd 2017, you will receive a special serial code to redeem in Pokémon Sun, Moon, Ultra Sun & Ultra Moon to obtain a special Celebi. Celebi is Level 30 with the moves Heal Bell, Safeguard, Ancient Power & Future Sight. It runs from September 22nd 2017 until September 21st 2018. If you download the games before January 15th in North America, December 31st in Europe or September 28th 2018 in Japan, you'll also receive a special theme for your 3DS
| | |
| --- | --- |
| Gold Theme | Silver Theme |
| | |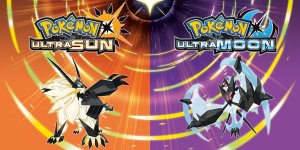 In The Games Department
Pokémon Ultra Sun & Ultra Moon - CoroCoro
The next images from CoroCoro have also come and have confirmed that Lycanroc is to get a special Z-Move called Radial Edge Storm which requires Lycanroc to know the move Stone Edge. It has a secondary effect that can eliminate Terrain effects. It can work on all forms of Lycanroc. It also confirms Rockruff that have the ability Own Tempo, which is currently only available from the distribution, can evolve into Dusk Form between 17:00 and 17:59 at Level 25. Only those Rockruff can evolve into Dusk Form Lycanroc
It also fully confirms that the Shiny Silvally event announced on Monday is obtained by preordering copies of Ultra Sun & Ultra Moon in Japan
Pokémon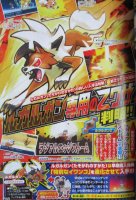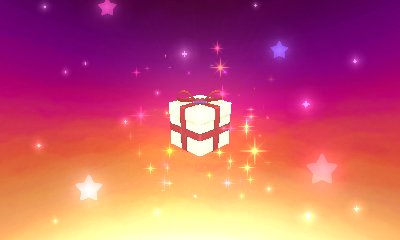 In The Games Department
Pokémon Sun & Moon
A new event distribution campaign has been revealed for Japan through promotional material. This campaign runs similarly to previous Pokémon Scrap distributions where you collect codes in various products including Pokémon Trading Card Game products which can be placed on a website and after a certain amount are obtained can be exchanged for items and Mythical Pokémon in the Sun, Moon, Ultra Sun & Ultra Moon games. This campaign runs from December 1st. At present there's no details on what items and Mythical Pokémon will be available within this campaign but we'll provide full details as they come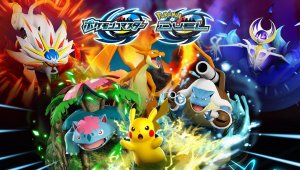 In The Games Department
Pokémon Duel - Update
The smartphone game, Pokémon Duel, has had a new update. This patch takes it to version 4.0.3and contains a variety of bug fixes and requires 163MB of space on your mobile device to download. It is required to update in order to play the game
This patch contains various bug fixes, and adds the first Alola figures to the game
The EX Figures are Tapu Koko, Vikavolt & Magnezone
The R Figures are Magneton, & Electrode
The UC Figures are Grubbin, Charjabug, & Oricorio Pom-Pom Style
A special 10 pack booster has also been released with a guaranteed EX or UX drop.