30-09-2017 07:05 BST / 02:05 EDT by Serebii
This update may be amended throughout the day so be sure to check back. If you have any ideas for the site, be sure to send them in
Since the reveal of Pokémon Ultra Sun & Ultra Moon, the Chatroom & Discord Chat has been rife with discussion while the WiFi Chatroom has been a place for battles & trades, so be sure to visit them. Our Forums have also had these discussion and are a bustling trade and competitive section for the games. Be sure to like our FaceBook Page.
Last Update: 21:32 BST
Edit @ 07:27: Episode Titles | Edit @ 21:32: Pokémon GO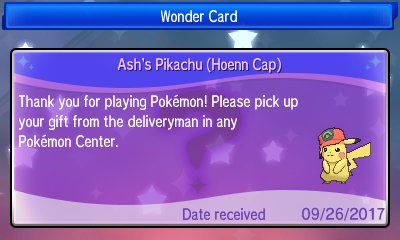 In The Games Department
Pokémon Sun & Moon - Hoenn Cap Pikachu
The event distributing the Hoenn Cap version of Ash's Pikachu to Sun & Moon is due to end on Monday. This gift gives Pikachu wearing Ash's Cap from the original series of the anime and comes with the Pikashunium Z Z-Crystal and is obtained with the code PIKACHU20. You can only use the code to redeem one of the 6 Ash's Pikachu so choose wisely. The event will change each week until all 6 of the Ash Pikachu are obtained:
· September 26 – October 2: Ash's Pikachu (Hoenn Cap)
· October 3–9: Ash's Pikachu (Sinnoh Cap)
· October 10–16: Ash's Pikachu (Unova Cap)
· October 17–23: Ash's Pikachu (Kalos Cap)
· October 24–30: Ash's Pikachu (Alola Cap)
For full details on each of the Ash's Cap Pikachu, be sure to check our Event Database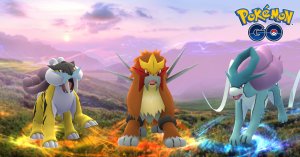 In The Games Department
Pokémon GO
The Legendary Beasts, Raikou, Entei & Suicune have shifted to new regions. The Americas get Entei, Europe gets Suicune and Asia & Asia Pacific gets Raikou. These run until October 31st 2017 where they will shift again with Americas getting Suicune, Europe getting Raikou and Asia/Asia Pacific getting Entei until November 30th.
As noted, we have our full Pokémon Listings with details on Raikou, Entei & Suicune

In The Games Department
Pokémon Regional Championships 2017
Today marks the first day of the Pokémon Special Event in Bilbao and, like previous events, both of the events are going to be officially streamed by The Pokémon Company International across different streams. Each game has got its own individual stream
Bilbao's Stream will begin shortly before 09:00 GMT / 04:00 EST / 01:00 PST / 07:00 AEST
Click the following links to go to the respective streams
Bilbao
Pokémon Video Game Regional Championships
Pokémon Trading Card Game Regional Championships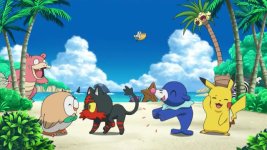 In The Anime Department
Pokémon Sun & Moon - Episode Title
The TV Game magazine has revealed the next two episode titles for upcoming episodes of the Pokémon Sun & Moon anime. These episodes are set to air on October 12th and 19th. The first episode features the group dealing with Cosmog's newfound ability to Teleport and the second episode features the group visiting the Aether Paradise only to discover a Ditto had escaped the area
Episode 988: Nebby's Panic! The Teleport Happened Suddenly!!!!
Episode 989: C'mon, Search for the Transformed Ditto!