26-02-2018 07:04 GMT / 02:04 EST by Serebii
This update may be amended throughout the day so be sure to check back. If you have any ideas for the site, be sure to send them in
Since the release of Pokémon Ultra Sun & Ultra Moon, the Chatroom & Discord Chat has been rife with discussion while the WiFi Chatroom has been a place for battles & trades, so be sure to visit them. Our Forums have also had these discussion and are a bustling trade and competitive section for the games. Be sure to like our FaceBook Page.
Last Update: 23:31 GMT
Edit @ 08:34: Snapchat Filter | Edit @ 18:15: Pikachu Talk | Edit @ 21:02: Pokémon GO - Pokémon Day Event | Edit @ 22:17: Movie Trailer | Edit @ 23:31: Community Day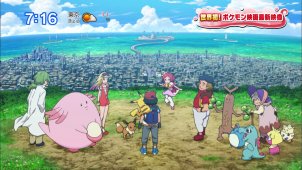 In The Anime Department
Pokémon the Movie 2018 - World Premiere
The world premiere of the new trailer for the upcoming movie due for release in Japan in July 2018 has just aired on the Japanese variety show Oha Suta. The movie is now called Pokémon: Everyone's Story (みんなの物語) In the trailer, it shows a large city and Lugia flying over. It showcases the new girl, Lisa and her Eevee, a performer called Kagachi and his Sudowoodo, a weak researcher called Trito and his Chansey, an elderly trainer called Hisui with a Togepi, Totodile, Smoochum & Marill and a mysterious girl called Largo before it pans to Ash with Lugia flying over and meeting all the other trainers. We hope to have an official upload of the trailer soon so keep checking back
Edit @ 01:01: Trailer has been released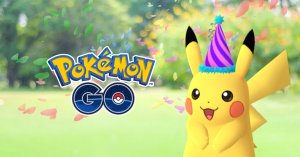 In The Games Department
Pokémon GO - Pokémon Day Event
A new event has been announced for Pokémon GO. To coincide with the 22nd anniversary of Pokémon tomorrow, a Pikachu with a special hat will begin appearing in the game to capture. This Pikachu comes with a special purple striped party hat, the same one as last year, but unlike last year's one will come with the move Present, a move Pikachu does not normally have. It also gives triple Stardust upon capture. This Pikachu will be appearing through February 28th at 21:00 UTC.
Edit @ 22:04: In addition to this, the outfits for the trainers Red & Leaf from Pokémon FireRed & LeafGreen have been added to the game. These items require Coins to purchase
Pokémon 2018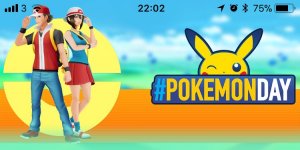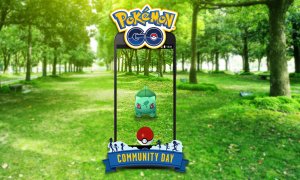 In The Games Department
Pokémon GO
Niantic have announced the next Pokémon GO Community Day on March 25th, This event will give 3* the usual amount of capture experience and has 3 Hour Lure Modules. However, it will also give out special Bulbasaur with a yet unannounced special move. We'll bring more details as they come. This runs at specific times:
The Asia-Pacific region: 12:00 P.M. to 3:00 P.M. JST (GMT +9)
Europe, the Middle East, Africa, and India: 10:00 A.M. to 1:00 P.M. UTC (GMT +0)
The Americas and Greenland: 11:00 A.M. to 2:00 P.M. PST (GMT -8)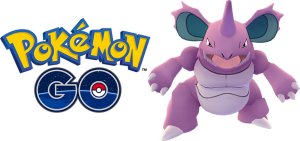 In The Games Department
Pokémon GO
The Special Giovanni's Nidoking raid has begun in Pokémon GO in Japan. This raid will be running at Pokémon Centers across Japan from today until March 11th. The raids run every 90 minutes from 4pm on Weekdays and 11am on Weekends. This Giovanni runs at a CP of 32111, which is higher than the 24873 CP of previous Nidoking raids. When captured, this Nidoking has no special moves.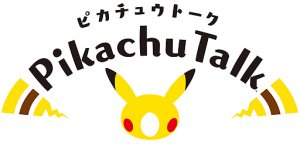 In The Games Department
Pikachu Talk
The Pikachu Talk service is now live in various countries. This app works on Amazon Alexa compatible devices in many countries, and Google Home in the US and allows for you to converse with Pikachu, command it to use Thunderbolt, have it tell you a story and various other features. This app came out in Japan late last year. Currently, the service only supports English and Japanese
Edit @ 19:22: Updated our app page with various phrases that can be used.
In The Games Department
Pokémon - Snapchat Collaboration
Potentially to tie in with Pokémon's 22nd anniversary, special features have been added to Snapchat for a few days. These are face camera features which will have you appear with a Bulbasaur, causing a Razor Leaf to happen when you open your mouth. It's currently unknown for how long this will run but we will bring full details as it comes
Edit @ 21:04: It has also been confirmed that Charmander and Squirtle lenses will be added to Snapchat soon