01-04-2019 08:26 BST / 03:26 EDT by Serebii
This update may be amended throughout the day so be sure to check back. If you have any ideas for the site, be sure to send them in
Since the reveal of Pokémon Sword & Shield, the Discord Chat has been rife with discussion, so be sure to visit it. Our Forums have also had these discussion and are a bustling trade and competitive section for the games. Be sure to like our FaceBook Page.
Last Update: 16:12 BST
Edit @ 08:42: Pokémon Duel | Edit @ 09:13: Ash Cap Pikachu Contest | Edit @ 11:36: Download Rules | Edit @ 12:43: Ultra Adventures on Netflix | Edit @ 16:12: Pokémon GO Boxes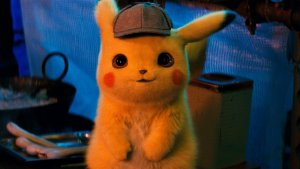 In The Movies Department
Pokémon: Detective Pikachu
Some new TV spots have been uploaded by Warner Bros. UK showcasing some new footage for Detective Pikachu. This includes the footage featuring Gyarados and Mewtwo that was released on TV in the US. The trailers don't provide much more new footage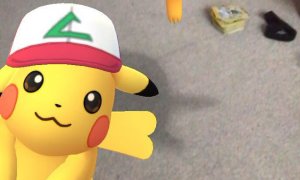 In The Games Department
Pokémon GO - Anime Tie-In Event
Following the surprise release of the Original Cap Pikachu through Photobomb in Pokémon GO's GO Snapshot feature yesterday, The Pokémon Company and TV Tokyo have announced a small competition where if you send in your AR Photo featuring Pikachu with the Original Cap on Twitter using the hashtags #GOsnapshot & #アニポケ, while following the official Japanese Pokémon GO Twitter there's a chance that it'll be shown in a segment that airs with the episode of the Pokémon Sun & Moon anime on Sunday April 7th on TV Tokyo in Japan. You have until 12:00 JST on April 2nd to put forward your entry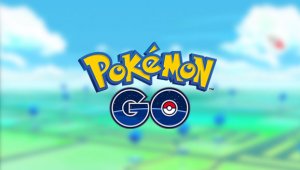 In The Games Department
Pokémon GO
Several new boxes have gone on sale in Pokémon GO ahead of the Bug Out event tomorrow.
Special Box - 480 Coins - 20 Ultra Balls, 2 Premium Raid Pass, 2 Incense, 3 Egg Incubator
Great Box - 780 Coins - 4 Premium Raid Pass, 3 Super Incubator, 4 Incense & 4 Lucky Egg
Ultra Box - 1480 Coins - 10 Premium Raid Pass, 10 Super Incubator, 4 Incense, 4 Star Piece
Adventure Box - 1480 Coins - 11 Super Incubators, 4 Incense, 4 Star Piece, 4 Egg Incubators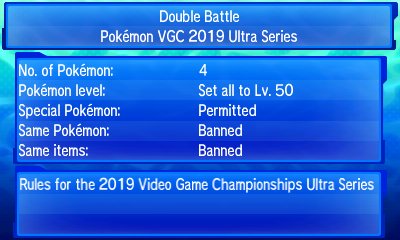 In The Games Department
Pokémon Ultra Sun & Ultra Moon - VGC 2019
Ahead of the shift in the Championship Battles format on Battle Spot and in the VGC circuit tomorrow, where the ruleset shifts from Moon Series to Ultra Series, Download Rules are now available to download from Festival Plaza. These rules will allow you to force the Ultra Series ruleset in any local and online battles with friends. Ultra Series allows for all items including all Mega Stones & Z-Crystals as well as 2 Legendary Pokémon on your team
Battle Type: Double Battle
Pokémon Restrictions: National Pokédex.
Pokémon Limits: Teams may have no more than two of the following Pokémon: Mewtwo, Lugia, Ho-Oh, Kyogre, Groudon, Rayquaza, Dialga, Palkia, Giratina, Reshiram, Zekrom, Kyurem, Xerneas, Yveltal, Zygarde, Cosmog, Cosmoem, Solgaleo, Lunala & Necrozma.
Banned Pokémon: Mew, Celebi, Jirachi, Deoxys, Phione, Manaphy, Darkrai, Shaymin, Arceus, Victini, Keldeo, Meloetta, Genesect, Diancie, Hoopa, Volcanion, Magearna, Marshadow, Zearora or Ash-Greninja, Pokémon not captured or hatched in Sun, Moon, Ultra Sun & Ultra Moon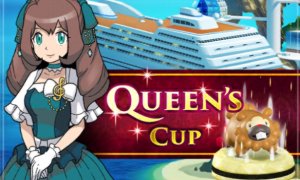 In The Games Department
Pokémon Duel - Queen's Cup
A new Queen's Cup event has begun in Pokémon Duel. This event ties in with the April Fools prank of turning Bidoof figures into ultra powerful figures when being used by the AI but unobtainable for normal players. This Queen's Cup runs 24 hours until 08:00 UTC on April 2nd and provides a mask at 100 win points. Reward redemption lasts until April 5th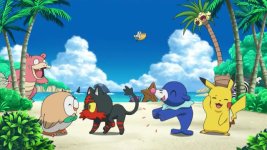 In The Anime Department
Pokémon Sun & Moon - Episode Title
TV-kun has revealed new episode titles for upcoming episodes of the anime. These episodes are due to air on April 14th, 21st and 28th respectively. The first episode features Shaymin, Meltan and Eevee get lost in Malie City after Mallow's hair ornament gets blown away. The second episode features Ash & co. entering the special Kanto style Gym in Malie City. The third episode features Sophocles entering a race with his Vikavolt in order to win a Buginium Z, only for Team Rocket to show up with the intent to take a Vikavolt
Episode 1060: Shaymin, Meltan and Sandy! Lost Explorers!!
Episode 1061: Aim for the Top Floor! The Explosive Dragon Gym!!
Episode 1062: Superspeed Vikavolt! The Awakening of Sophocles!!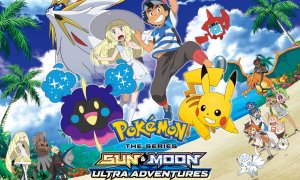 In The Anime Department
Pokémon Sun & Moon Ultra Adventures
All 48 episodes of the most recently completed series of the Pokémon anime, Pokémon the Series Sun & Moon Ultra Adventures are now available on Netflix in the US, UK and various other countries. This follows on from the recent removal of the XY, XY Kalos Quest and XY&Z saga from the service. This requires a Netflix subscription to watch.