01-06-2019 08:16 BST / 03:16 EDT by Serebii
Be sure to check Wednesday's update for huge news. This update will be amended throughout the day so be sure to check back. If you have any ideas for the site, be sure to send them in
Last Update: 08:16 BST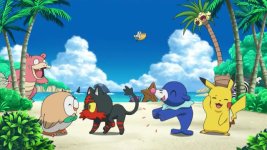 In The Anime Department
Pokémon Sun & Moon - Episode Title
A Japanese TV Guide has revealed the next episodes of the Pokémon Sun & Moon anime. These episodes are due to air on June 16th, 23rd and 30th. The first episode feautres Ash & Torracat shocked after they return from the past and discover what everyone has been doing while they've been gone after seeing everyone bruised and tired. The second episode features Lillie introduce her friends to the Magearna that her father left her. The final episode features the group arriving for the Alola League, only for Team Skull & Team Rocket to be there as well
Episode 1069: Pikachu's Exciting Expedition!
Episode 1070: Gladion & Lillie! Chasing a Father's Phantom!!
Episode 1071: The Curtain Rises! The Alola Pokémon League!!