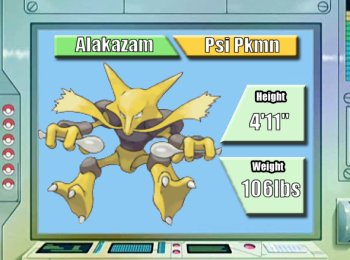 Alakazam, The Psi Pokémon. Its superb memory lets it recall everything it has experienced from birth. Its IQ exceeds 5,000. Its highly developed brain is on par with a supercomputer. It can use all forms of psychic abilities. It does not like physical attacks very much. Instead, it freely uses extra-sensory powers to defeat foes. While it has strong psychic abilities and high intelligence, an Alakazam's muscles are very weak. It uses psychic power to move its body. It's brain continually grows, making its head far too heavy to support with its neck. This Pokémon holds its head up using its psychokinetic power instead.
Overview
Alakazam is a formidable Psychic force and an example of ideal stat distribution, possessing a monstrous Special Attack stat and a lot of Speed. Its defensive stats leave a lot to be desired, but despite those shortcomings it is still a rather formidable sweeper.
The generation change brought a mix of losses and gains for Alakazam. Shadow Ball, Focus Blast and Grass Knot (or Energy Ball) are all nice additions; however, the elemental punches are no longer viable offensive options, which is a great disappointment.
As far as other Pokémon are concerned, Alakazam has lost a fair bit of ground. Pursuit becoming a physical attack is probably the worst of the bunch. Now Metagross, Tyranitar and Weavile can all take it out as it switches, reducing the viability of a Choice Specs set. Azelf has also taken Alakazam's place to an extent, especially since it has Nasty Plot and Explosion.
As a result of the improvements other Pokémon have seen, as well as new Pokémon, Alakazam's use will probably be somewhat limited. But, Alakazam has a lot of tricks up its sleeve and a Base 135 Special Attack is nothing to scoff at.
Trait
Synchronize: is Alakazam's better option of the two. Alakazam can take Will-o-Wisps or Toxics and bounce them back at the user (although understandably, it'll want to avoid Thunder Wave).
Inner Focus: has limited use. Alakazam is already fast enough to avoid the flinch attached to most moves.
Combine this with Alakazam's poor hit-taking ability and Inner Focus appears to be a somewhat redundant choice on Alakazam.
Move Sets
Choice Specs
- Psychic
- Focus Blast
- Shadow Ball
- Trick
Item Attached:: Choice Specs
Trait: Synchronize
EVs and Nature:
EVs: 4 HP / 252 Spd / 252 SAtk
Timid Nature (+Spd, -Atk)
Although Alakazam has a tough time getting into play, once it's in it has the potential to use Choice Specs very effectively.
Psychic's STAB is an understandable necessity on this move set. Due to Psychic being completely blocked by Dark types, Focus Blast also becomes a necessity as a result (otherwise Tyranitar and Weavile would destroy it with ease). Shadow Ball covers opposing Psychic types, who resist those two attacks.
Trick is one of the many toys Alakazam has hidden up its sleeve. Tyranitar, Metagross, Weavile and even Blissey can't risk switching into an Alakazam's Trick. Physical sweepers like Tyranitar, Metagross and Weavile gain no benefit from it (barring unlikely Special Sweeper sets) but suffer the effects of being locked into a single offensive attack. Tanks like Blissey on the other hand are forced to choose between defensive moves (such as self-healing) or offensive moves, reducing their over all tanking viability. Basically, Trick can shut down Alakazam's counters, however it needs to be used with good prediction.
It was mentioned in the overview but it's worth repeating. Guys like Tyranitar and Weavile really hurt this move set's viability, because if they are packing Pursuit and switch into Psychic (or Shadow Ball), Alakazam is a goner. Extreme caution should be practiced when this set is used, because Alakazam has a much rougher time than most Choice users.
EVs and Nature:
The reliable 252/252 spread with a Timid nature. With Timid, very few Pokémon are faster than Alakazam, and striking first is one of Alakazam's greatest assets. Nonetheless, the Special Attack boost from Modest is significant and worth consideration.
Pure Sweeper
- Psychic
- Focus Blast
- Shadow Ball
- Grass Knot / Recover
Item Attached:: Life Orb / Expert Belt
Trait: Synchronize
EVs and Nature:
EVs: 4 HP / 252 Spd / 252 SAtk
Timid Nature (+Spd, -Atk)
Similarly to the Choice Specs set, this move set focuses on Alakazam's offensive possibilities. The main difference between the two is that, unlike the Choice Specs set, this can't be countered purely by switching to the right Pokémon (e.g. a Tyranitar can switch into Psychic but the next turn it risks being hit by a Focus Blast). In exchange, Alakazam loses a little bit of offensive power and also loses the ability to Trick Choice Specs to its opponent.
Grass Knot is the only new move added here. It catches a fair few Pokémon for super-effective damage but it is expendable. If Life Orb is being used, Recover is worth a glance in order to offset the recoil damage.
Life Orb is the primary item choice for its significant and consistent offensive boost; however, this set does hit a fair few Pokémon for super-effective damage, making Expert Belt worth a look.
EVs and Nature:
Nothing different from the Choice Specs set. Modest remains a viable option.
Calm Mind Sweeper
- Psychic
- Focus Blast
- Shadow Ball
- Calm Mind
Item Attached:: Life Orb / Expert Belt
Trait: Synchronize
EVs and Nature:
EVs: 4 HP / 252 Spd / 252 SAtk
Timid Nature (+Spd, -Atk)
Pretty much the same deal as above, only with a Calm Mind boost behind it. If Calm Mind can be kicked off late in the game, Alakazam has the potential to wipe out the opponent's entire team.
EVs and Nature:
The only change from the aforementioned sets is the fact that Calm Mind boosts Special Defence, making some Special Defence EVs worth a little bit of consideration. Some Special Defence opens up the possibility for Alakazam to kick off an extra Calm Mind, although a straight boost to Special Attack is more reliable.
"Defensive" Calm Mind-Kazam
- Psychic
- Focus Blast
- Calm Mind
- Recover
Item Attached:: Leftovers / Life Orb
Trait: Synchronize
EVs and Nature:
EVs: 4 HP / 252 Spd / 252 SAtk
Timid Nature (+Spd, -Atk)
The Calm Mind-Recover set-up for Kazam. It's fairly inferior at this job when compared to fellow Psychics (such as Slowbro and Celebi), but it's set apart from them with its frightening offensive power and speed. Up against a Special Attacker of average offensive prowess, Alakazam can pull off this set fairly well. Noteworthy opponent's to take on include Blissey, Milotic and Regice (assuming status attacks are absent).
Unlike previous Alakazam sets, there's a lack of coverage here. Fighting and Psychic form Alakazam 'best' combination, but others can be attempted. The main brick wall that Psychic and Focus Blast will run into are opposing Psychic types with good Special Defence.
As far as items are concerned, Leftovers increases survival capabilities and offsets Sandstorm (or Hail) damage, which reduces the number of turns spent using Recover. Life Orb increases offensive power but will force Alakazam to use Recover more frequently.
EVs and Nature:
There's a handful of options. The 'sweeper' EV spread is reliable, but a focus on Special Defence (or HP) will increase the odds of setting up Calm Minds successfully. Speed is still one of Alakazam's greatest assets, and with Calm Mind boosting its Special stats, it's probably the most important stat to raise.
Other Options
Hidden Power [Fight / Fire / Ice], Energy Ball, Charge Beam, Substitute, Thunder Wave, Taunt, Encore, Knock Off, Snatch, Reflect, Light Screen, Power Trick, Psych Up, Barrier, Counter, Focus Sash, Lum Berry, Choice Scarf.
Hidden Power is the main Special Attacking option that hasn't been mentioned on the main set. Hidden Power [Fight] can take Focus Blast's place on the main move sets for the reliable accuracy, but there's a huge power loss. Hidden Power [Fire] dents Metagross, and Hidden Power [Ice] takes out the common dragons.
Energy Ball can replace Grass Rope and is generally a decent offensive option.
Charge Beam is a decent offensive option but it lacks initial power, and it'd be better off to fire off a Calm Mind rather than rely on a 70% chance of a Special Attack boost.
Substitute is a good option on anything with speed, and blocking an incoming Thunder Wave is always helpful.
Alakazam also has a huge support move pool to pick from.
Thunder Wave is a good status attack and it shuts down any Weavile with the guts to switch in, as well as any Choice Scarf equipped opponent trying to catch Alakazam by surprise.
Taunt combined with Recover destroys any Blissey, as well as several other Pokémon with forgettable offensive power; of course, Alakazam can't do much damage in return most of the time.
Encore can mess up any opponent using non-offensive moves. It can also grant Alakazam a free set-up turn (e.g. switching in as Garchomp uses Swords Dance and Encoring it).
Alakazam can Knock Off the opponent's item, but tricking a Choice item to the opponent is usually more disabling (although one-off).
Snatch can steal some important moves, such as Blissey's Aromatherapy and Azelf's Nasty Plot (among others).
Reflect and Light Screen can be used as team support, but Alakazam hasn't got the defences to take full advantage of them.
Power Trick and Psych Up can be used to nab the opponent's stat-up attacks, but Alakazam's survivability lets it down.
Barrier boosts Alakazam's poor defence, but with such horrible HP, it won't be a particularly reliable defensive Pokémon anyway.
Counter and Focus Sash has been mentioned on a lot of fragile Pokémon as a combination that can potential nab a free KO. It's one off but it can work well, just make sure to avoid Sandstorms and don't let Alakazam's HP drop below 100% before Focus Sash activates (otherwise it won't). Focus Sash is a decent item option in its own right, since Alakazam's hit-taking ability is pretty weak.
Lum Berry pairs nicely with Synchronize and it's an extra buffer against paralysis.
Choice Scarf has enjoyed some mild popularity for taking on fragile Pokémon trying to surprise Alakazam, but its use is limited and Alakazam is fast enough already. Tricking Choice Scarf can be more beneficial than tricking Choice Specs at times; for example, a Bolt-Beam Blissey will hardly benefit from Choice Scarf but will get decent boost from Choice Specs.
Countering Alakazam
Alakazam is the perfect example of a glass cannon, barely able to take a hit but capable of pumping out a lot of damage. As a result, the best way to counter Alakazam is to take it out directly.
Pursuit is generally the best Alakazam counter. If Alakazam switches out, an Attack stat of ~280 should be sufficient to KO it without STAB.
Spiritomb is the best counter of the available Pokémon with Pursuit. It's immune to Psychic and Focus Blast and takes very minor damage from any of Alakazam's other available moves. Assuming Choice Specs is in use, Tyranitar and Weavile can switch into Psychic but need to watch out for Focus Blast (and the same applies to most Dark types). Metagross has a 4x resistance to Psychic but takes a beating from Specs-boosted attacks.
Blissey can beat most variants of Alakazam but a Specs-boosted Focus Blast makes a rather painful dent and Recover variants can stall Blissey. Jirachi and Bronzong work reasonably well but Specs-boosted Focus Blasts and Shadow Balls hurt without a lot of Special Defence. Cresselia, Mesprit, Uxie, Celebi (and generally any defensive Psychic) work so long as they steer clear of Shadow Ball. Defensive Steel types such as Registeel and Heatran work well so long as they avoid Focus Blast.
Dugtrio can trap Alakazam and beat it with Sucker Punch, although it can't take a hit switching in. Sucker Punch is generally an effective counter to any Alakazam that has the guts to stay in play.
Alakazam can't handle being paralysed but attackers need to beware of Synchronize.
All of these aforementioned counters need to look out for the surprises Alakazam can pack however. Almost all of the aforementioned Pokémon won't like having Choice Specs tricked to them, Calm Mind-Recover variants of Alakazam can beat opponents trying to beat Alakazam with Special Attacks and its unusual 'toys' (like Encore and Snatch) can mess up some counter strategies.
Locations in Games
Ruby/Sapphire/Emerald

Evolve Kadabra

Colosseum/XD

Trade from RSEFRLG

Fire Red/Leaf Green

Evolve Kadabra

Diamond/Pearl

Evolve Kadabra
Animé Appearences