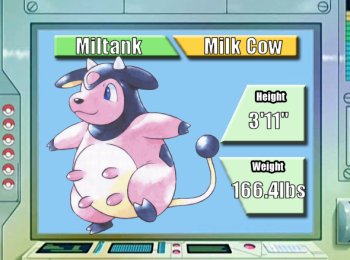 Miltank, The Milk Drink Pokémon. It is said that kids who drink Miltank's milk grow up to become hearty, healthy adults. Its milk is packed with nutrition, making it the ultimate beverage for the sick or weary. If it has just had a baby, the milk it produces contains much more nutrition than usual. It gives over five gallons of milk daily. Its sweet milk is enjoyed by children and grown-ups alike. People who can't drink milk turn it into yogurt and eat it instead.
Overview
Miltank is an all-round reliable Pokémon. She has great HP and Defense, good Speed and decent Attack and Special Defense. As well as being average or above in most areas, she's one of the blessed few that has access to Heal Bell and can viably use it. Blissey has a habit of stealing her status curing thunder but Miltank can perform that utility role well. She's also got Curse for some potential sweeping capabilities and a decent move-pool to use with her Attack stat.
Don't expect Miltank to flood the Competitive Battling scene, she doesn't have enough going for her to become a staple Pokémon in standard teams. However, Miltank is capable of performing in the standard environment. She isn't going to run around destroying opponents but she can be a very helpful addition to a team.
Trait
Scrappy: is a very helpful ability, since it allows Miltank to smack Ghosts with her STAB Return. Since she lost Shadow Ball in the generation shift, this ability helps to keep the likes of Gengar at bay. Unfortunately, this clashes with 3rd Gen tutor moves, so if you want to use them you won't be using Scrappy.
Thick Fat: gives Miltank a makeshift resistance to Ice and Fire moves. Since Miltank is a defensive Pokémon, makeshift defensive resistances are appreciated.
Move Sets
Defensive Wall with Heal Bell Support
- Body Slam / Return
- Milk Drink
- Heal Bell
- Earthquake
Item Attached: Leftovers
Ability: Scrappy / Thick Fat
EVs and Nature:
EVs: 252 HP / 148 Atk / 108 Def
Impish Nature (+Def, -SAtk)
Probably the most common move-set. Behind Blissey and Celebi, Miltank is the next best Pokémon with a status curing move. With strong Defense and Milk Drink, expect Miltank to hold up as a good defensive wall as well.
Body Slam is a handy STAB choice for the 30% paralysis chance, but Return packs some more power. Earthquake deals with Rock and Steel types, both of which resist her STAB moves.
Curse Miltank
- Body Slam / Return
- Earthquake
- Milk Drink
- Curse
Item Attached: Leftovers
Ability: Scrappy / Thick Fat
EVs and Nature:
EVs: 252 HP / 108 Def / 148 SDef
Impish Nature (+Def, -SAtk)
Miltank isn't as bulky as Snorlax, but she gets a better recovery move in the form of Milk Drink and is a very viable choice as a curser. It's just a matter of using Curse, keeping healthy, and eventually sweeping after Miltank gets a couple of Curses under her belt.
Heal Bell and Curse
- Body Slam / Return
- Milk Drink
- Curse
- Heal Bell
Item Attached: Leftovers
Ability: Scrappy
EVs and Nature:
EVs: 252 HP / 108 Def / 148 SDef
Impish Nature (+Def, -SAtk)
Two moves Miltank can use well on the same move-set. This move-set uses Heal Bell just as effectively as the first move-set, and it aids Curse-tanking by keeping Miltank free of damaging statuses (such as Toxic and Will-o-Wisp). Sweeping after Curse will be a little harder without Earthquake, and you'll probably want to save the stat boosts until opposing Rock and Steel types are eliminated, but even with only one move she'll make a good curser. Scrappy is very preferable here, so that Ghost types won't wall her. The only reason to go with Thick Fat is if she has some solid Pursuit support to deal with Ghosts.
EVs and Nature:
Miltank should be running Max HP and probably around 300 Defense (although more doesn't hurt). Without Curse, some Attack EVs help, since her offences are fairly average without EV support. With Curse, those Attack EVs can be dedicated to bulking up her Special Defense, which will need support, since they'll help her take a hit or two from Special Sweepers.
Investing in Attack EVs isn't a priority, but its worth a glance. A fair few fragile Pokémon are weak to Shadow Sneak, and some EVs can boost it from a 2KO to 1KO (or from a 3KO to a 2KO).
Other Options
Counter, Hammer Arm, Focus Punch, Fire Punch, Zen Headbutt, Ice Punch, Thunder Wave, Stealth Rock, Toxic, Choice Band.
Counter rocks on Miltank. Good HP and good Defense means she survives most attacks (even boosted), and she has the ability to heal off the damage with Milk Drink.
Hammer Arm is a decent alternative to Earthquake. Just like Earthquake, it takes care of most Rock and Steel types, but it's slightly less accurate and it drops Miltank's respectable Speed stat, both of which are unfavourable.
Focus Punch can be nice for catching Pokémon hard as they switch-in, but none of Miltank's move-sets are built in such a way to benefit hugely from it.
Fire Punch is weaker than Earthquake and Hammer Arm, but it can also deal with Steel types. Without Scrappy, Fire Punch gives it a move to hit Ground-immune Ghosts with (like Gengar), and unlike the other two alternatives, it's also effective against Skarmory and Bronzong.
Zen Headbutt hits Gengar hard, and that's the main reason to use it. Again, it's an alternative move if Scrappy is absent.
Ice Punch is a good choice for Garchomp and Salamence, although Miltank really has no business taking on either of those two.
Thunder Wave is a nice support move, but it costs a move-slot and paralysis support can be achieved with Body Slam (albeit, much less reliably).
Stealth Rock is also a nice support move, but a lot of Pokémon get it and Miltank is already starved for move-slots as it is.
Toxic is a usable choice. Miltank is quite a bulky Pokémon and a handful of Miltank's counters really hate it.
Like most physically inclined Normal types, Miltank can use Choice Band, but there's several other Normal types who are simply better than Miltank at it.
Countering Miltank
Miltank is a defensive Pokémon, and as a result she doesn't pose a huge physical threat, although she can cause some frustration with Body Slam paralysis and she'll keep her team status-free with Heal Bell. Cursing variants can become an offensive menace after a few stat boosts, so it's worth dealing with those quickly.
Generally speaking, Miltank will probably only have room on her move-set for two offensive moves (with one of those being a STAB move). This makes her fairly easy to wall. If she's running Earthquake, Skarmory, Bronzong and Forretress will stop her cold. Despite being weak to it, Regirock, Steelix and Rhyperior can shrug off un-boosted Earthquakes as well. Without Earthquake, the majority of Rock and Steel types will wall her (although some Steel types will need to look out for Fire Punch).
If Miltank isn't using scrappy, she'll have difficulty dealing with Ghosts. With their Earthquake immunities, Gengar, Mismagius, Rotom and Drifblim will all wall her (barring the use of Zen Headbutt or an elemental punch). Dusknoir and Spiritomb both have the Defenses to deal with Earthquake comfortably, and they'll happily steal her HP with Pain Split and throw Will-o-Wisps her way.
Although they don't have resistances to her STAB moves, Weezing, Cresselia, Hippowdon, Suicune, Gliscor and Slowbro are all fairly comfortable against her.
Despite having Heal Bell, statuses will cause her problems. Unlike Celebi and Blissey, she doesn't have Natural Cure, so statuses will stick to her until she uses Heal Bell (which has limited PP). Throwing Will-o-Wisp and Toxic her way will hinder her defensive capabilities and will force her to waste Heal Bell PP.
Cursing variants can be a bit tricky if they get enough boosts. Weezing and Skarmory are particularly good counters, since both can remove her stat boosts (with Haze and Whirlwind respectively). Steelix, Suicune and Hippowdon can also manage if they're carrying Roar. Cursing variants without Heal Bell will hate to be hit by Will-o-Wisp or Toxic. Variants with Heal Bell will only have one attack, which means a very long list of Rock and Steel types will wall her easily.
Locations in Games
Ruby/Sapphire/Emerald

Trade from Emerald/Colosseum (RS) Safari Zone Extention (Em)

Colosseum/XD

Snagged from Bodybuilder Jonas in Realgam Tower Colosseum (Col), Trade from E/C (XD)

Fire Red/Leaf Green

Trade from EC

Diamond/Pearl

Routes 209 & 210-South (PokéRadar)
Animé Appearences