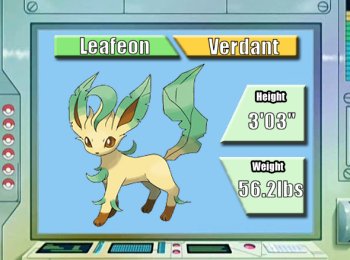 Leafeon, The Verdant Pokémon. When you see LEAFEON asleep in a patch of sunshine, you'll know it is using photosynthesis to produce clean air. It basically does not fight. With cells similar to those of plants, it can perform photosynthesis.
Overview
Leafeon is pretty cool. I like it. It has good stats in the right places, and enough of a movepool to pull off both offensive and defensive sets. Compared to Glaceon, the only other 4th gen Eeveelution, Leafeon is incredible. As a Baton Passer, Leafeon is one of the more reliable choices, thanks to its bulk, threatening presence and nice Speed. As a sweeper, it is amazing. Great Attack and nice Speed combined with survivability and coverage is very dangerous. Even defensively Leafeon does well. It really is an all rounder.
Ability
Leaf Guard: sun isn't too effective, so Leaf Guard won't often get any use. It's a shame it didn't get something more useful, but I guess it is better than... Truant.
Move Sets
BPLeaf
- Swords Dance
- Synthesis / Wish / Roar
- Leaf Blade
- Baton Pass
Item Attached: Leftovers
Ability: Leaf Guard
EVs and Nature:
EVs: 252 HP / 4 Atk / 252 Spd
Jolly Nature (+Spd, -SAtk)
As I've said, Leafeon is a great Baton Passer. Swords Dance is your boosting move and the stat boost you are passing around. Synthesis heals Leafeon on command, whereas Wish can heal your team mates. Roar stops common phazers as they tend to be a lot slower than Leafeon. Leaf Blade stops you from being Taunt bait, as well as giving you a great offensive move that allows Leafeon to be a threat by itself. Baton Pass is how you pass your boosts around.
In Soviet Russia, grass cuts you
- Swords Dance
- Double-edge
- Leaf Blade
- Quick Attack / Synthesis / X-Scissor
Item Attached: Life Orb
Ability: Leaf Guard
EVs and Nature:
EVs: 252 Atk / 4 Def / 252 Spd
Jolly Nature (+Spd, -SAtk)
Swords Dance boosts your Attack up to huge levels, allowing you to take out most of the common physical walls of UU in one or two hits. Double-edge handles most Pokémon that resist Leaf Blade, leaving you with a combo that covers most of the game. Leaf Blade is silly powerful, and easily Leafeons' best attack. Quick Attack helps take out faster Pokémon, but it isn't too strong. Synthesis recovers any Life Orb recoil, and X-Scissor is another good physical move.
LEAF GUARD TO THE MAX
- Yawn / Protect / Heal Bell / Knock Off / Roar
- Yawn / Protect / Heal Bell / Knock Off / Roar
- Wish
- Leaf Blade
Item Attached: Leftovers
Ability: Leaf Guard
EVs and Nature:
EVs: 252 HP / 252 Def / 4 SDef
Impish Nature (+Def, -SAtk)
Wow, Leafeon gets a lot of support options. Yawn can force a switch or put something to sleep, both of which aren't good for your opponent. Protect works really well with Wish, as you can be immune on the standby turn. Heal Bell recovers any status for the team, which is useful. Knock Off is a great attack to disrupt the opponent's strategy, as items are very important to any strategy. Roar phazes, which is always cool. Wish recovers you or a team mate which is awesome, giving Leafeon an edge over other bulky Grass Pokémon. Leaf Blade stops Taunt and really does hurt everything, even with no EV investment.
EVs and Nature:
BPLeaf
I like simplicity here. Max Speed so you can boost and get out of there, and max HP gives you awesome survivability. The 4 leftover EVs can go in anything, but I put them in Attack as that is where I think they would get the most use.
In Soviet Russia, grass cuts you
No reason to run anything but max Attack and max Speed. The 4 leftover should go into Defence as Leafeon is sitting on a Life Orb number without any investment.
LEAF GUARD TO THE MAX
You want Leafeon as bulky as possible. Running anything other than 252 HP and 252 Defence would simply be a waste. The 4 leftover can go in Special Defence, Speed, or Attack. It's up to you.
Other Options
Bite, Charm, Curse, Flail, GrassWhistle, Return, Rock Smash
Bite is a physical attack you could use to hit Drifblim.
Charm encourages switches and gives you temporary bulk.
Curse is another move you could Baton Pass, but it means you lose Leafeon's great Speed.
Flail would be an interesting choice on Leafeon. Leaf Blade, Swords Dance, Flail, Endure could be an effective set with the right support.
GrassWhistle puts a Pokémon to sleep, if you are lucky enough to have it hit.
Return could be used over Double-edge, but the extra power is so useful.
Rock Smash hurts Registeel and takes out its Defence, but you should probably just retreat.
Countering Leafeon
Registeel, Weezing, Arcanine, and Steelix are without a doubt the best counters to Leafeon. Resisting its main attacks and being able to strike back hard, all of them are great switch ins and should be used or watched out for, depending on whether you are scared of Leafeon or using it. If Leafeon doesn't have Quick Attack, faster Pokémon like Scyther, Espeon, and Swellow can all revenge kill Leafeon easily enough. If you can burn Leafeon, it will go down quickly. It loses its bulk and its great Attack, so that is the way to go to break it down slowly. Leafeon is a huge threat in UU, but you should be prepared for it if you have a good physical wall and don't just rely on a bulky Water. Defensive Leafeon can also be taken down if you play smart and have a standard bulky Grass switch in.
Locations in Games
Ruby/Sapphire/Emerald

Not in Game

Colosseum/XD

Not in Game

Fire Red/Leaf Green

Not in Game

Diamond/Pearl/Platinum

Evolve Eevee

HeartGold/SoulSilver

Trade from Diamond/Pearl/Platinum
Animé Appearences