OK. To Avoid the current hassles there is this disclaimer for those Who want to use it without permission:
You shall not post this on anywhere for public use
You shall not sell this for public use
Do not replicate and forward without permission
Do not claim this as yours
Do Not Translate it into your language and claim ownership

Ash's old friends Brock & Misty have decided to come to Alola to visit. Ash & co. decide to show them all the great hotspots of the region including the pancake shop and even Mantine Surfing. However, with all the fun going on and time going quickly, Team Rocket soon show up with a plan to steal everyone's Pokémon. Will they succeed?

Full Guide coming Soon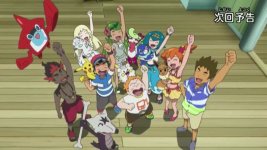 1045: Alola, Alola!

1045: An Alola! in Alola! Brock and Misty!



Yes


Ash
Brock
Misty
Lillie
Mallow
Lana
Sophocles
Kiawe
Nurse Joy
Daisy
Violet
Lily
Nina
Anela


Ash:
Misty:
Lillie:
Mallow:
Lana:
Sophocles:
Kiawe:
Samson Oak:
Jessie:
Rocket:
Nurse Joy:
PokeRide:
Nina:
Special/Other Trainers:
Wild:


Brock & Misty come to Alola