OK. To Avoid the current hassles there is this disclaimer for those Who want to use it without permission:
You shall not post this on anywhere for public use
You shall not sell this for public use
Do not replicate and forward without permission
Do not claim this as yours
Do Not Translate it into your language and claim ownership

The Pokémon School is holding a special Fishing competition from the top of Poké Ride Pokémon, with Lana teaching how it is done. As Ash lacks a fishing rod, Lana and he head to her house to pick one up for him to borrow. Bonding, they soon become better friends but when time comes for the fishing competition, a mysterious shadow appears with its eyes set on the Water-type Pokémon...

Full Guide coming Soon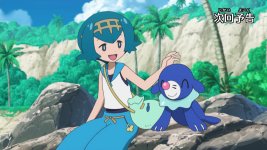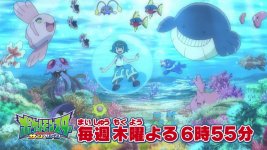 948: Yo, Ho, Ho! Go, Popplio!

948: Popplio, Do Your Balloonest!



Yes


Ash
Lillie
Mallow
Lana
Sophocles
Kiawe
Professor Kukui
Samson Oak
Jessie
James
Nurse Joy
Tupp
Zip
Rapp
Harper
Sarah


Ash:
Mallow:
Lana:
Sophocles:
Professor Kukui:
Samson Oak:
Jessie:
Rocket:
Nurse Joy:
PokeRide:
Special/Other Trainers:
Wild:


None of consequence