OK. To Avoid the current hassles there is this disclaimer for those Who want to use it without permission:
You shall not post this on anywhere for public use
You shall not sell this for public use
Do not replicate and forward without permission
Do not claim this as yours
Do Not Translate it into your language and claim ownership

Having finally made it to Coumarine City, Ash & co. soon learn of a lost Vanillite who is hiding in the Pokémon Center. Ash & co. go to find it to help out just to learn that the Vanillite has been kidnapped by Team Rocket. As they start to investigate, snow starts to fall in the city. Meeting with Ramos, the Gym Leader, Ash & co. set out to rescue Vanillite. Can they do it?

Full Guide coming Soon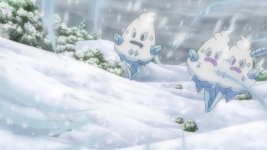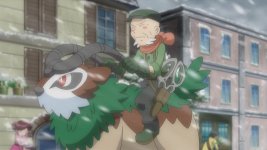 860: Thawing an Icy Panic!

860: Vanillite Panic! Left Cold by a Whiteout!!



Yes


Ash
Clemont
Serena
Bonnie
Jessie
James
Nurse Joy
Ramos


Ash:
Clemont:
Serena:
Rocket:
Nurse Joy:
Ramos:
Special/Other Trainers:
Wild:


Ash & Co. reach Coumarine City and meet Ramos