Thursday: Pokémon Black 2 & White 2 - Minor News + Episode Pictures + Wi-Fi Event
31-05-2012 11:26 BST / 06:26 EDT by Serebii
Three weeks until Black 2 & White 2 and less than a week until E3! If you have any site ideas, don't hesitate to let me know. Be sure to like our new FaceBook Page.
With the news of Black 2 & White 2, the Chatroom has been rife with discussion of the possibilities that are to come while the WiFi Chatroom has been a place for people to hunt down the new Dream World Pokémon for trade and to battle other trainers so be sure to visit them. Our Forums have also had these discussion and are a bustling trade and competitive section for the games.
Last Update: 22:08 BST
Edit @ 11:34; Character Biography | Edit @ 13:32; Episode Pictures | Edit @ 16:35: Episode Title | Edit @ 22:08; French Victini Wi-Fi Event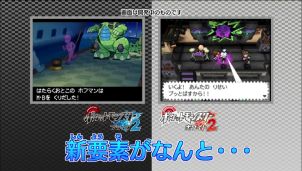 In The Games Department
Pokémon Black 2 & White 2 - Minor News
A preview for the next couple of anime episodes has aired and has shown a variety of Black 2 & White 2 minor information. First, it showed that Pokéwood is essentially done in a similar manner to battles, showing the use of a Water-type move against the MechaTyranitar. It also confirmed that Homika will use a Koffing in the game, after being hinted at for the past month and a half. We'll bring more as it comes, with Pokéwood being covered in Pokémon Smash this weekend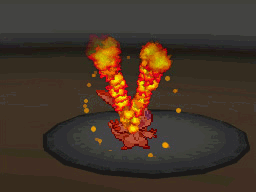 In The Games Department
Pokémon Black & White - French WiFi event
For those of you with the French games, the WiFi event for Victini has begun. This Victini is to commemorate the release of the new movie; Pokémon The Movie White: Victini & Zekrom & Pokémon the Movie Black: Victini & Reshiram, and is the same as the Victini WiFi event in English games in December and the rest of Europe last month. It has its special move of V-Create, as well as Reshiram and Zekrom's signature moves; Fusion Flare and Fusion Bolt. No end date has been given for this event just yet but the moment it is, we'll post it.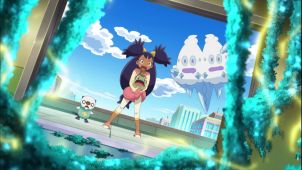 In The Animé Department
Pokémon Black & White - Episode Pictures
As usual, I have done pictures from the episode that aired in Japan today. This episode features Iris getting trapped with a Vanilluxe when there is an outbreak of moss growing. The AniméDex has been updated with the massive contents of this episode. Click the picture to go to the gallery but be warned however as they contain spoilers;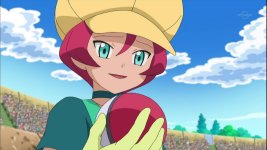 In The Animé Department
Pokémon Black & White - Character Biographies
With the new episode that just aired, I have been able to update the biography for the character Georgia with a new Pokémon she has obtained. Be warned though as these biographies contain spoilers. Click the respective picture to go to the page
In The Animé Department
Pokémon Best Wishes Season 2 - Episode Title
With the new issue of Pokémon Fan magazine, we have a new title for an episode. This episode features Ash & Co. getting mobbed by a swarm of Onix on an island. This episode is due to air in Japan on July 5th
Episode 748: Survival on the Island of Onix!